Flavorful World of Bunny Chow
Prep Time
10 mins
Cook Time
30 mins
Serves
4 people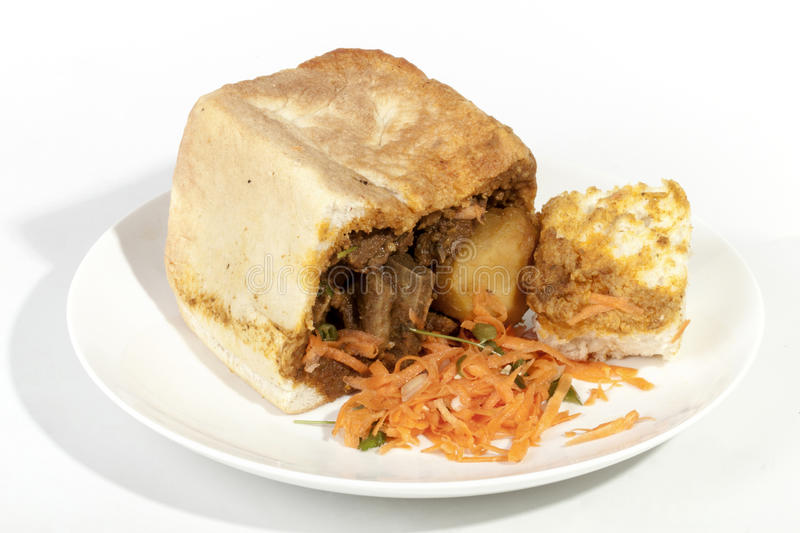 Welcome to our Flavorful world of Bunny Chow!!  
If you're looking to embark on a culinary adventure that combines bold spices, aromatic flavors, and a unique South African twist, you have come to the right place.  Bunny Chow, a beloved street food originating from Durban, is a culinary delight that will transport your taste buds to new heights.
Join us as we explore the rich history and tantalizing flavors of this iconic dish, and learn how to re-create it in your very own kitchen.
Get ready to experience a taste sensation like no other, as we dive into the wonderful flavorful world of BUNNY CHOW!!
Just a very quick History on the Bunny Chow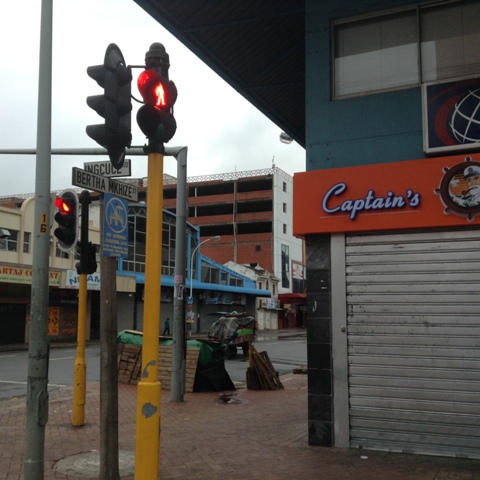 Legend has it that this is the home of the original bunny chow in Durban South Africa
Round about that time in the history of South Africa, the migrant Indian workers were brought into, what was then known as Natal (now known as Kwazulu-Natal), to work the sugar cane plantations. 
These workers had to find a way to carry their lunches to work and very cleverly found that by hollowing out a loaf of bread they could easily transport their vegetarian curries into the sugar canes for eating at lunch time.
There are many stories circulating as to the origin of this spicy meal and the one that we tend to believe, is that it started on the East Coast of South Africa in the Durban Indian Community, and is believed to have started sometime in the early nineteen forties.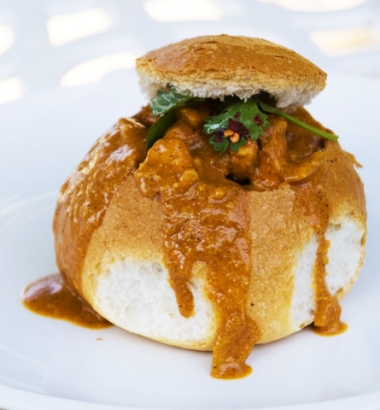 "Hoity Toity" Bunny Chow
This is how they have   progressed through the years and are available in the best hotels in Durban, and every other eating place you can imagine.
500g beef mince (ground mince).
2 Tbsp cooking oil.
1 medium onion chopped.
1 400g tin of chopped tomatoes.
½ tsp crushed ginger.
2 tsp crushed garlic (nature's best antibiotic).
1 cup frozen mixed veggies.
2½ to 3 tsp medium or hot curry powder to suit your taste, mixed with 1/2 cup cold water.
1 Tbsp Vinegar.
1 Tbsp fruit chutney.  

¼ tsp dry thyme or one fresh sprig of Thyme.
1 sprig curry leaves
 dhania
1 bay leaf
2 Tbsp Worcestershire sauce.
Salt and Pepper to taste.
Place a large saucepan on your hob and pour in the oil and heat.

Add onions and cook until soft.

Next add your garlic, ginger, bay leaf and curry leaves cook for 1 minute  whilst stirring, taking care it don't burn.

Add your beef mince, herbs, and stir.

Add mixed curry paste, vinegar, Worcestershire  sauce and stir so all the mince is coated, cook for app 2 minutes.

Now add your crushed tomato, chutney, curry paste.

Reduce heat and simmer for 20  minutes stirring occasionally.

Last step stir in your frozen mixed veggies and cook for a further 3 minutes
Remove from heat and sprinkle with some fresh dhania leaves.
Plating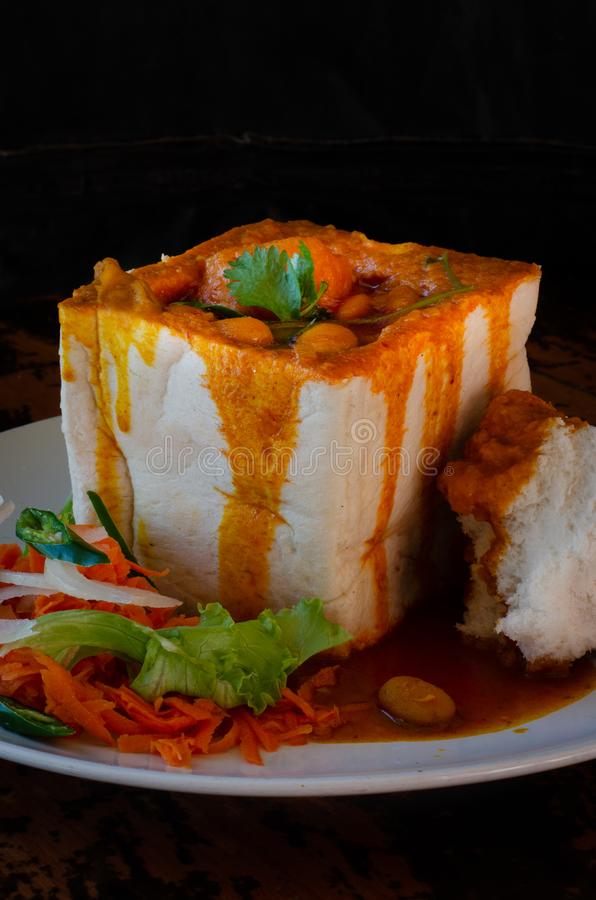 Flavorful World of Bunny Chow
No plates required, it is served in a half or quarter loaf of bread. 
Adders - Sambals
As the love of this type of eating curry grew,  all sorts of extra's have been added:
A  side portion of grated carrots.
Chopped chilli and onion salad.
Chutney.
But it will still be recognized for it's key characteristic which is when the gravy from the curry filling soaks into the walls of the bread.

This article was printed from Home-Cooking-Haven.com.com