Christmas Menu
Starter:            20 minutes
Entrée:            20 minutes
Main Course:  20 minutes
Dessert:          15minutes

Starter:          1 hour
Entrée:            1-2 hrs. depending on size. Please refer method
Main Course:    1-2 hrs depending on size and preference. Please refer method.
Glazing:            20 minutes

Dessert:              Refrigerate over night

Starter:           6 people
Entrée:            6 people
Main Course:  6 people
Dessert:          6 people

---
The time to start preparing your Christmas Menu for 2018 has come!!  but do not panic my fellow home chefs, we have prepared a Christmas Day menu specially for you.
There is a lot of preparation for this meal, and do not be afraid, as the end results justify all the work you put into it.
We are going to guide you on preparing this meal and trust me,  your family and guests will be overwhelmed and you will enjoy your Christmas Day around the table and not in the kitchen.
To make it easy we will go through this menu stage by stage, and remember this website is devoted to simple meals that are easy on the pocket.

Right... enough chit chat, it is time to start our Christmas Menu

CHRISTMAS MENU
STARTERS
Prawn and mock crayfish

ENTREE
Cold Gammon with Mauritian mayonnaise and 3 beans salad.

MAIN COURSE
Roasted leg of lamb, roasted mixed veggies, potatoes and gravy.

DESSERT
Trifle with your choice of topping, Ice cream,  fresh cream, creamy custard or fruity Yoghurt. They are all great, the choice is yours.

Starter - Prawn Cocktail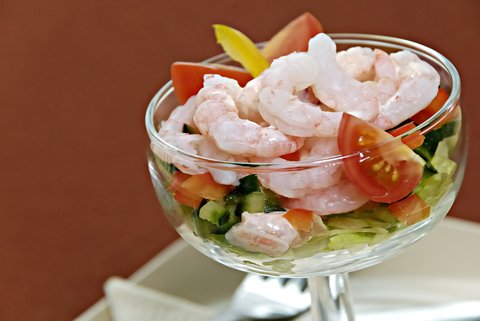 Ingredients for your Prawn Cocktail
400g cooked peeled headless prawns (in this recipe each serving should have 4 prawns).

400g cooked hake,

1 small bay leaf.

1 onion in half complete with skin.

5 whole black pepper corns..

Salt and Black ground Pepper.

For the cocktail mixture

3 heaped Tbsps. Mayonnaise.

1 level tsp tomato sauce.

1 tsp. Worcestershire Sauce

Splash of Tabasco Sauce.

1 medium lettuce chopped.


Lemon sliced into rings.

Salt and Black ground Pepper

Method for your Prawn Cocktail
Place prawns in med pot bring to boil,  boil for 4 minutes.
Remove pot from hob, drain the prawns and set aside for later.
              Next, we do the fish.  
 Place same pot on hob with water and add your Hake (no need to thaw if frozen).
Add the bay leaf, a small onion cut in half, Pepper corns, salt and pepper to taste and bring to the boil,
Reduce heat and simmer until fish is flaky ± 10 minutes

Now for the Cocktail Sauce

In a bowl add the mayonnaise, tomato sauce,
2 Tbsp. fresh cream,
 Worcester sauce,
Splash of Tabasco, 
A sprinkle of paprika,
Sea salt and ground pepper to taste,
Mix Well.
I always double my ingredients for the cocktail mixture  as it is so delicious that my family always comes back for more.

 When the fish has cooled down, pour half of the dressing over and combine well.

Place fish mixture in fridge to chill.

Serve in wine glasses by using the chopped lettuces as the base then the fish mixture and hang the prawns over the side .
Drizzle the remaining mayo mixture over

Entrée - Cold Gammon with Mauritiun Mayonnaise and 3 bean salad

Okey Dokey we will start with the Gammon part of the Christmas as it will take approx. 2 hrs.

Ingredients for the Gammon 
2-2½ kg/2lb Gammon with bone

1 med onion

2 Bay leave

2 carrots slit down the middle

2 celery stalks

12 black peppercorns

Sea salt to taste

6-10 whole cloves

small tin pineapple rings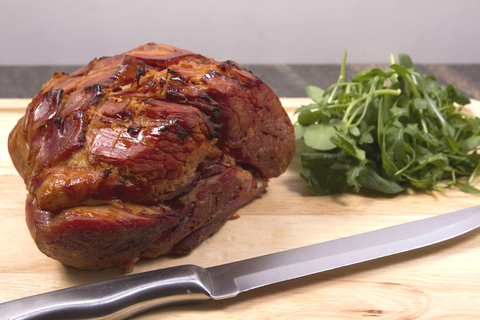 Before Glazing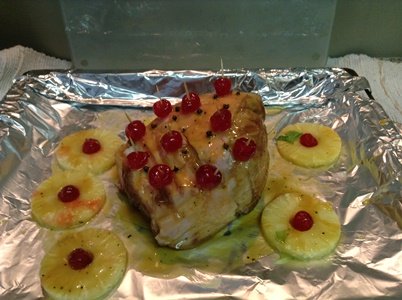 After Glazing
Method for the Gammon
Most Gammon come vacuum packed, remove the packaging and rinse under cold water.

Place the Gammon joint into a large deep pot.

Pour in cold water till it covers the Gammon.

Bring to boil and boil for 1 minute.

Remove from hob, drain the water.

 Rinse Gammon  and place into pot.

Refill with fresh boiling water covering the Gammon.


Add the onion, carrots, bay leaves, black pepper corns, celery stalks and cloves.

Bring to boil once more.

Once its boiling set your alarm. 

Place the lid on and turn heat down and simmer for 20 minutes per 450g/ 1lb plus 20 minutes or until thoroughly cooked.


Tip: Should the water start spilling over, remove lid and place a wooden spoon across the middle of the pot. 
Whilst the Gammon is cooking, we can prepare the other food for our menu.
Driiiiiiiiiig Driiiiiiiiiig Hear that ! time to remove the Gammon and set aside to rest.

Sieve the liquid from the pot and  use it to add to your dogs chunks food, make soups, stews  etc.

Glazing
Ingredients for  Glazing
4Tbsp Honey.
4 tsp. English Mustard.
½ Pine apple juice
3 heap Tbsp brown sugar.
small tin of pineapple rings
10 - 12 glazed cherries
Method for Glazing
Remove the Gammon and set aside to cool for 15 minutes.

Using a small kitchen knife remove the rind and fat from the Gammon leaving a thin layer of fat 1-2mm.

Score the outside layer of fat in a diamond pattern and push the stem of cloves into the center of the crosses.

Place Gammon into foil lined roasting tray and turn the edges up to contain all the juices.

In a small pot add honey, sugar mustard, pineapple juice.

Bring to boil stirring reduce heat and simmer two minutes stirring all the time.

Brush the glazing  mix all over the gammon.

Using toothpicks place your glazed cherries randomly on your gammon

Place your pineapple rings on the foil around your gammon with a glazed cherry in the middle.

Turn oven setting to 200 Celsius  

Bake for 10-15 minutes ,

Remove from oven turn over the Gammon, brush with glazing, return to oven for further 10 -15  minutes

The gammon is ready when the fat is glossy and golden brown. Cover loosely with foil if the top gets too brown.

Remove from oven.

 Pour juice over and allow to rest for 15 minutes before carving,

 If you are only going to carve it on Christmas day, cover with foil together with pineapple rings and place in fridge.

Mauritian Mayonnaise
Time to prepare our Mauritian Mayo an absolute must for the Gammon Part of the Christmas menu. I call this Ritz's Mayo after my dear Late Mother- in- Law Rita.

Ingredients for Mayonnaise
2 large egg yokes
1½ cups veggie oil
1 tsp. crushed garlic
3 tsp. white vinegar
1 tsp Dijon Mustard
1 tsp sea salt
¼ tsp. ground black peppercorns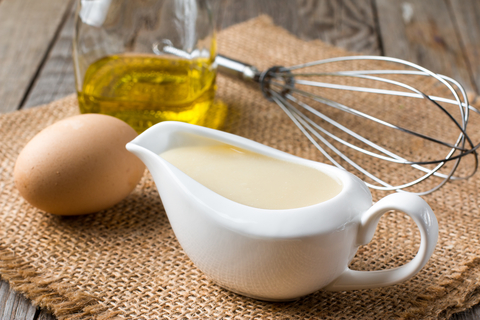 Method for Mayonnaise
Place your 2-3 egg yolks into  a mixing bowl.

Add crushed garlic, salt, ground pepper and Dijon mustard.

Mix mixture with electric blender on med speed or whisk by hand.
Okay, the next step is very important.

Slowly drizzle the veg oil into the mixture while mixing. 

The mixture will gradually start to thicken, when the mixture appears to thicken too much, add a little vinegar to thin.

Keeping mixing until all of the oil is used up and mayonnaise lines the back of a spoon (to get a comparison it must be just a little thicker than honey).

Finger taste and add pepper and salt if required.

Cover with cling wrap and refrigerate.

Three Bean Salad to have with the Gammon on your Christmas Menu
Ingredients for 3 Bean Salad
1x 400gr Tin of Green Beans drained.
1x 400gr Tin of Baked Beans drained and rinsed..
1x 400gr Tin of Butter Beans drained.
1 cup chopped onions
½ cup chopped green peppers.
½ cup chopped red peppers.
½ cup chopped yellow peppers.
¾ cup of oil.
½ cups red  vinegar.
3 Tbsp. Brown sugar.
3 tsp basil.
Salt and pepper to taste.
Method for 3 Bean Salad
Place med size pot on your hob

Turn heat to medium.
Using a colander drain the brine from Green beans and Butter beans.
Rinse  the tomato juice from the baked beans 
In a salad bowl combine your three beans, chopped onions and peppers.
In a mixing dish mix vinegar, sugar, oil, sweet basil salt and pepper .
Mix well and pour into pot. 
Stir whilst heating.
Remove from hob at boiling point.
Pour over your three bean salad and combine.
Allow to cool.
Cover with shrink wrap and refrigerate.

Roasted Leg of Lamb - Main Course for your Christmas Menu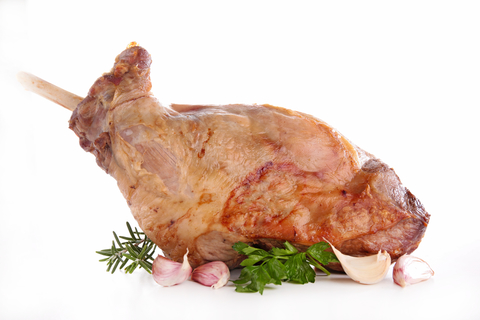 Ingredients for Roasted leg of Lamb
You will need the following
1 ½ Kg lamb leg roast bone in
3 Tbsp. Olive Oil

3 cloves garlic  (very good for you) sliced lengthwise
½ tsp. thyme
3 stems fresh rosemary (1½ tsps. dried Rosemary )
3  garlic cloves crushed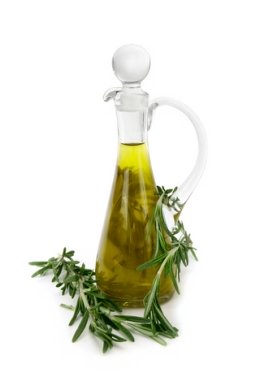 Method for Roasting Lamb
Place the leg of lamb on a cutting board and using a sharp pointed knife randomly insert small deepest cuts and insert a slice of the garlic per insertion.

Mix the thyme crushed garlic and lamb spice. 

Using your hands, rub the mix herbs over your Lamb.

Drizzle the Lamb all-over with olive oil.

Sprinkle salt and black pepper and place on a baking tray lined with foil.

Move grid in the oven so that the lamb is a few inches from the elements turn oven to grill roast the lamb   ± 3 minutes then turn lamb over and repeat.

Remove lamb from oven

Reduce heat to 180°/320F and lower grid to the middle. 

Drizzle with olive oil, place Rosemary stems on top cover the lamb with foil and return to oven .

Cook for 1 hour.

Remove foil after an hour and check with a meat thermometer.

 A temp of 57°C or 35°F  will be med rare .

If you wish it to be done a little more, leave in oven for further 20/25 minutes

Remove from oven, set aside to rest.
For the Gravy I usually buy Heat and Pour sachets from Woolworths but all supermarkets carry their own brand of Heat and Pour gravies. Or perhaps you have your own special gravy that you make and can be easily used for the lamb on this Christmas Menu.

Trifle - Dessert for your Christmas Menu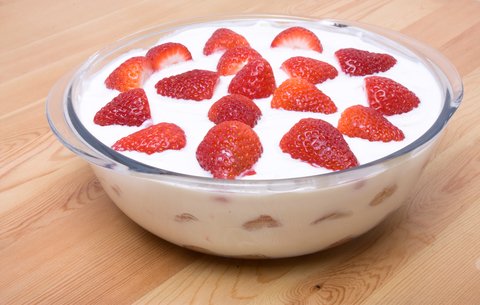 Trifle Ingredients
200g Boudoir Finger Biscuits
375g Condensed Milk
2 x 250ml Fresh Cream, one for the mix and one for the topping
250ml custard for topping
½ cup of milk
250ml can of fruit cocktail with juice
40ml Lemon Juice
Old Brown sherry or Cointreau liqueur
Handful crushed cashew nuts
100 slab of milk chocolate grated
10 strawberries sliced in half
3tsp Milo granules.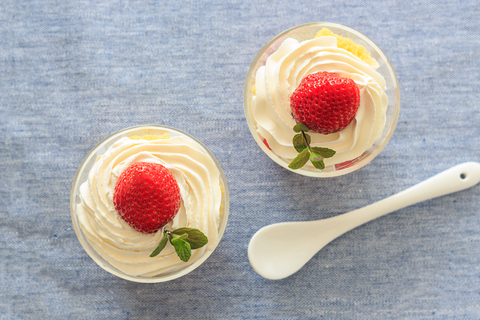 Trifle Method
In a large bowel break you're Boudoir Finger Biscuits into four pieces.

Sprinkle the biscuits with Old brown sherry or Cointreau. Do not have a heavy hand, it will spoil the pudding. The idea is that your guests must taste something nice but few will identify the ingredient

In another large mixing bowl, combine the condensed  milk and lemon, and beat till mixed.

Add ½ the nuts and ½ the grated chocolate and cocktail fruit with juice.

Once mixed pour the mixture over the biscuits. 

Cover with shrink wrap and place into your fridge to set.

Remove from fridge before serving and cover  top first  with the creamy custard and then with the rest of the whipped cream.

Decorate the top with the remaining nuts, grated chocolate and sliced strawberries

Sprinkle with Milo granules.
Time out, you deserve a cool glass of your best beverage. Sit back and relax and think back when you started with this Christmas Menu,  smile and compliment yourself on a great job well done.
All that needs to be done now to complete your menu is the roast potatoes, roasted veggies and salads which can be completed on Christmas morning,

Well done one and all!! 
      We wish you and all your Family, Relatives and Friend  
  BON APITITE AND MERRY CHRISTMAS
                    YOUR CHRISTMAS MENU IS DONE TILL NEXT YEAR..

P.P.S. If you enjoyed this Christmas Menu, look out for our NEW YEAR's DAY menu which we will love to share on this site.
 Coming Soon

This article was printed from Home-Cooking-Haven.com.com