Scrumptious Baked Spaghetti Recipe
Prep Time

20 minutes

Cook Time

1 hour


Serves

 4 people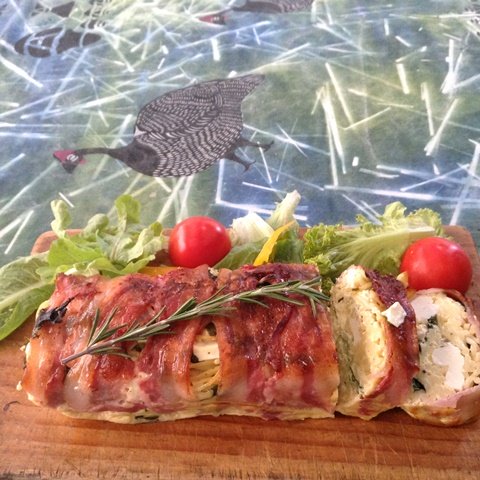 Baked Pasta Terrine
A scrumptious baked spaghetti recipe  (also known as a pasta terrin) that not only looks impressive but is also very simple to make. You will stun your family and friends by producing this deliciously easy to make, and tasty meal for any occasion.
Indulge in the delightful harmony of flavors and textures with a baked pasta terrine!! This culinary masterpiece combines layers of perfectly cooked pasta with savory fillings all baked to perfection.
With its rich aroma's and stunning presentation, a baked pasta terrine is sure to satisfy even the most discerning palates.
Prepare to be captivated as you embark on a culinary journey and dive into the symphony of flavors that awaits with every bite.
So let's start A...Cooking!! 
Ingredients for Baked Spaghetti Terrine
Ingredients

250g bacon rashers.

2 mugs of spaghetti, cooked (Al dente)  as per the instructions on the box. 

100g crumbled feta cheese.

100g ricotta cheese.

30g cleaned and shredded baby spinach.

3 eggs, whisked.

125ml (half a cup) cream.

Salt and freshly ground black pepper to taste.

Garlic and basil also to taste

Cooking Terms: Al Dente: Usually applied to pasta It means cooked until just done but not soft. The pasta should still maintain some 'bite'.


Method

Get the oven ready by pre-heating to 180° C.




Grease a loaf tin and line it with enough baking paper (grease proof paper) to hang over the sides).




Line the loaf tin with the uncooked bacon, leaving enough hanging over the sides to cover the filling.



Mix the cooked spaghetti, cheeses and spinach, season with the salt and pepper, grated garlic to your taste and a pinch of basil and then spoon into the lined bread tin.

Whisk the eggs and cream and pour over the spaghetti mixture.
Fold the bacon over the filling and then fold the baking paper over the bacon.
Bake for an hour.
Leave to cool for a few minutes and then turn out and peel off the paper.
Serve sliced.

Can be served hot or cold.

In closing, we invite you to join us on a tantalizing journey through the world of baked spaghetti, where every bite is a moment of pure culinary delight.
With our scrumptious recipe, you'll effortlessly transform a humble bowl of spaghetti into a dining experience to be remembered.
Whether served as a cosy week night dinner or a centerpiece for special occasions, our baked spaghetti is sure to leave a lasting impression on your taste buds and warm your heart.
So gather your loved ones, ignite your passion for cooking and create unforgettable moments around a dish that perfectly blends simplicity, indulgence and sheer deliciousness.
Serve your Bake spaghetti with a delicious cucumber and tomato salad, set out below, but stop and read the benefits of spinach, and then move onto the salad recipe.
Benefits of Spinach
One of the ingredients in this baked spaghetti recipe is a favorite all time vegetable, namely spinach.
Remember the demands from your parents..... "eat your greens", so perhaps now that you are older you might just enjoy knowing how good this green stuff is for you.  
It is absolutely packed with nutrients, including vitamins A, B, C, E and K,  folic acid and beta-carotene.
Spinach also contains the following;
Iron,  a deficiency of which can lead to anemia.
Calcium,  which is important for the smooth function of nerves and muscles.
Magnesium,  a vital component of a healthy human diet.
Potassium, keeps artery walls elastic.
Zinc, which is a necessary nutrient for the immune system and plays an important role in the male reproduction system.



Cucumber and Onion Salad
Once again we are adding on a salad onto a page, knowing it will suit the main dish  page.
It is a simple salad for the day you have lotsa guests and you need to fill the table with easy but tasty salads. And with this recipe you will be able to feed up to 14 guests.
Ingredients for the Salad

7 cups sliced cucumbers.
1 cup sliced onions.
1 cup sliced bell peppers.
10 hard boiled eggs.
1 handful fennel for decorating.

Dressing

1 cup white vinegar.

2 cups white sugar.
1TBSP celery seed.
2 tsps salt or to taste.

Method for the Salad

Place cucumber slices in a colander and liberally sprinkle salt over them.
Set aside until water starts to leak from the cucumbers, about 15 minutes.
Drain and rinse cucumbers.
Mix cucumber slices, de-skinned onions and green peppers gently in a bowl.
Whisk sugar, vinegar, celery seed and 2 teaspoons salt in a bowl until dressing is smooth; pour over the cucumber mixture and stir until evenly coated.
Make the bowl look pretty by adding some feta cheese on top of  the salad together with some halved boiled eggs and some fennel.
This article was printed from Home-Cooking-Haven.com.com
Back to the top of our Baked Spaghetti Recipe
or else
To our Home Page