Beef stew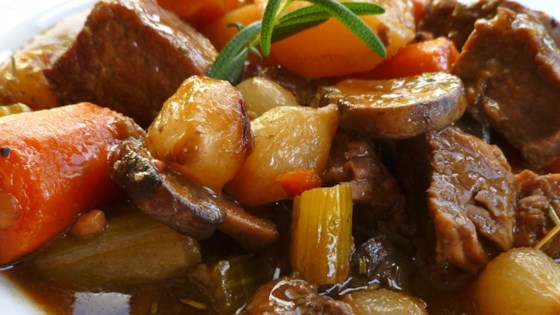 Preparation         Time:
15 mins

    Cooking
      Time:
90 mins

This morning I woke up thinking beef stew, I was so full of enthusiasm for life and the day ahead, and thought to myself  - this is gonna be a great day to share one of my favourite recipes with all of you. 
This is a wholesome meal and very easy on the purse strings.

Ingredients for Beef stew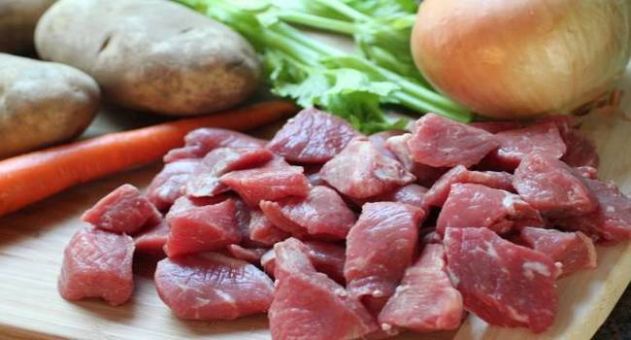 Right, all my fellow home chefs, let's start off by gathering the ingredients required for this easy, simple and deliciously tasty stew.

You will need the following :

450g stew beef cut into cubes.  You can also use beef still on the bone if you prefer.
1 large onion - diced
2 tsp crushed garlic.
1 tsp crushed ginger.
3 med potato's (for those on the Banting Diet use sweet potatoes)
1½ cups frozen or fresh mixed vegetables with carrots.
½ a can crushed tomato's or 2 medium sized fresh tomato's finely chopped.
1 bay leaf.
½ tsp thyme or 1sprig fresh thyme.
2 Tbsp Tomato sauce or 1tsp tomato paste.
2 Tbsp Worcestershire Sauce.
3 Tbsp Olive Oil (which, by the way is very good for blood thinning).
Salt and black pepper to taste.


Method
Traditional Oven Temperatures
Slow
Moderate
Moderate
Moderately Hot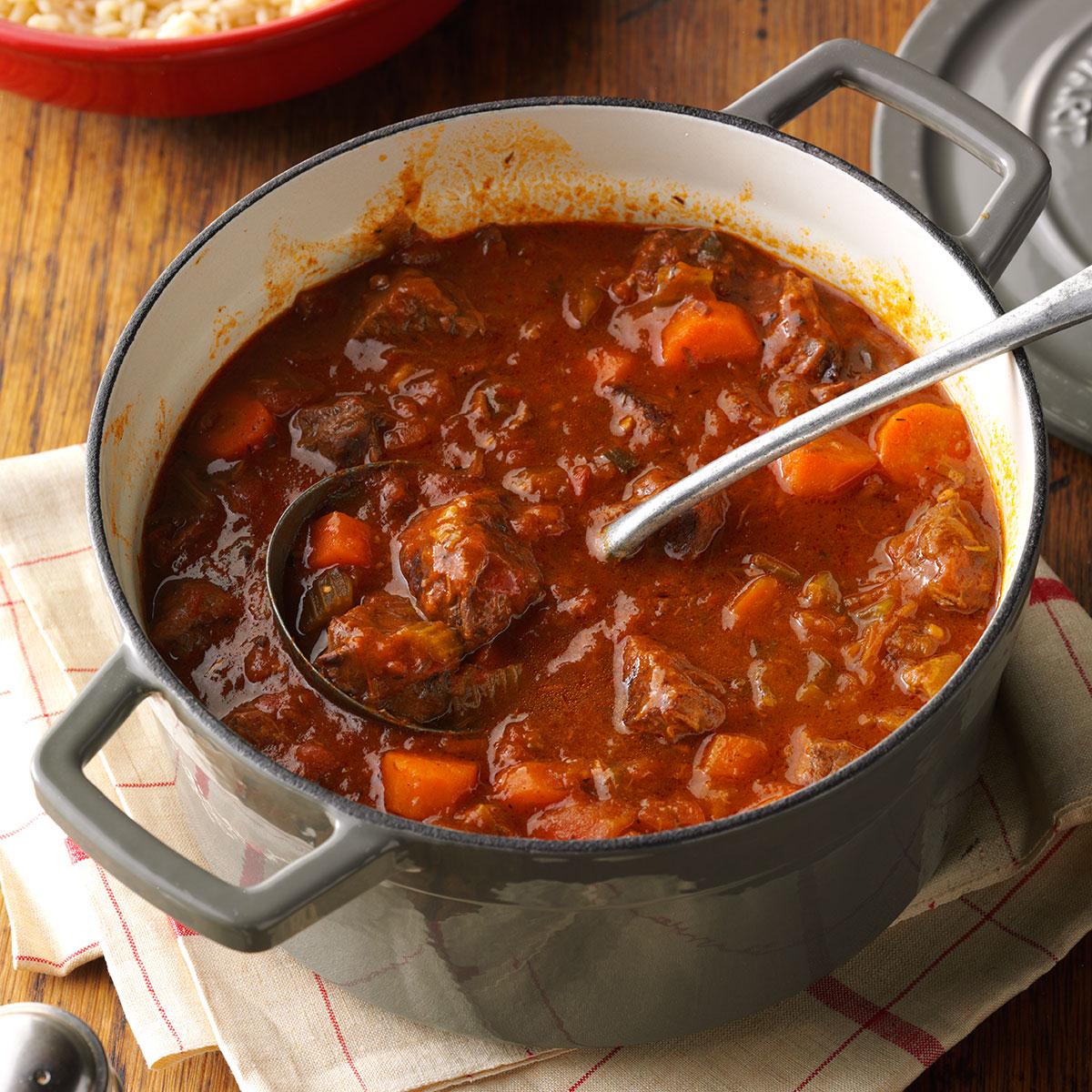 Great now that we have all the ingredients together for this once tasted never forgotten Beef Stew it's that time...... wait for it:
                                                "Time to start... A...Cooking"

place large cooking pot on your hob and put in the oil and onions.
             

cook onions until they are translucent,  taking care not to burn them.


add garlic and ginger and stir for a further 30 seconds.


add the beef pieces, spices and bay leaf  and stir.
.
turn up the heat and brown (sear) the meat, stirring as it cooks.


 Cook for further 60 seconds.


add the potatoes,(sweet potatoes) carrots and chopped tomato.  All of these are healthy ingredients that have some sort of medicinal properties to help ward off many day to day ailments like the potato's  that are very good for high blood pressure.


add the vinegar (which, by the way,  can be used for all sorts of home remedies), "Worcester" sauce  and tomato sauce.


lower heat and cook for app 45min (time to relax with a cool drink).


add your veggies, stir and simmer for a further 20 minutes or until meat is tender and check that the potato's are soft (relax some more.).


remove bay leaf.

Plating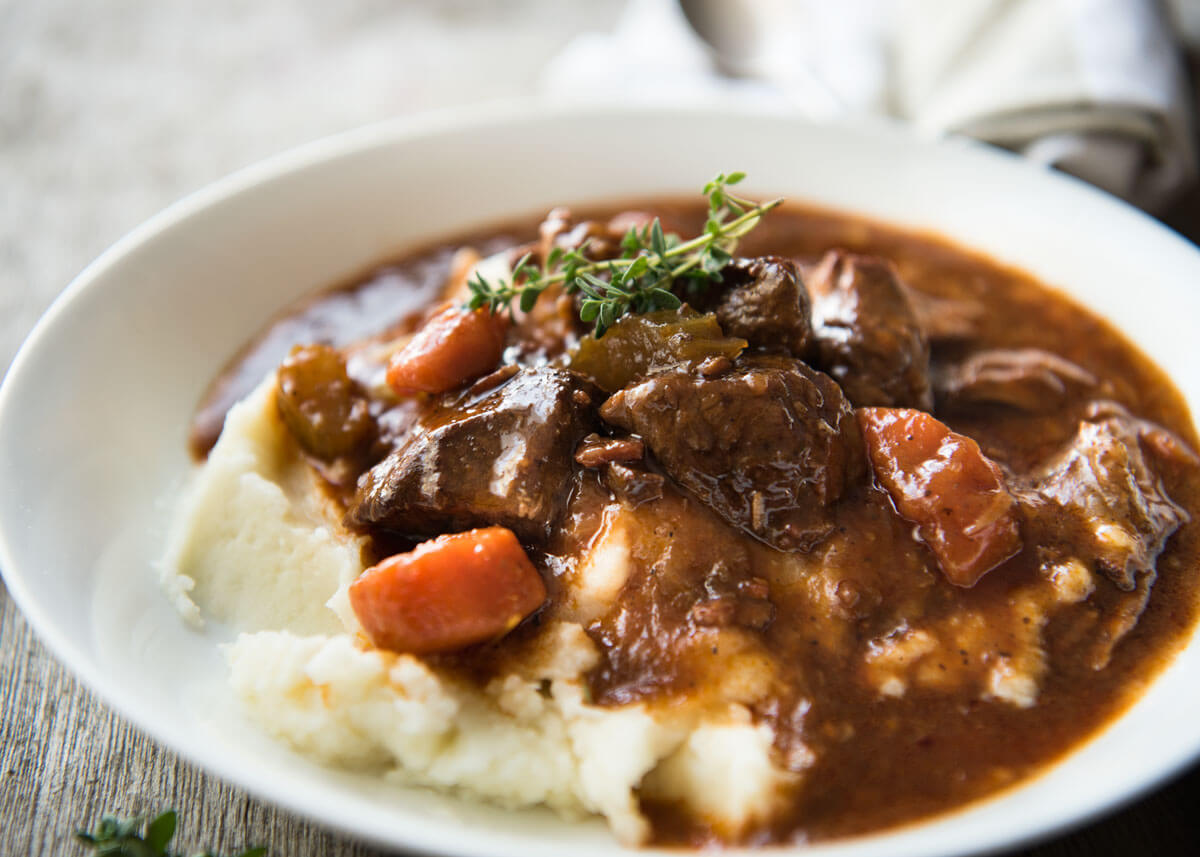 I always enjoy this part of cooking a meal, the hard work is done and now all you need to do is add what you and your family enjoy most, which could be anyone of the following:


Traditional white or brown rice, my partner Lynnie loves Basmati rice.


Creamy mash potatoes.


Peas.


Cauliflower mash (the latest craze, and is very popular for those that are following the Banting Diet).


Pasta of your choice.


Mealie meal pap.


Or as a Bunny Chow for those who would love to experience the fun of eating a  Bunny chow but cannot eat curry, replace the spicy meal with this beef stew.

Bunny Chow, for those of you who might not be familiar with this, is a well loved meal from the eastern shores of South Africa, you can look at my Bunny Chow recipe for some really interesting stories on the history of this delicious accompaniment to any stew or curry.

This article was printed from Home-Cooking-Haven.com.com