The Kitchen is been renovated, please be patient, we are almost done.
Leek and Potato Soup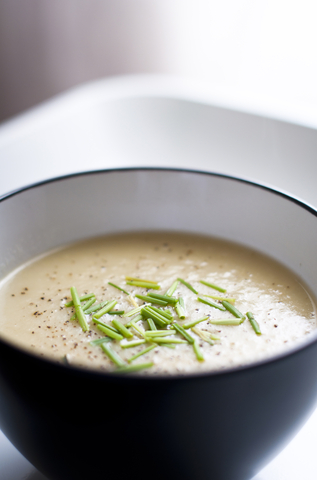 Today I'm going to do a Leek and potato soup, sounds a bit boring hey, but believe me it's a delightful soup and is one of the lowest budget soups you can make.
For those people living in countries that are going through winter at this time of year, I know you will enjoy this tasty soup as it will help endure the chilly nights and bring a warm feeling of happiness to you and your family.


Ingredients for Leek and potato soup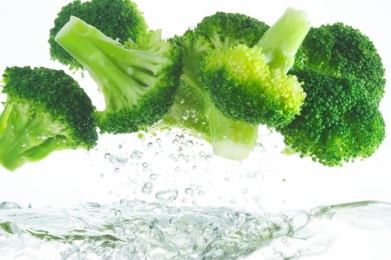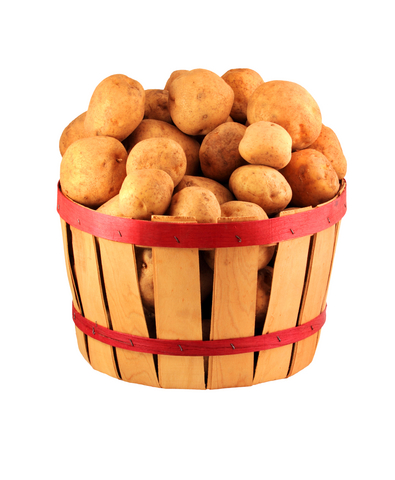 Right... the first thing you and I need to do is to prepare all the ingredients required for this delectable leek and potato soup.
 We are gonna need the following.

2 large leeks cleaned and chopped.


30 ml butter.


2 Cloves of fresh garlic crushed (1 teaspoon crushed garlic in a tub).


1 Tbsp. chopped parsley.


 350g potato peeled and cut into small cubes.


1 sprig fresh thyme (¼ teaspoon dried thyme).


Half teaspoon salt.


2 Broccoli florets.


1 litre chicken or veggie stock


2 Bay leaves.


4 Slices of deli ham chopped (can use 125g chopped, fried, crispy bacon).


Salt and Pepper to taste.

Right that was easy we can now ,wait for it

                        Its Time To Start- A- cooking". ( I love saying that).


Method
Okay... if you thought getting the ingredients together was easy, let me tell you cooking this Leek and Potato Soup with all sorts of other delicious yummy "stuff"  is easier.
Okey Dokey lets get started.

Heat  the butter in large pot and sauté the chopped leeks for 3 minutes, until soft.


Add the potato,  garlic and salt and stir well.


Cover and cook until tender.


Still with me?

Great stuff lets continue.




Pour in your stock.


Add bay leaves.


Bring to boil.


Add broccoli florets.


Place lid back on turn the heat down and let simmer for about 15 to 20 minutes until the veggies are tender.


Remove broccoli, chop and set aside for later.


Take out the bay leaves and the stem of the thyme sprig


How's it going so far? Keeping up?.


Okay time to puree your soup, using an immersion blender (if you have not got one, no problem, use an egg beater)  purée the soup until nice and smooth taking care not to let it splash on you as it is verrrry hot and would spoil all the fun you and I are having making this soup.


Add your chopped ham and broccoli.


Add chopped parsley.


Put your soup back on the hob and simmer for a few minutes
 
Add fresh ground pepper (add salt to taste)


Turn hob off.

My Mom always used to tell me  "cook with passion and have fun, if you are not in the mood it will show in your meal".
So always cook with intensity and gusto and I promise you your meals will be perfect.

Plating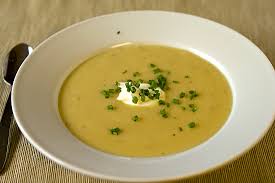 Now it's time to call the family together to enjoy the "fruit's" of your cooking and watch their warm smiles as they lap up this warm pleasurable soup .
There are many ways of plating this soup but I find a nice deep cereal bowl or large soup cup keeps the soup hot longer.
.
Add some warm fresh bread (brown or white), to your sideplate.


Or add a fresh bread roll or buns from your local supermarket or bakery.


If you like to spice up things, add a few drops of Tabasco sauce to your serving.

Healthy Benefits of Leek and Potato Soup
The simple potato, complimentary to most dishes is extremely good for helping lower high blood pressure.
And garlic, well.... it is good for almost everything.

To the top of our Leek and Potato Soup recipe
or else
Get right back to our Home Page