Low Carb Recipe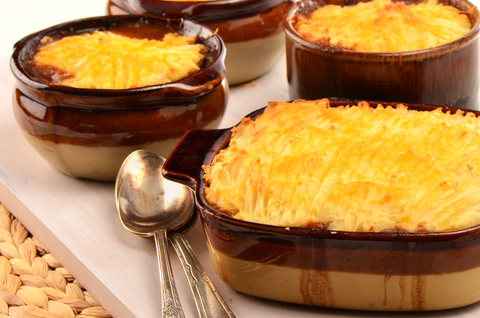 Prep Time

30 minutes

Cook Time

40 minutes

Serves

6 people
Welcome to Home Cooking Haven, your ultimate destination for delicious and nutritious simple recipes, and we are featuring Low carb cottage pie.
If you are looking for a mouthwatering dish that is low in carbs, but high in flavor, you've come to the right place.
Our recipe for low carb cottage pie which is a true crowd-pleaser, combining tender ground beef with a medley of vegetables and topped with fluffy sweet potato mash.
Get ready to indulge in comforting and guilt-free meal that will leave you satisfied and wanting more.
Let's dive into the world of low carb cooking and discover a new favorite dish together.
Do you know the difference between Cottage Pie and Shepherds Pie? If not, the answer is Cottage Pie is cooked with beef and Shephard's Pie with Lamb, so you can make this dish with 'either or'.
| | |
| --- | --- |
| Ingredients For Low Carb Cottage Pie. | Method for Low Carb Cottage Pie. |
800g peeled sweet potatoes into cubes.
500g beef mince.
6tsps milk.
125g butter.
1Tbsp olive oil.
1 cup chopped onions.
1 cup chopped carrots.
¼ tsp thyme.
3 Tbsp Worcester sauce.
2 tsp tomato paste
1 clove garlic minced.
450g beef mince.
120gr chopped white mushrooms.
2 Tbsp chopped fresh parsley.
120g grated cheddar cheese 5-6 slices tomato. 
Salt and black pepper to taste.





Pre heat oven 200°c.
Place cubed sweet potatoes into a pot with cold water, bring to boil, cook until soft.
Drain in a colander.
Add milk and butter to pot used for the sweet potatoes and heat gently until butter has melted.
Add cooked sweet potatoes and mash the butter milk and potato's until you get a creamy mash, taste and season Set aside for later.
Pour the Olive oil into a large deep pan.
Add onions and carrots and fry gently for about 5 minutes.
Add garlic and cook for another minute taking care not to burn.
Add the minced beef, a third of the beef stock, Worchester Sauce and tomato paste to the onions, carrot and garlic mixture.
Continue cooking, stirring until all the meat is brown.
Add parsley, thyme, mushrooms and rest of the stock, season with salt and pepper.
Cover with lid and cook for 15 minutes.
Remove lid and cook uncovered for further 10 minutes to reduce sauce slightly.
Spoon the mince sauce into      20 cm x 7cm deep oven proof dish.
Then spread the mashed sweet potatoes evenly on the top of the mince. 
Place the slices of tomato on top of the potatoes.
Sprinkle the grated cheddar cheese on top. 
Bake in pre heated oven for 25-30minutes until top is crisp and brown.
Plating of Low Carb Cottage Pie
Lovely with a bowl of buttered peas.
Steamed broccoli and cauliflower.
Italian, Greek or French salad.
Fresh French garlic rolls.
And most important a glass of chilled wine.
In closing at Home Cooking Haven, we believe that healthy eating should never compromise on taste.
That's why we're excited to to share our tantalizing recipe for a low carb dish featuring the versatile and delicious, low carb sweet potatoe pie.
Join us at Home Cooking Haven any time and embark on a culinary adventure that will revolutionize the way you think about healthy eating.
Let's create wholesome and delicious meals together, one sweet potatoe at a time.
This article was printed from Home-Cooking-Haven.com.com