Cucumber Mousse
Hi  every one, what a great time to share one of our refreshing Cucumber recipes, which is our spicy mousse.

The great thing about this Cucumber recipes is you can enjoy it at parties or with your evening sun downer on the patio.
Right now it's time to get all the ingredients together to make your tasty cucumber recipe.

Ingredients
You will need the following: 


1 lb. (2.2kg) English cucumber (if you use ordinary cucumber, you will need to remove the seeds)
8 oz. cream cheese
½ cup mayonnaise
1 cup mashed tin salmon
½ tsp. ground nutmeg
¼ tsp. Tabasco sauce
½ cup chicken stock
1Tbsp gelatin
½ tsp ground black pepper to taste
½ tsp ground sea salt
1Tbsp finely chopped chives
1 Tbsp. finely chopped parsley
½ cup fresh cream
2 tsp. lemon juice

Cool Cucumbers
Method -  Cucumber Recipes
Okey Dokey,  now that we done the prep work it's that time again, wait for it......
                 Let's Start a...Cooking this mouth-watering cucumber mousse! 

Place the small diced cucumber in a colander and sprinkle with salt.
Set aside and cover with dish cloth, leave for ± 35minutes to drain all the moisture. 


Place the cottage cheese in a mixing bowl and stir until nice and smooth.
Add mayonnaise, nutmeg and the Tabasco sauce, stir until smooth.


Place a med size pot on your hob and set temp to medium.
Add your gelatine to ½ of the chicken stock, place in the pot, stir well until hot.
Remove from your hob and add the remainder of your stock, allow to cool.

Make sure the diced cucumbers are drained, remove and place them on a kitchen towel or kitchen paper and pat dry.

Take your stock that you removed from your hob earlier. It should be cooled down by now and add the cream cheese and stir or whip.
Season with ground sea salt and ground black pepper to taste.
Add the diced cucumber, chives and chopped parsley.

Fold in well.
Using another smallish mixing bowl whip your cream until peaks start to form,  set aside.
When the cucumber mixture starts to thicken fold in the whipped cream and the salmon.
Add the lemon juice and stir well.

LAST STEP
Using a soup ladle place mixture into small containers of your choice i.e. jelly moulds
You can also ladle into small ice block containers
Place into your fridge and allow to set for 6 hours or overnight

Hooray, you have just completed a cucumber mousse that will make your friends come back for more and more and more.
Serving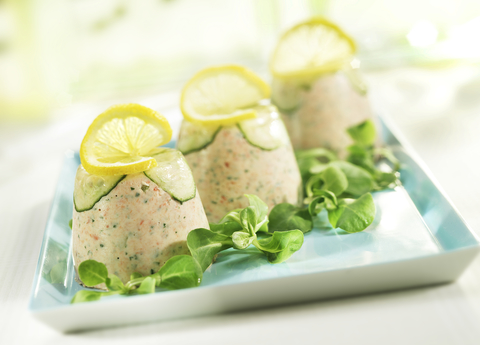 As for serving, there are many ways and this is always the fun part. 

Using a piping bag you can fill or spoon into cucumber circles.
Or spoon into Green Red or Yellow peppers.

With assorted cocktail biscuits.

On shredded lettuce and sliced tomato.
With sliced smoked pink salmon (budget allowing that is).
I leave the rest to your imagination. 

This article was printed from Home-Cooking-Haven.com.com