Hot Dog soup

   Prep time: 15 minutes                   Cook time: 45 minutes                     Serves: 4 people

Hot Dog Soup day today!!.
Hi to all my fellow chefs here on the East Coast of Africa and around this  beautiful world we live in.

Well now that Winter is fast approaching, we here at Home Cooking Haven decided  it's time to pull out our Soup Menus and share them with you.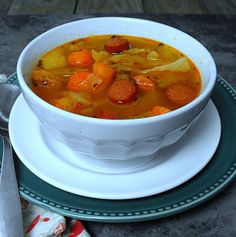 Boy have I got a great recipe for all of you today, which is also Banting friendly and packed with delicious veggies.

What's more is this delicious flavorful warm and filling hearty soup, is easy to make and a fun way of getting the little one's to eat all their veggies.

Most people  would relate a Hot dog to a Vienna between a fresh roll with Mustard and ketchup, well believe me there are so many ways of using Hot Dog Frankfurters to create some great meals, starting off with soup today.  

 Hot Dog Soup is one of those great soups which one can add almost any Vegetable, (time to clean out your veggie rack he he).

Ingredients for Hot Dog Soup
Okey Dokey I've just heard the weather report, Cold front on the way this afternoon, I guess we better start collecting the ingredients for this heart warming soup, before the family gets home.
We will need the following
350 g Hot Dog /Frankfurters.
30ml Butter.
1 onion chopped.
1 clove Garlic, chopped finely.
3 Medium size potatoes peeled and cubed.
1 cup shredded Cabbage.

5 ml Oregano.
1x400g Chopped tomatoes.

500 ml Chicken stock.
200 g Fresh/frozen Green Beans.
1 can corn kernels.
1 x400 Tin baked beans.(optional)

Salt and Ground black pepper.

Method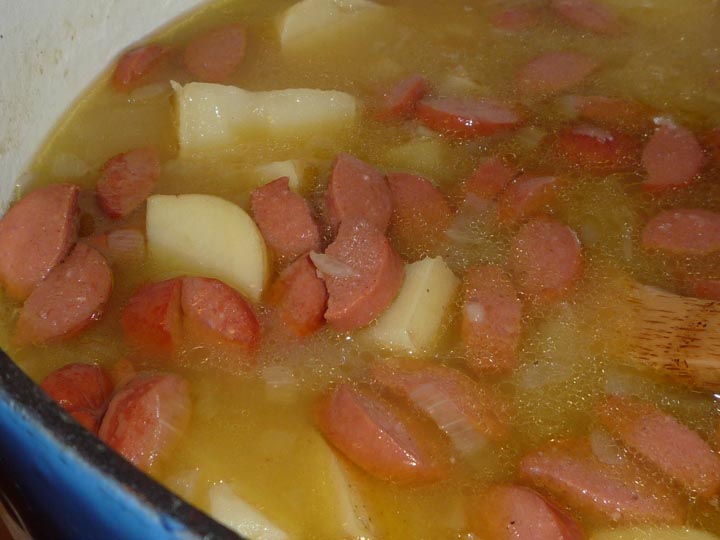 Great,  now that we have gathered all the ingredients for this hearty hot dog soup packed with veggies...….. its that time...….. Wait for it:
                                             It's Time To Start A Cooking
Heat butter in a pot and fry onions and Garlic until translucent.
Add your frankfurters and fry for +- 2-3 minutes.
Now add your potatoes and Oregano ,stir and fry for a further 5 minutes
Time to add your chopped tomatoes, and chicken stock .
Cover partially and cook for 25-30 minutes or until potatoes are cooked through.
Add the rest of your veggies for a further 5 minutes until the green beans are just tender but still got a bite and are still bright green.

Plating of Hot Dog Soup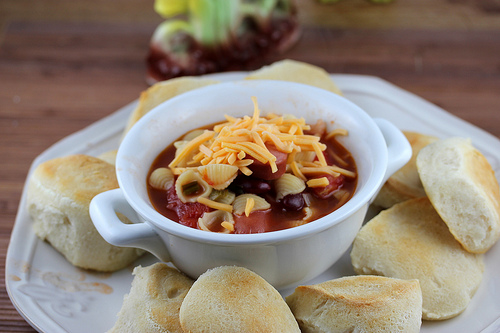 Great,  we have finished this hearty soup just in time as I can hear the kids coming home. Below are a few ideas for serving: 
On its own.


With any fresh bread or rolls.


With a French Garlic loaf.


Sprinkle with grated Cheddar cheese.


For those that like a little bit of bite, add a few drops of Tabasco sauce mmm.
                                                      Enjoy

Claim to the birthplace of the Frankfurter.
In1805 – The people of Vienna (Wien), Austria point to the term "wiener" to prove their claim as the birthplace of the hot dog. It is said that the master sausage maker who made the first wiener got his early training in Frankfurt, Germany. He called his sausage the "wiener-frankfurter."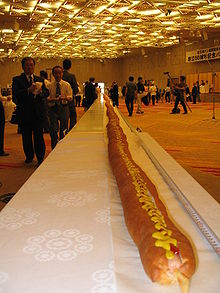 The World's longest hot dog created was 60 meters (197 ft.), which rested within a 60.3-meter (198 ft.) bun. The hot dog was prepared by Shizuoka Meat Producers for the All-Japan Bread Association, which baked the bun and coordinated the event, including official measurement for the world record. The hot dog and bun were the center of a media event in celebration of the Association's 50th anniversary on August 4, 2006, at the Akasaka Prince Hotel, Tokyo, Japan.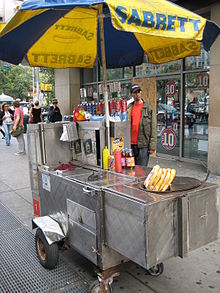 Hot dog carts are quick and easy food services, supplying millions of people with food every day. In 2015 the U.S. Hot Dog Council estimated that 15% of the approximately 10 billion hot dogs consumed by Americans in 2014 were purchased from a mobile hot dog vendor cart. Hot dog carts are very common in New York City and most of the hot dogs purveyed by hot dog carts in New York City are sourced from Sabrett.

This article was printed from Home-Cooking-Haven.com.com