Simple Fishcakes
Welcome to our Home Cooking Haven Kitchen and our recipe of the day, namely Simple Fishcakes for the whole  family, easy to make and even easier on the purse strings ...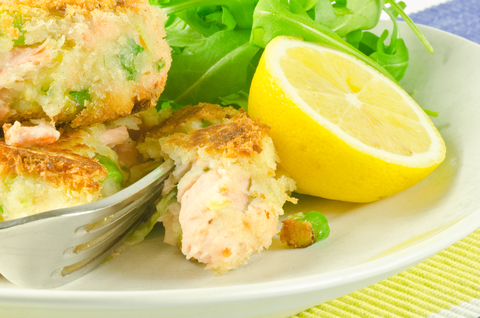 Prep Time
45 mins
Cook Time
10 Mins
Servings
4 Peeps
Ingredients - Fishcakes

120g cooked fish or 1 tin salmon
2 mashed potatoes
½ tsp lemon juice
½ tsp mixed herbs
1 egg,  beaten
1 onion, grated
salt and pepper
2 tbsp. flour
Oil for frying




Method - Fishcakes

Flake fish finely or decant salmon from the tin.
Mix potatoes, lemon juice, salt and pepper, herbs, eggs and onion.
Shape mixture into 8 cakes
Place the flour on a piece of paper or clean kitchen surface and roll the fish cakes.
Heat oil in a frying pan and fry the fish cakes until golden brown.
Garnish with lemon slices.
Plating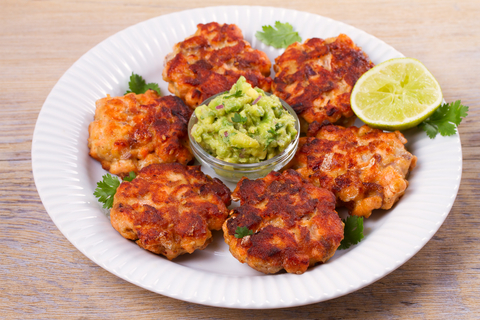 We have chosen to keep this meal as simple as possible so plating suggestions are simple and in line with our easy fishcake recipe.
Mashed Potato and Peas.
Baked Potato with cream cheese topping and a lovely mixed salad.
Potato salad with carrots and beans.

What I love to do with this delicious fish cakes is to make potatoe burgers as a means of serving them.  See below how to make these potato burgers and remember to always be adventurous and add the seasoning that you and your family enjoy.
What we find is that serving these fish cakes up as burgers is a huge attraction for the kids, who we know simply love burgers.   So these would be a burger with a twist for the little ones. And the big ones like us who, believe me, will also love it.
Ingredients for Potato Burgers
1 lb. mashed potato
1 Tbsp. plain flour
seasoning
butter or olive oil for frying
Method for Potato Burgers
Mix together the mashed potato, flour, salt and pepper.
Roll out on a floured surface to a good ¼ inch thickness and cut into rounds (2½ to 3 inch diameter) with a pastry cutter.
Fry in a little hot butter or oil until lightly browned on both sides, lift on a plate and keep warm.
Sandwich a fish cake between two potato cakes and service piping hot.
Spicy Fishcakes
And then just for fun, we have added another recipe below which has a nice little bite to it, and thought that if you are catering for the children, then perhaps you should try this for the big people who have a taste for spicy foods, it is delicious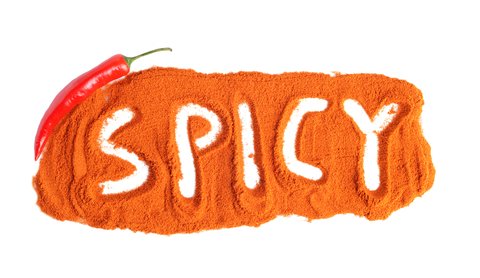 Ingredients
4 cans tuna drained
1 large potato, peeled and cubed
1 egg
¼ of a cup chopped onions
1 tablespoon Dijon Mustard
1 tablespoon dry breadcrumbs
1½ teaspoons garlic powder
1 teaspoon Italian Seasoning
¼ teaspoon Cayenne Pepper
Salt and pepper to taste
1 tablespoon Olive Oil
Method
Place the potato in a small pot and cover with salted water.
Bring to the boil over a high heat, then reduce to a medium-low heat, cover and allow to simmer until tender, about 20 minutes.
Drain and allow to steam dry for a minute or so, then mash potato in a large bowl.
Mix the tuna, egg, onion, Mustard, bread crumbs, garlic pepper, Italian seasoning, cayenne pepper, salt and pepper into the mash potato until well blended.
Divide the mixture into 8 patties.
Heat the olive oil in a skillet over a medium heat and pan fry the patties until browned and crisp, about 3 minutes on each side.
This article was printed from Home-Cooking-Haven.com.com