Easy Oven Baked Frittata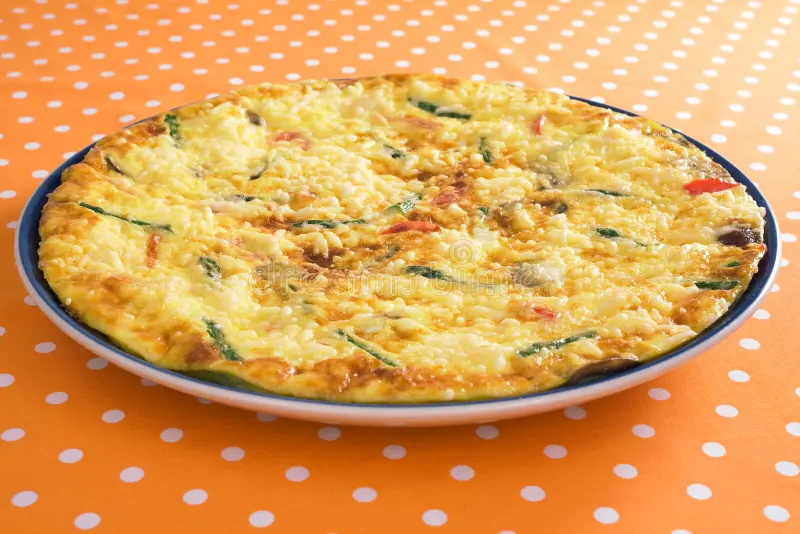 Welcome to Home Cooking Haven. Com your ultimate destination for delicious and creative recipes that celebrate the joy of cooking in the comfort of your own kitchen.
At Home Cooking Haven, we believe in exploring new flavors and experimenting with ingredients to elevate your culinary experience. In this recipe we put a unique twist on a classic dish by substituting traditional cured meat with the irresistible flavor of bacon.
Combined with the freshness of zucchini, the richness of Parmesan, the vibrant touch of parsley, and the binding power of eggs, this recipe promises to tantalize your taste buds and leave you craving for more.
Get ready to embark on a culinary adventure with our bacon-infused zucchini parmesan frittata - a perfect blend of indulgence and wholesome goodness.
Ingredients

2 tbsp Olive Oil.
1 cup chopped bacon.
2 small zucchini.
8 large eggs.
3 Tbsp freshly grated parmesan.
2 tsp freshly chopped parsley.
Salt and pepper to taste.




Method

Preheat oven to 180 °

In a non-stick pan or baking dish (22cm) add the olive oil, chopped bacon and cook zuchini until golden brown. Stirring often so they don't burn or stick to the pan.

While the zucchini and bacon are sauteeing, in a medium bowl beat together the eggs and parmesan cheese, stir in the parsley and pepper.

Then pour the mixture into the pan with the cooked zucchini and bacon, stir gently to combine.

Place pan in pre-heated oven and bake for 20 minutes.  The frittata is done when the eggs are puffed and opaque in color.

  It should wiggle just a tiny bit in the center (don't worry it will continue to cook even when it's removed from the stove).

Let rest for 15 minutes slice, serve and enjoy.
And now for a bonus we are adding a lovely Olive and Tomato Panzanella Salad and we hope you just love it.

Olive and Tomato Panzanella Salad
Food can be both medicine and a source of pure enjoyment.  Our mission is always to share simple yet effective recipes that harness the power of nature's ingredients.
We bring you as a bonus, a mouthwatering Olive and Tomato Panzanella Salad, vibrant and refreshing dish that combines the goodness of juicy tomatoes, briny olives, and crusty bread.
Packed with antioxidants and bursting with flavors, this salad is not only a delight for your taste buds, but also a nourishing treat for your well-being, and fits in perfectly with your delicious oven baked frittata. Hope you will ♥ it.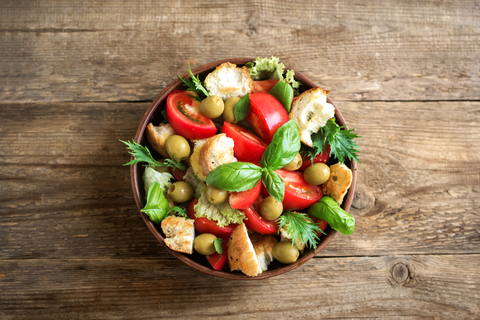 Olive and Tomato Panzanella Salad
SALAD

Tomatoes (variety) cut to your liking.
1 red onion, sliced.
100g pitted green olives.
100g pitted black olives.

SALAD

Lightly mix all ingredients in a large non metal bowl. 
DRESSING

½ Cup olive oil.
¼ cup red wine or balsamic vinegar.
5ml Dijon Mustard.
2 garli cloves chopped.
1tsp salt. 
1tsp ground pepper.
1tsp dried thyme.

DRESSING

Mix all the ingredients and pour over the salad.
Mix through.
Cover and leave to marinate for at least 30 mins.



CIABATTA

½ ciabatta, torn into rough chunks.
2 Tbsp olive oil.
1 garlic clove, chopped.

CIABATTA

Spread the chunks on a baking sheet.
Drizzle with Olive oil.
Sprinkle with garlic and mix through.
Toast in the heated oven for 7 minutes, or in your air fryer for approx. 3mins, (shaking once or twice) or until golden brown and crispy.
This article was printed from Home-Cooking-Haven.com.com