Lip Smacking 3 Bean Salad
Prep Time
20mins
Marinade 
1-2 hrs
Servings
8 People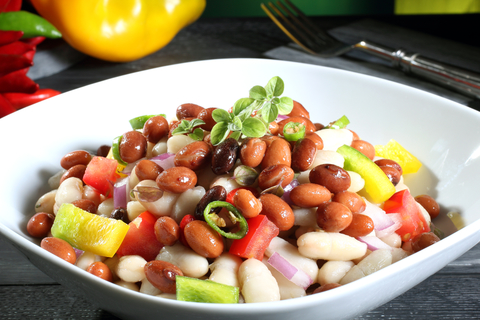 Welcome to the world of lip smacking 3 bean salad . This delightful culinary creation combines the vibrant crunch of green beans, the creamy smoothness of butter beans, and the rich essence of baked beans to create a harmonious symphony of texture and taste.
Bursting with colorful goodness, and a medley of complimentary flavors, this salad is a true celebration of legumes.
Tossed in a tangy vinaigrette and elevated with a sprinkling of fresh herbs, each bite is a tantalizing journey that will leave your taste buds dancing.
Traditionally here in South Africa, we love this salad at Christmas and New Year dinner, but it can be used with many meals, especially a braai, and even with cold meat and salad lunches.
Ingredients
1 x 400grm tin green beans drained.
1 x 400grm tin Butter beans drained.
1 x 400grm tin Baked beans with the tomato juice rinsed off and drained. 

1 cup chopped onions.
½ cup chopped green peppers.
½ cup chopped red peppers.
½ cup chopped yellow peppers.
½ cup of oil.
 ½ cup red  

vinegar

.
3 Tbsp. Brown sugar.
3 tsp. basil
1 tsp. Thyme
Ground Sea Salt and black Pepper to Taste.
Optional addition is 5-6 dashes of Tabasco sauce for those who enjoy something with a little bite.
Method
Place med size pot on the hob.

Using a colander drain the brine from the Green beans and Butter beans.
Rinse the tomato juice from the baked beans. 
In a salad bowl combine your three beans, chopped onions and peppers.
In a mixing dish place the vinegar, sugar, oil, sweet basil salt and pepper.
Mix well and pour into pot.
Turn heat to medium.
Stir whilst heating.
Remove from hob at boiling point.
Pour over your 3 bean salad and combine.
Allow to cool
Optional addition, add 5-6 dashes of Tabasco sauce for those who enjoy something with a little bite.
Cover with shrink wrap and refrigerate minimum 1-2 hrs.
Serving your Three Bean Salad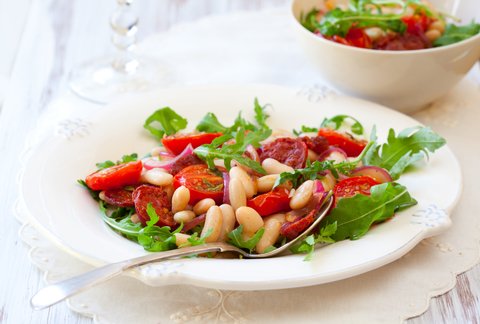 What's so great about this incredible recipe is that it can compliment any meal as a side salad.

Great with Fish.

An  absolute must, if you are having cold meats and salad.
Goes great with Barbecues.
Braaivleis.(Traditional name used in South Africa for Barbecue).
Add any Tin fish i.e. Tuna, Salmon, Sardines, Pilchards.
Mix with shredded cold Chicken and a dash of Mayonnaise on a fresh French roll.
And my favorite is to add cherry tomatoes, rocket, chorizo and red onion.... a meal on its own.
This article was printed from Home-Cooking-Haven.com.com