Bangers and Mash
Total Cooking time 40-45  minute which includes the mash potatoes and peas.

Bangers and Mash Hi everyone, welcome to  all home cooking chefs to our kitchen ..today it's quick cooking recipes day.

How often have you come home after a hard day at the office, tired, hungry and do not feel like cooking a big dinner, so today I'm going to give a few recipes for Bangers and Mash from my quick recipe book.

Not only are these quick cooking recipes delicious meals, they are easy on the purse strings and also Banting  friendly.

---
Ingredients for Bangers and Mash
6 pork sausages or any other sausage you might prefer
¾ tsp English Mustard
½ tsp dried mixed herbs
2 Med onions cut into rings
2 tsp plain flour
2 Tablespoons Olive Oil
3 med sized potato's peeled and chopped into cubes, Banting dieters use cauliflower Mash or sweet potato
1Tablespoon Worcestershire sauce.
125gr frozen peas
Coarse Black pepper and salt to taste
1 Tablespoon butter
½ cup of water.
Method for Bangers and Mash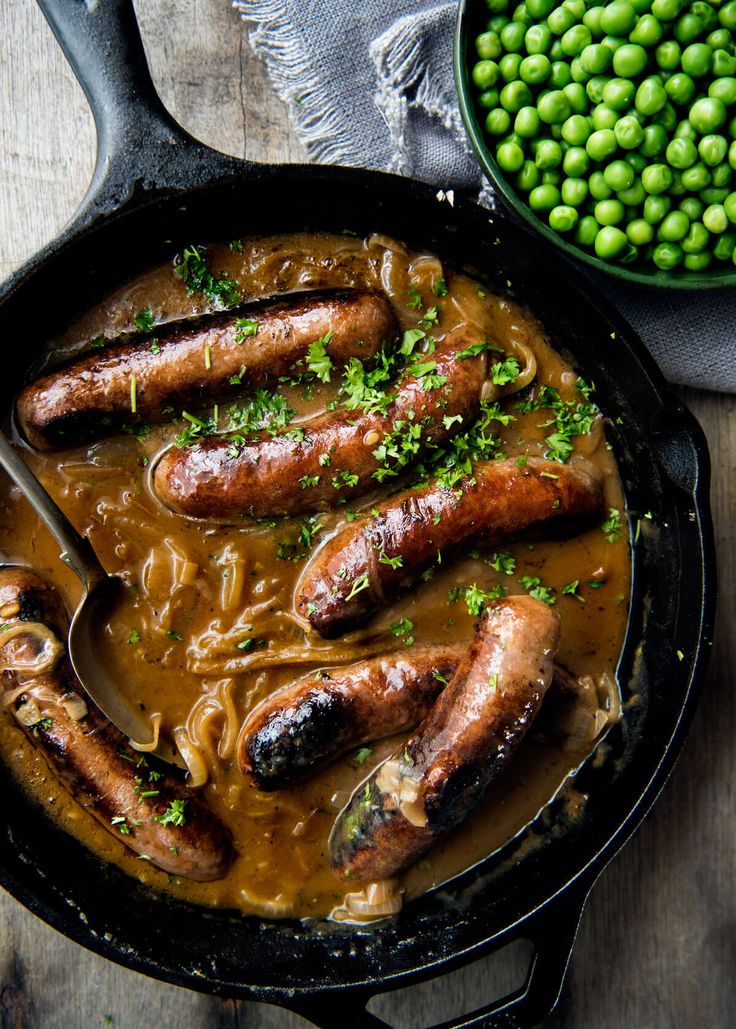 With olive oil in a large skillet, fry the onions until translucent, remove and set aside.
Add the sausages and cook on med to low heat for about 20 minutes until golden brown, remove and set aside.
Return the onions to the skillet with mixed herbs and mustard. Cook until golden brown, .
Drain excess oil from pan and turn heat down to medium, sprinkle the flour into the pan, leave the flour to absorb the juices for approx. 1 min. 
Add 1 tablespoon Worcester sauce, 1 tablespoon of Tomato sauce and ½ a cup of water while stirring, season with sea salt and ground black pepper.
Just before serving put the sausages back into the skillet to warm for 1 to 3 minutes.
Mashed Potato for Bangers and Mash
Boil the potato's in a pot until tender.
Drain and mash.
Add the butter to the mash and using a hand masher mash batter and potatoes 
Heat the milk. 
 Pour over the mashed potato and mix until smooth.
 Add a pinch of salt and pepper to taste.
Those of you on the Banting Diet can do the same, method as above for their cauliflower or sweet potato.
Plating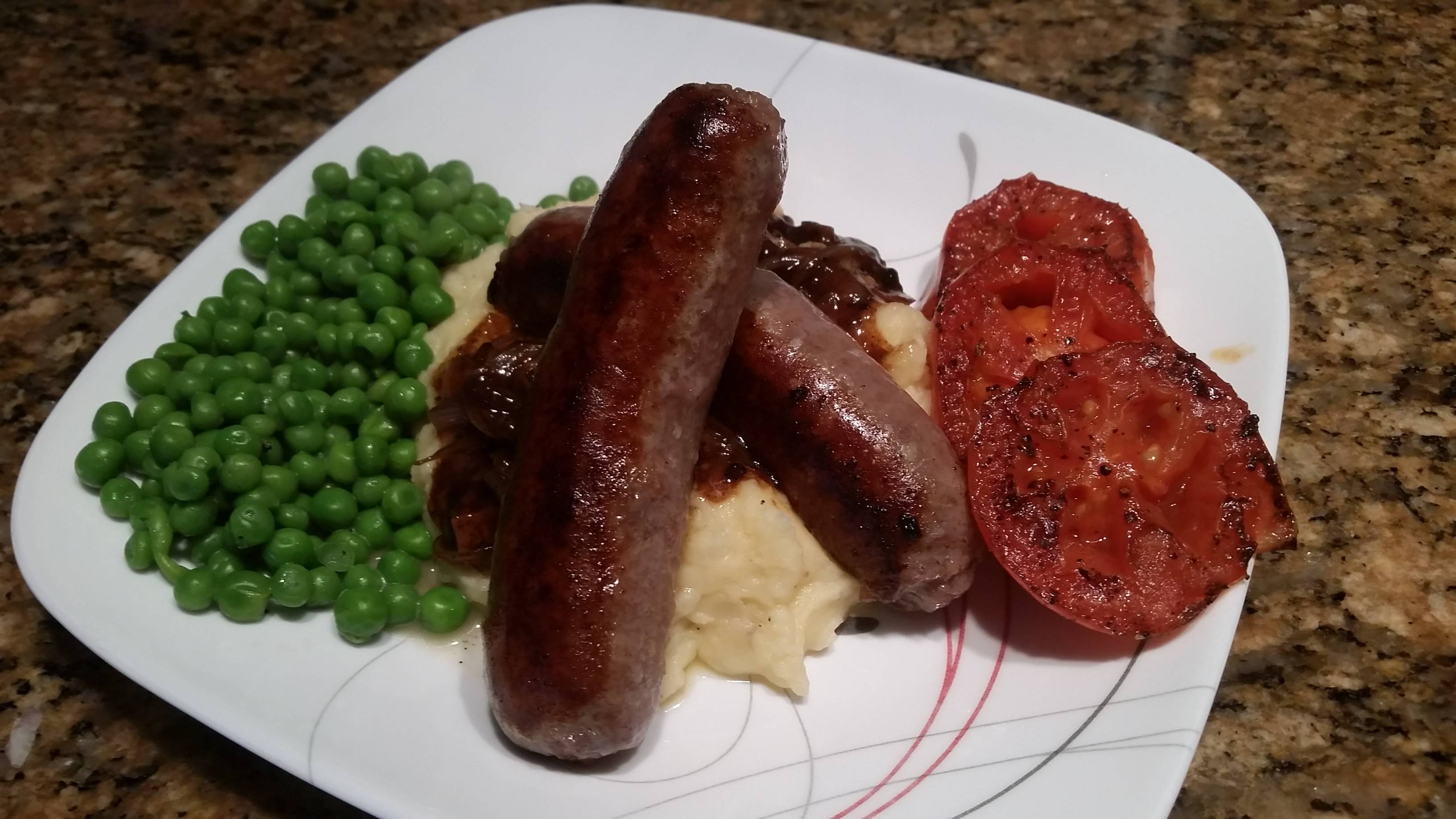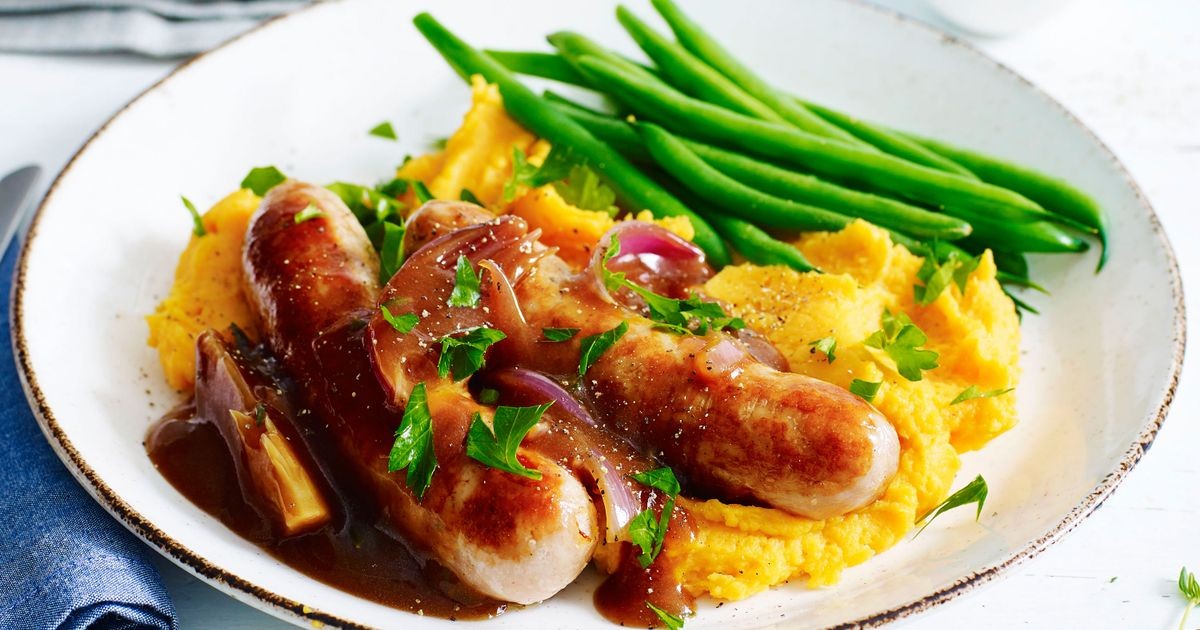 Below are just a few ideas for serving this tasty dish Spoon a generous portion of mash potato's onto a plate,
Place sausages on top of Mashed potato/Mash Sweet potato and drizzle with gravy.
Add a portion of boiled or steamed  peas and enjoy!!
Great with bake beans.

Serve with steamed Carrots and Green beans.
With Bacon, Fried Potato/Sweet potato chips, Egg and fried tomatoes.

I'm sure you will come up with more ways of plating.
                                              Enjoy.

Related Content
We really hope that you will get great enjoyment out of cooking this recipe as well as eating it, and sharing the experience where ever you go.
Don't forget to come back to Home Cooking Haven to see what's cooking and until we meet again.......... Happy Cooking 

Copyright 2014 Home Cooking Haven.Com.   All Rights Reserved.