Scrumptious Spinach Tuna
Pasta Bake
Welcome to the world of Scrumptious Spinach Tuna Pasta Bake!!
If you're craving a comforting and flavorful dish that combines the goodness of tender pasta, nutritious spinach, and the rich taste of tuna, you have come to the right place.
Our collection of recipes will guide you through the process of creating a mouthwatering pasta bake that is both easy to make and incredibly satisfying.
Whether you are cooking for a crowd, preparing a family dinner, or simply indulging in a cozy night in, this dish is sure to be a hit.
So, grab your apron, preheat your oven, and let's dive into the delightful world of this cheesy, creamy, and utterly delicious spinach tuna pasta bake.
| | | |
| --- | --- | --- |
| Prep Time | Cook Time | Serves |
| 10 mins | 25-30 mins | 4 people |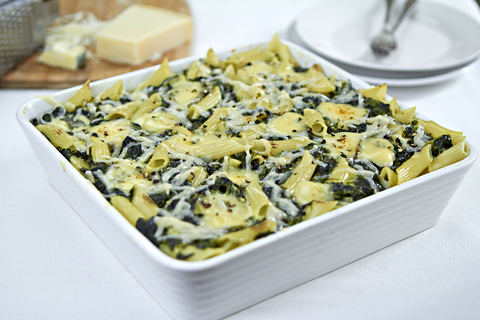 Scrumptious Tuna Spinach Pasta
Ingredients

500g pasta cooked according to the packet instructions until just done.
2 garlic cloves chopped.
300g spinach washed and roughly chopped.
2 cans (170g each) tuna chunks, drained.
250ml (1cup) reduced fat cream.
salt and freshly ground pepper.
200g mozzarella cheese, grated.

Method

Preheat the oven to 200°.
Mix all the ingredients except half the grated cheese.
Spoon the mixture into an ovenproof dish.
And scatter the remaining  cheese on top.
Bake for 25 - 30 min or until heated through.

Garlic Benefits
So, there you have it, a scrumptious spinach tuna pasta bake that I am sure will become a family favorite.
The combination of tender pasta, flavorful tuna, and nutritious spinach, all enveloped in a creamy, cheesy sauce, is simply irresistible.
Whether you are looking for a comfortable weeknight meal or an impressive dish to serve at a dinner party, this recipe has got you covered, and don't be surprised if there are requests for seconds - this tuna bake is just that good.
Serve this pasta dish with a choice of salads, and see below for a choice of three simple but delicious salads.
This article was printed from Home-Cooking-Haven.com.com