Chicken Chasseur
Prep Time
Cooking Time
Servings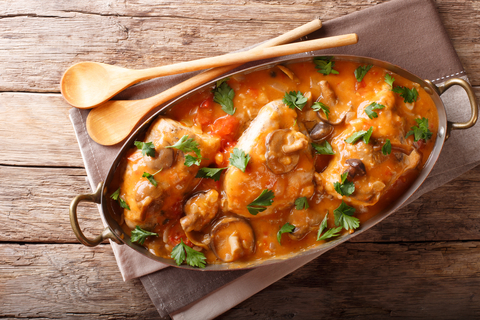 Today we are going to share this tantalizing classic french dish with all our fellow home chefs here on the East coast of Africa and around this great world of ours.
This is comfort food at its best.
Firstly a very  quick overview: This French recipe is prepared using sautéed chicken that is cooked crisp and a chasseur sauce (sometimes called Hunters sauce ) consisting of tomatoes, mushrooms, onions, white wine, brandy and tarragon. The sauce for hunter's chicken is typically prepared and thickened by the process of reduction.

4 - 6 pieces of chicken thighs.
125g diced bacon.

6 shallots or pickling onions peeled and then halved.
400g mushrooms cut into chunks

For the sauce you will need

250ml(1 cup) white wine.
250ml(1 cup) chicken stock.
30ml (2Tbsp.)
45ml (3 Tbsp. ) cake flour.
100g Butter
10ml (2tsp) cooking oil.
Salt and freshly ground black pepper.
2 med size bay leaves.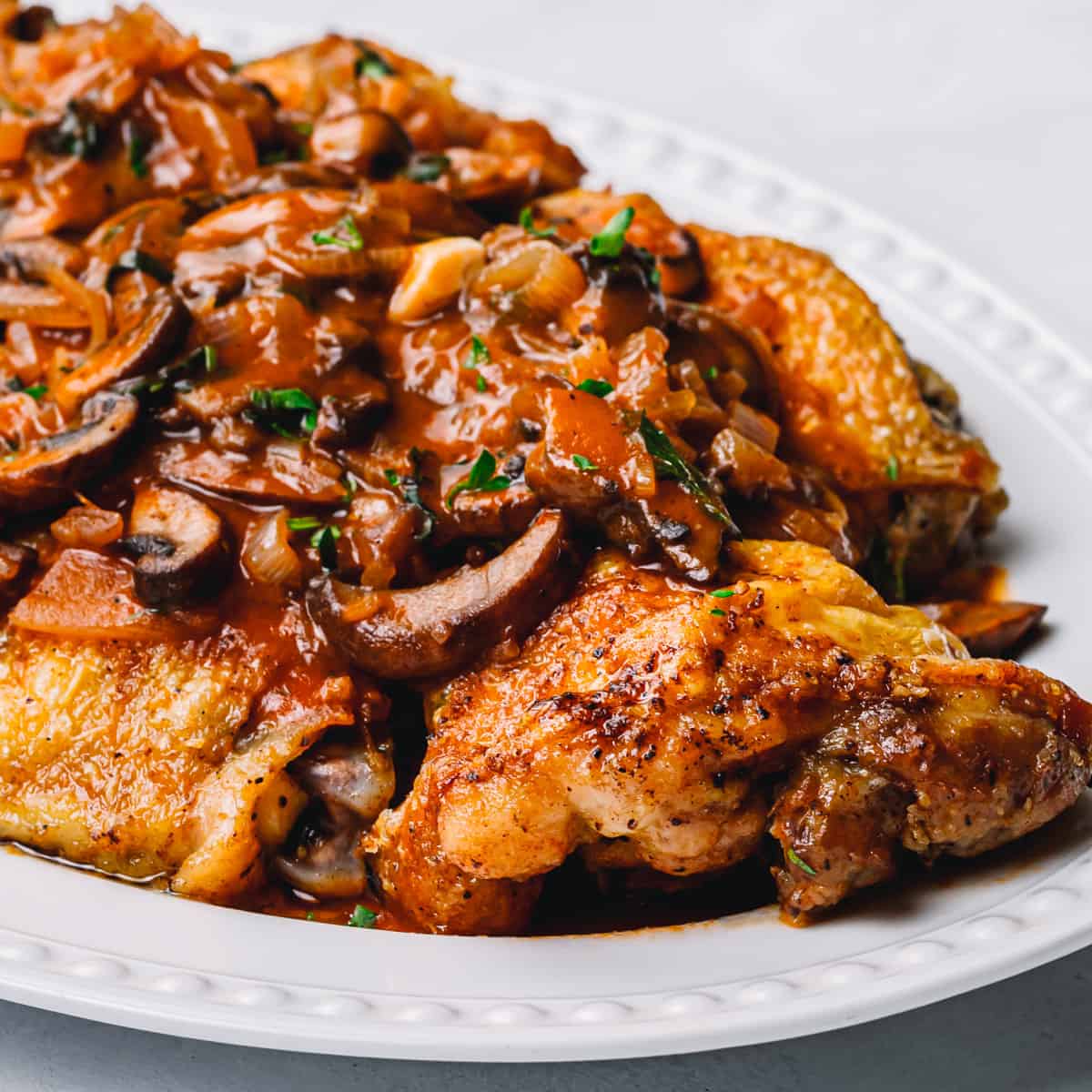 Preheat your oven to 180°C (350°F}.
Grease an oven proof dish.
In a frying pan fry your bacon until brown, transfer to the prepared oven dish.
Season the Chicken pieces with salt and pepper.
Place half the butter in the same frying pan and brown the chicken
Transfer Chicken to oven dish. 

Again in the same frying pan brown the shallots and mushrooms ,transfer to the oven dish.
Mix the chicken stock, wine and tomato paste and bring to the boil.
Mix the remaining butter with the flour and stir knobs of the mixture into the liquid.
Whisk while heating until sauce thickens slightly and comes to the boil. 
Season with salt and black pepper and add the bay leaves.
Taking care not to burn yourself pour sauce over the chicken and combine.
Cover and bake for app.1½ hours or until chicken is done.
Plating
Serve with Creamy mash potatoes (Banting dieters can use mash cauliflower or mash sweet potatoes).
Oven roasted potatoes.(Banting dieters use roasted Sweet potatoes)

Maybe some of you like Basmati or any other rice.(Dieters can use Cauliflower rice.)
And of course lets not forget a side dish of fresh French salad.
Garlic butter French bread roll.
Last but not least a glass of either a light-bodied Merlot. Coq-au-vin: Red Burgundy, Pinot Noir.
Now all that's left to do is summons the family to the dinning table.
This article was printed from Home-Cooking-Haven.com.com