Pumpkin Soup recipe
.
Pumpkin has become a symbol for Halloween, especially in the USA, so I thought why not an easy, tasty Pumpkin Soup recipe for the day, especially as in some parts of the USA, winter is approaching.

And guess what I found going through my mother's old recipes?
A great tasty pumpkin soup recipe with a novel way of serving it, which I know will be a big hit with your family or guests.
Pumpkin Soup recipe ingredients
Okey Dokey let's start! 
You will need the following ingredients to make this pumpkin soup recipe, and what is really good about this recipe apart from how tasty it is, is how easy it is on the budget strings.

1 large pumpkin.

4 small pumpkins. 

2 to 3 carrots.

1large potato peeled and cut  into cubes.

1 large red onion chopped.

3 large garlic cloves chopped or 3tsp crushed garlic.

2 celery stalks.

6-8 cups chicken or veg stock.

2 Tsp. olive oil.

1 Tsp plain yoghurt and coriander (Dhania) leaves for garnishing.

Sprinkle of nutmeg for garnishing as well.


Method
Before we start cooking I always find it is easier to get all the ingredients together so you do not have to run around looking for items. Ok, everyone still with me? Great, wait for it ........'Time to start a....cooking".

Pre heat oven to 200c (390f)

cut the 4 pumpkins in half and take out the seeds,

drizzle with a olive oil and sprinkle with salt and pepper

place the halved pumpkin on face down lined on a baking tray lined with tin foil or baking paper

Place in oven and bake for 20-35 minutes depending on size of pumpkin.

While the pumpkin is baking we will need to do the next step.


STEP 2.
Wash peel and dice your carrots, celery and potato.

Peel and slice onion and garlic.

Take a large pot and drizzle the olive oil to coating the bottom.

Place all your diced veggies in the pot and  turn hob to med heat.

Allow them to sweat and release liquid and become tender, take care not to let them turn brown.

Add salt and black pepper to taste.

Add 2 stalks or a 1/4 spoon of ground thyme.

When your veggies are ready, remove from heat and wait until the baked pumpkin in the oven is ready.

STEP 3.
R

emove baked pumpkin from oven allow to cool.

Scoop out the flesh, leaving the outer skin.

Place the flesh into your pot with the veggies.

P

lace your pot back onto the stove plate.

Set temp to medium.

Add stock, covering your veggies.

Add salt and pepper to taste.

Allow to simmer for about 15 - 20 minutes .

When all veggies are soft.

Remove from stove.

Using a hand mixer or blender.

Blend soup until smooth creamy consistency.
Okey Dokey you have done a great job. Time now for a few minutes to relax with your favorite beverage before plating and calling the family or guest to enjoy what will soon become your favorite pumpkin soup recipe..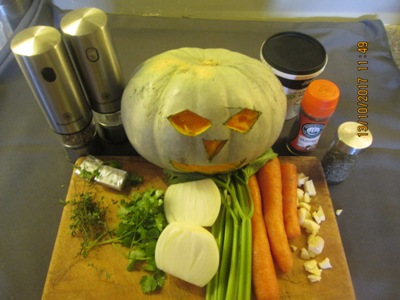 Plating
Right time to plate up. I love this part, because you will be using the outer skin of the baked pumpkin you saved earlier !!! I hope you did, cause that is what wee are going to use as a soup bowl for our favorite pumpkin soup recipe.

Ladle soup into your pumpkin bowls.

Add a spoon of yoghurt in the middle and sprinkle with grounded nutmeg.

Garnish with fresh coriander(Dhania).

Serve with any fresh  buns or rolls.

Crotons.***

Any fresh bread.

Or just have it as it is.it still taste great any way you eat it.



CARRY ON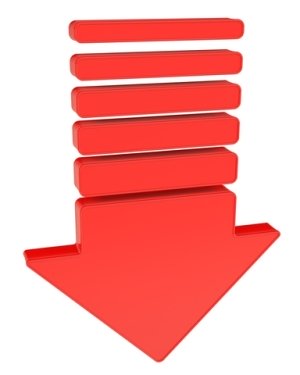 Related Content
We really hope that you will get great enjoyment out of cooking this recipe as well as eating it, and sharing the experience where ever you go.
Don't forget to come back to Home Cooking Haven to see what's cooking and until we meet again.......... Happy Cooking 

Copyright 2014 Home Cooking Haven.Com.   All Rights Reserved.