Chicken Pie Recipe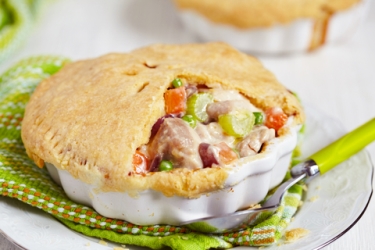 Cooking Time

Until pastry is golden brown
Our best ever chicken pie recipe for tasty simple home cooking is on the menu today. Yay!
Now the reason for this pie been on the menu today is that I was paging through all my chicken recipe's, and yes you guessed it, I found this old favorite of mine, a pie which is filled with veggies, mushrooms and spices for wholesome eating for the whole family.
Sounds good hey?

roll puff pastry thawed (most local supermarkets sell this.)
3 med size chicken breasts (skin removed)  cut into bite size cubes sprinkled with chicken spice.
2 cloves fresh garlic (see the benefits of eating garlic) crushed.
2 medium onions chopped.
4 Tbsps olive oil.
2 Tbsps butter.
200gr sliced mushrooms.
1 med size green pepper sliced into strips (can also add yellow and red pepper ).
1 small packet thick white onion soup powder.
250gr frozen mixed veggies.
2½ cups chicken broth (I use the Knorr chicken stock which makes 500ml  of stock).
1cup milk (low or full cream)
1 tsp. dried thyme, crushed.
¼ cup chopped fresh parsley.
1 tbsp. Dijon mustard (can use English mustard).
fresh ground sea salt to taste.
fresh ground black pepper corns to taste.
cup of water on stand by.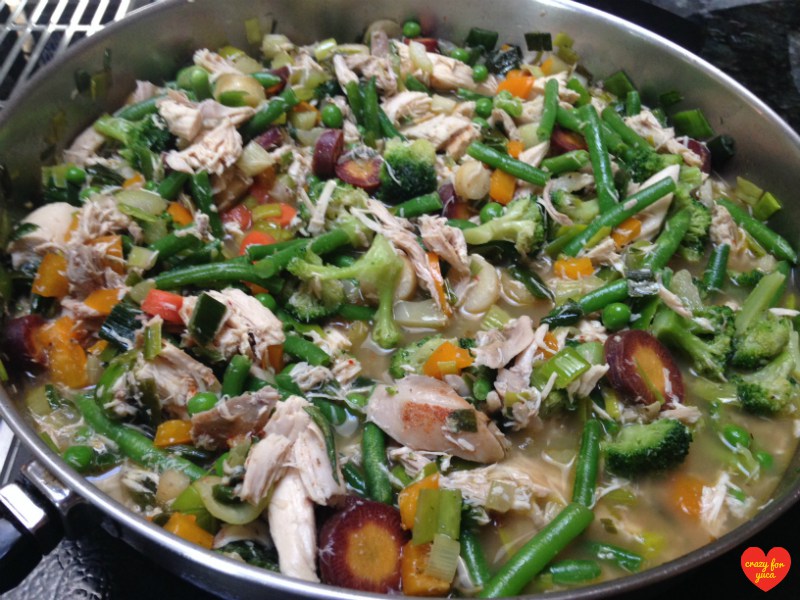 Place the chicken and  olive oil into a frying pan and cook until chicken is tender and golden brown.
Remove chicken and set aside.

Using the same frying pan add the butter.
Add the onions mushrooms, carrots and fresh crushed garlic.
Cook for approx 5 minutes on medium heat stirring until the onions are translucent and the  vegetables are tender. 
Sprinkle half the packet of the thick onion soup over the veggies and cook, stirring  until   golden brown.
Slowly pour in the broth, bring to a boil and stir until the mixture thickens. If it gets too thick use the milk to get the right consistency
Stir in the mustard, thyme, green pepper, ground  black pepper, chicken, mixed veggies and parsley. 
Remove from heat
Your oven should now have been pre-heated to 180°C.
Spoon the chicken mixture into a large casserole dish.
Unroll the puffed pastry on a flat surface sprinkled with flour.
Roll the pastry out to fit your casserole dish over lapping by± 10mm. 
Cover your casserole dish with the pastry, cut off any excess.

Tuck the over hanging dough around the dish. 

Insert small cuts randomly in the pastry to  allow the steam to escape.
Using a small brush, brush the pastry with the whisked egg.
Place the casserole dish into the preheated oven and bake until pastry is golden brown.
Plating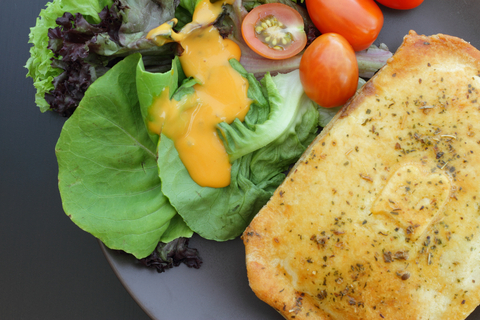 Delicious Chicken pie and Salad
The chicken pie is ready to plate up, and here are a few ways you can enjoy this delicious scrumptious pie.

On it's own.
With a refreshing garden salad (French, Greek, Italian the choice is yours, they all go well with this dish).
With chips or potato wedges and gravy. (This was the most popular dish for all surfers in South Africa).
A great favorite with my kids is with chips (fries) and half a bottle of ketchup ha ha!!

This article was printed from Home-Cooking-Haven.com.com