Biltong recipe.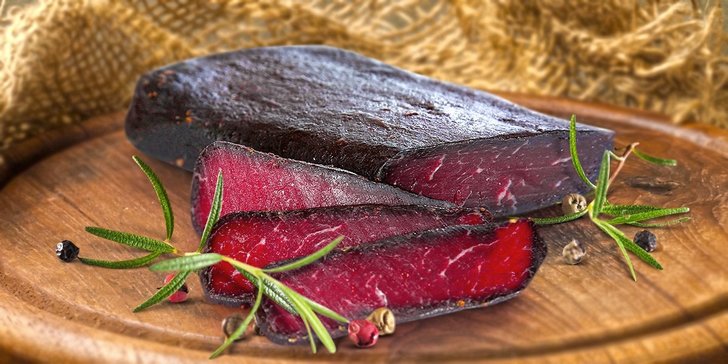 Prep Time:
1 Hour - salt and fridge
4 Hour -  marinating in vinegar.
1 Hour marinating with spices.
Total Prep time 6 Hours

Time to Dry:
Method 3 to 4 days depending how dry you want it .I like mine medium which is   ± 4 days.

Servings:
To as many people that love Biltong

This is  specially for all the South Africans living abroad, I hope this Biltong recipe will help you to feel a little less home sick.
 
There are typically two main types of  Meats used for making Biltong, i.e. Beef and Game (Kudu, Antelope  Springbok,) they are all nice but some people prefer one above the other. Here in South Africa we also make Ostrich Biltong.

Today for our Biltong recipe we will be using my favorite cut of meat which is Beef Silverside.

Before we continue I would like to give you a small snippet on the history of Biltong.
For Centuries mankind had endeavoured to preserve meat, centuries ago seafarers used to pickle meat in large wooden caskets'
African folklore has it that migrating tribesmen, herding their stock, would place strips of venison under the saddles on their horses as the chaffing would tenderise the meat and the sweat of the animals would spice it.   This has to be when vegetarians were born ha ha!!
The word BILTONG is derived from the words "bil" (buttocks) or meat and "tong" or strip

BILTONG as we know this delicacy today is a rich inheritance from pioneering South African forefathers who sun dried meat during their trek across the subcontinent of Africa.
The basic spicing is a dramatic blend of vinegar, salt, sugar, coriander and other spices which was handed down by pioneers for generations!

No Rugby, Cricket, Tennis, Boxing or other sporting occasion in South Africa - whether it be watched live or on television - is complete without a few beers and a good supply of Biltong.

Biltong has been with South Africans for close on 400 years now and will continue for centuries to come.
Ingredients
Very sharp Knife.(careful with the fingers)
large shallow Pyrex dish.
Cutting board.

2 kg /4 pounds Beef silver side 20mm thick (tell your butcher what you going to make ,he will cut it for you) the thickness depends on you.
2 cups coarse salt..
Brown vinegar.
100ml Worchester sauce.
Packet of Safari Legendary seasoning (most supermarkets sell this in 200ml packets)
Optional extra Peri Peri spice, 

 If you decide to blend your own spices you will need.
1Tps Steak Spice.
¼ cup ground Coriander seed.
1Tbsp. ground black pepper.
2 Tsp.sea salt.
1Tsp Paprika.
Mix all the above and set aside for later.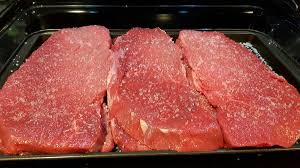 If you haven't got a biltong box
Hang up to dry in a well ventilated spot.

Cover with some mesh to keep flies and insects out.

Drying time is about 4-5 days, depending on the weather, and your personal preference.
Method
Sprinkle coarse salt all over the meat. 

Place meat in a Pyrex dish.

 Place in fridge for 30 minutes,turning it after 15 minutes.

Remove from fridge and rinse off the coarse salt.

Rinse and dry Pyrex dish.

Place meat back into Pyrex dish and pour vinegar and Worchester Sauce over.

Place in fridge for 2 hours turning it every 30min.

Remove from fridge drain off the vinegar.

Sprinkle spices over the meat, rub in with your hands.

For those that want something hot now's the time to sprinkle with Peri Peri//Cayenne Pepper.

Return spiced meat to fridge allow to marinade for 1hour.  





Remove your meat from fridge and insert the hooks for hanging.

Place some foil at the bottom of dryer to collect the juice droppings.

Now hang your strips of meat from the rods.

Very important make sure that the meat doesn't touch the sides of your dryer or the other pieces as this will cause the Biltong to go mouldy.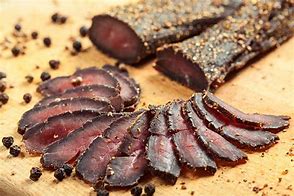 What To do with Biltong
Day 3. Your biltong has now being drying for 3 days this is when I usually take it out of the Biltong machine. 
You will find it to be medium done.  If you prefer it dryer then leave it for a further 2 days and then check.
There are many ways you can serve your Biltong, below are a few ideas.

Thinly sliced and used for pizza topping.
Add to salads.
Add to most soups.
Home made bread, scones.
Sandwiches,
Biltong stews.
Just on its own with a glass  of your favourite.
I Googled what can be done with Biltong and was amazed at how many recipes there are where you can use Biltong.
This article was printed from Home-Cooking-Haven.com.com