Pressure Cooker Recipes
Hearty Veggie Soup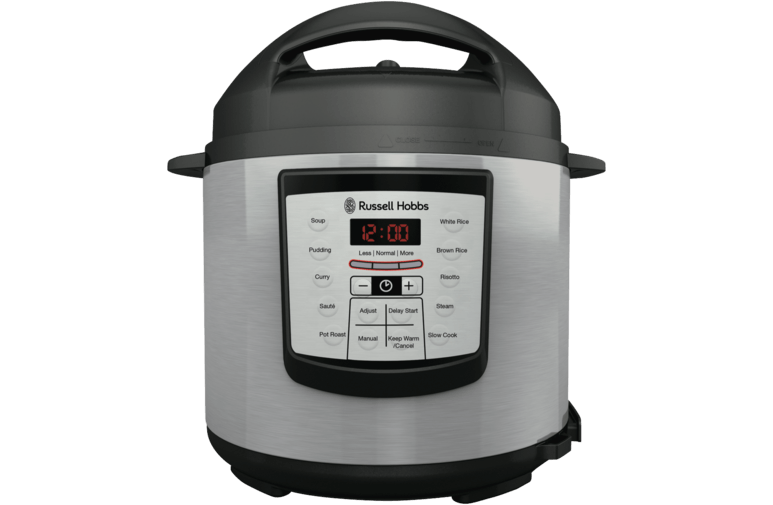 A big Hello to all my fellow home cooking chefs!!
Today I have taken one of my favourite pressure cooker recipes to share with you, and it just has to be a delicious soup. 
I call the East Coast of Africa home, and here at home winter has arrived, I know Gary (my son in the USA ) always laughs when I tell him it's cold  because here on the East Coast people swim in the Indian Ocean all year round .
Any way, enough of that,  today I'm going to share with you one of my favorite Pressure cooker recipe's.
Long long ago it used to take more than 3 hours to make a really good soup. But today I'm going to do a soup which I call a full "monty chunky" soup.  This soup is packed with fresh veggies, marrow bones, lentils mushrooms,  pasta, herbs and spices.
And what's great about this recipe is that it takes 40 minutes to cook and it's also  Banting Diet friendly.

Ingredients for Pressure Cooker Recipe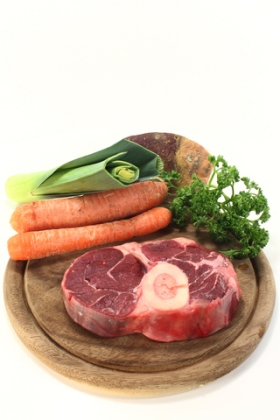 Okey dokey, the advantage of doing this pressure cooker recipe is that you only need 4 utensils to complete the process namely: a sharp knife, a cutting board, a wooden spoon, a jug and the pressure cooker. Great hey?  You only need to wash 4 utensils.
Let's start by gathering all our ingredients.

1 med size meaty beef shin bone chunk with marrow.
2 med size potato's (dice 1½ and grate the other

½). 

Banting dieters can use sweet potato or leave out this ingredient)
1 large onion.
2 medium tomato's grated.
1½ cups medley of  fresh chunky mixed veggies.  (No pea s for Banting dieters)(
2 pinches of basil
125 grams mushrooms sliced
1 bay leaf.
3 sprigs  of fresh thyme  (1 tsp dried thyme.)
Optional Extra ¾ cup of spaghetti broken into small pieces.(Banting dieters can use linguini spaghetti)
½ cup black lintels (you can also use red lentils) 
½ cup barley.
2 tsp. crushed garlic.
2 stalks of celery chopped with leaves.
250 ml beef stock
1 Tbsp Tomato Sauce (Ketchup).
1 Tbsp Worcestershire Sauce.
 ground sea Salt to taste
ground black pepper to taste.


All the ingredients are ready so it's that time "Let's start A.......COOKING".

IMPORTANT NOTE:
Always check your pressure cooker lid seal before cooking, and always follow the manufacturer's instructions for your particular Pressure cooker.

"Pressure cooking is the process of cooking food, using water or other cooking liquid, in a sealed vessel, known as a pressure cooker. As pressure cooking cooks food faster than conventional cooking methods, it saves energy. Pressure is created by boiling a liquid, such as water or broth, inside the closed pressure cooker. The trapped steam increases the internal pressure and allows the temperature to rise. After use, the pressure is slowly released so that the vessel can be opened safely."
"Pressure cooking can be used for quick simulation of the effects of long braising. Almost any food which can be cooked in steam or water-based liquids can be cooked in a pressure cooker.[
Okey Dokey enough of that ,we now know how a pressure works ,it time to cook"

Method for High Pressure Cooking  Recipe
Plug your pressure cooker in
If you don't have an electic one, place cooker on hob do not switch on
Put shin bone, and all your ingredients into pressure cooker pot
Pour in your broth till it covers ingredients  
Seal lid (make sure its sealed properly).
Switch on cooker.
Set control to soup (if there's no setting time specifically for soup then cook for 45 minutes). 
Release pressure taking care not to burn yourself from the steam
All done..... easy hey?

Time to now sit back, put your feet up, switch the TV on and enjoy a beverage of your choice.

DING DING DING Time's up pressure cooker calling. 
Now please take care,. Again follow your pressure cooker instructions
Release pressure taking care not to burn yourself from the steam.
Remove the bay leaf.
Remove the shin bone, chop up the meat, mix with the marrow from the centre of the shin bone and place back into the pot.
Add the spaghetti and cook for a further 7 minutes (Banting dieters can add linguini spaghetti).
Plating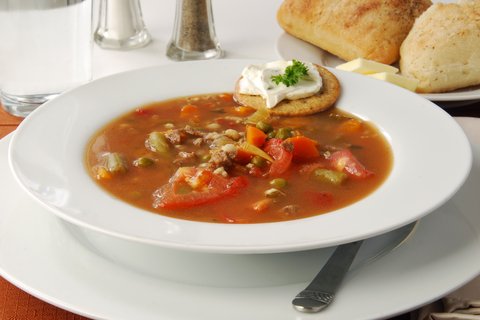 There are various ways of serving. The ones below are just a few ideas
In a large soup bowls with croutons
In a big soup mug,
Sprinkle cheese of your choice on top
With fresh bread, bread rolls any make, shape, size or type .
With Croutons
Add a few drops of Tabasco sauce if you like a bit of "oomph" to your meals.
         
Related Content
This article was printed from Home-Cooking-Haven.com.com