Potatoes For Every Occasion
Welcome to the extraordinary world of potatoes, where versatility meets deliciousness!! Whether mashed, baked, roasted or fried we have a Potato Dish for just about every occasion.
At Home Cooking Haven, we're here to celebrate this tuber and explore the endless possibilities it offers for every occasion.
From hearty comfort foods to elegant gourmet creations, join us on a potato-filled journey that will leave you craving for more.
So...... Grab your apron and let's dive into the wonderful world of potatoes. 
Crispy Spiced Potatoes with Guacamole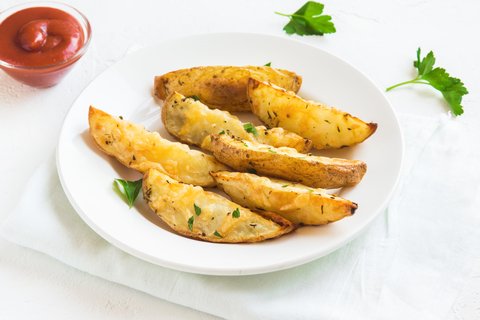 This tasty, low fat side dish, pairs wonderfully with steak and chops on barbeques or braai's, and salads of choice.
Ingredients

2 egg whites (large).
4 large potatoes, cut into 8 wedges each.
2 tsp chopped fresh rosemary.
1tsp lemon pepper.
½ tsp garlic powder
½ tsp ground cumin.

In an Air Fryer

Replace the egg whites with olive oil and toss the potatoes and 4 ingredients until coated.
Set the air fryer at 200° for 15 minutes for regular size. 

Method

Beat egg whites in extra large bowl until frothy. Do not overbeat then add potatoes.
Toss untl coated.
Arrange a single layer on greased baking tray
Combine remaining 4 ingredients in a small cup. Sprinkle over potatoe.
Bake at 200° in oven for about an hour, turning at halftime, until golden and crisp.
Guacamole
Ingredients

2 med ripe avocados.
60ml sour cream.
2 spring onions chopped.
1 tbsp chilli sauce.
1 tbsp lemon juice.
1 minced garlic clove.

Method

Mash avocados in medium bowl until smooth.
Transfer to a small bowl and surround with potato wedges.
Potato Cakes
Here is a side dish that will quickly take center stage at any meal.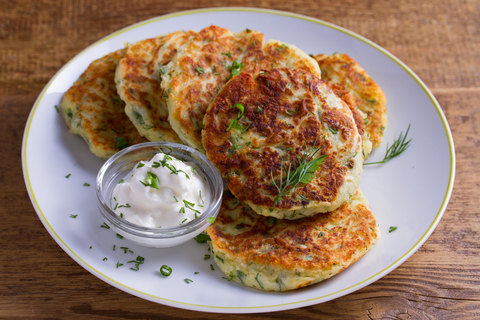 Ingredients

1 large egg.
3 large peeled baking potatoes grated.
½ cup finely chopped onion.
¼ cup fine dry breadcrumbs.
2 spring onions chopped.
1 tsp seasoned salt.
½ tsp pepper.
2 tbsp cooking oil.

Method

Combine first seven ingredients in a large mixing bowl.
Divide into 8 equal portions, and shape into ½ inch thick cakes.
Heat 1 tbsp cooking oil in frying pan on medium.
Cook for about 5 mins until golden.
Remove to paper towels to drain, and repeat.
Chop some more green spring onions for garnish.
Potato Squares
Square potatoes? It's a snap when you grate them and bake them for this easy side! 
Ingredients

2 large eggs, fork beaten.
½ cup finely chopped onion.
½ tsp garlic and herb seasoning.
¼ tsp pepper.
900g potatoes, grated.
1 cup hot milk.
Method
Combine first 4 ingredients in a large bowl. 
Squeeze potato dry with a paper towel and add to egg mixture. Stir well.
Slowly add hot milk, stirring constantly until potato is coated. Spread evenly in greased 22x22 pan.
Bake uncovered, in 190°C oven for about an hour until golden. Let stand for 5 minutes before cutting. Cuts into 9 pieces.
Spicy Potato Bumps
Here's a chance to take your spice rack for a test drive.  Remember to store your spices out of direct sunlight, heat and humidity, to preserve their freshness.
Ingredients

6 med unpeeled potatoes, cubed.
1tbsp olive oil.
2 tsp parsley flakes.
1½ tsp salt.
1 tsp chilli powder.
1 tsp paprika.
½ tsp dried thyme.
¼ tsp garlic powder.
Pinch cayenne pepper.
Pinch dried rosemary.
Method
Put potatoes into large bowl. 
Drizzle with olive oil.
Toss until coated.
Combine remaining 8 ingredients in a small cup.
Sprinkle over potatoes until coated.
Spread on a large, greased baking tray (baking sheet) with sides.
Bake in oven on center rack at 220° for about 45 minutes, stirring twice, until tender and browned.
Serves 6.
Bacon and Cheese Baked Potatoes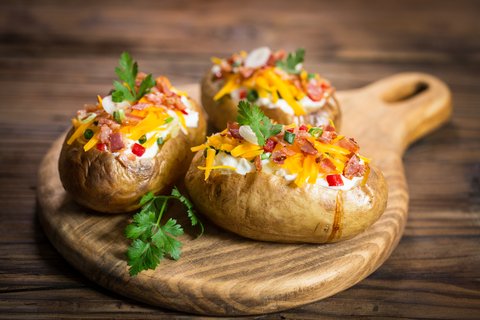 Ingredients

4 medium un-peeled potatoes.
¼ cup grated cheddar Cheese.
¼ cup herb-flavoured non-fat cream cheese.
1 tbsp milk.
¼ tsp salt.
dash of pepper.
3 bacon slices, diced.
½ a cup chopped fresh mushrooms.
2 tbsp chopped spring onions.
¼ cup grated cheese.




Method

Poke several holes randomly with a  fork into potatoes.
Bake in 190°C oven for an hour and 15 minutes until tender.
Remove to wire rack. Let stand until cool enough to handle.
Cut 6mm piece lengthwise from top of potatoes.
Scoop pulp into medium bowl, leaving 6mm thick shells . Arrange on greased baking tray, and set aside.
Mash pulp and add next 5 ingredients, and mix until smooth.
Cook bacon in medium frying pan on medium for 3 to 4 minutes until crisp. Remove with slotted spoon to cheese mixture, reserving 1 tsp bacon.
Drain all but 1 tsp of dripping from the frying pan and add mushrooms and spring onions.  Cook, stirring often, until mushrooms are softened. Stir into cheese mixture and spoon into potato shells.
Sprinkle with second amount of cheddar cheese and reserved bacon.
Bake in 175°C oven for about 20 minutes untill heated through .
Makes 4 stuffed potatoes
Easy Potato Casserole
Ingredients

1,8kg peeled potatoes, cut up.
¼ cup margarine, or butter, melted.
40g packet onion soup mix, crushed.
Spring onions and sour cream for garnish.
Method
Put potatoes into extra-large bowel.
Drizzle with melted margarine, and toss until coated.
Sprinkle with soup mix and toss until coated.
Transfer to greased casserole dish. 
Bake covered in 175° oven for about 1hr 15mins until tender.
Garnish with spring onion and sour cream.
Hot Potato Salad
Boil the potatoes whole and then peel them for this quick, easy-to-make recipe. But if you're short on time, don't bother peeling them.
Ingredients

6 bacon slices slices, diced.
4 cups cubed cooked potatoes.
4 spring onions, sliced.
½ cup chopped parsley.
½ cup Italian dressing.
½ grated Parmesan cheese.

Method

Cook bacon in large frying pan on medium, stirring often, till crisp.
Transfer with slotted spoon to paper towels.
Set aside, and keep about 5ml drippings.
Add next 4 ingredients to same frying pan and cook for 8 minutes, stirring often, until heated through,
Transfer to large bowl, add bacon and cheese. Stir and serve immediately.
Scalloped Potato Bake
Any celebration is made festive with this tasty casserole.  Choose a waxy red or white skinned potato for well defined slices.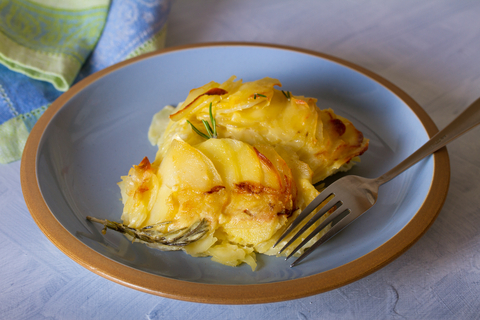 Ingredients

½ cup butter or hard margarine.
½ cup plain flour.
½ tsp paprika.
2 tsp salt.
½ tsp pepper
4½ cups milk.
8 medium peeled potatoes, thinly sliced.
1 medium red or white onion, thinly sliced, rings separated.




Method

Heat butter in small saucepan on medium. Addnext 4 ingredients. Heat and stir for 1 minute.
Slowly add milk, stirring constantly with whisk.  Heat and stir until boiling and thickened.
To assemble, layer ingredients in greased casserole dish as follows:


Half of Potato Slices
Half of Onion Slices
Half Milk Mixture

NEXT LAYER

Remaining Potato Slices
Remaining Onion Slices
Remaining Milk Mixture

Bake covered, in 175°C oven for 1 hour. Bake uncovered for about 10 minutes until golden and potato is tender.
Creamy Potato Gratin
Ingredients

3 cloves garlic, crushed.
6 - 10 anchovies, chopped.
2 Tbsp capers.
2 Tbsp thyme, chopped.
1 can 410g chopped tomatoes.
2 tsp sugar.
½ cup grated parmesan.
1 cup 250ml cream.
2 tsp veggie or chicken stock powder
1 onion thinly sliced
1kg potatoes, peeled and thinly sliced.

Method

Preheat oven to 180°C.
Place all ingredients, except potatoes and onions in a large bowl and mix well.
Add potatoes and onions and toss well to mix.
Spoon mixture into a large ovenproof dish and cover with foil.
Bake for 40-50 minutes or until potatoes are tender.
Uncover and cook for a further 20 minutes or until golden.
This article was printed from Home-Cooking-Haven.com.com