The Kitchen is been renovated, please be patient, we are almost done.
 Chicken Soup Recipe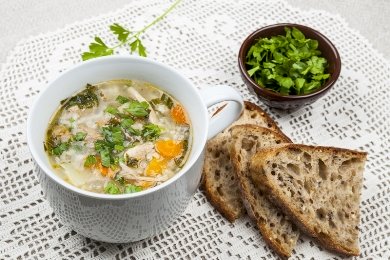 Hello and welcome all my home chefs, to Chicken Soup Recipe day, wherever we go in this world, somewhere, it will be chicken soup day.
Awhile ago we visited our friends Dave &Antoinette,  Antoinette made us this great, and I mean great chicken soup. 
We travelled some 600km to taste this exquisite soup. Dave warned us that if we did not enjoy it then we would indeed be "stoopid, stoopid, stoopid. He was right.!!
As soon as I finished the first bowl I became like Oliver Twist pleading for more.


Ingredients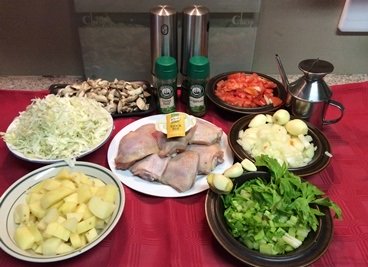 The Ingredients all gathered and ready for cooking
Okey Dokey for this delicious chicken soup recipe you are going to need the following: 
8  chicken thighs with skin.
2 med size onions.
half (½) a head of chopped cabbage. (remove outer layer before chopping and set aside for your doggies, see further on).
½ punnet of sliced mushrooms(125mg).
4 stalks of celery.

3 potatoes peeled and cubed,  plus 1 potatoe cubed set aside for later.

(For Banting

chicken soup

, rather use cauliflower/sweet potato

).
3 chopped tomatoes.
750 ml chicken stock.
500 grams cubed mixed frozen carrots, peas, beans and sweetcorn.
one level tsp sweet basil.
one level tsp oreganum.
3 sprigs thyme. 
sea salt, black ground pepper to taste (a little caution with the salt, as the broth also contains salt).

Now that we have finished gathering all the necessary ingredients, a short time out for a glass of refreshment before starting the prep is always very welcome.

Method for Cooking this Delicious Chicken Soup Recipe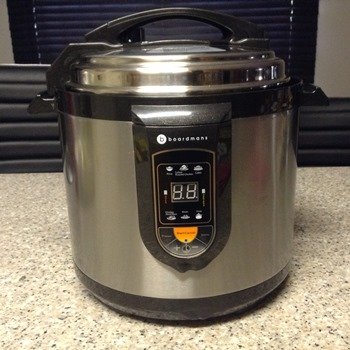 There are many ways you can cook this recipe, but mostly we use these ones

A pressure cooker.
A large Pot.
A slow cooker. 

Today we will be doing this chicken soup recipe using an electric pressure cooker.
           

In a large skillet (frying pan) brown your chicken thighs.
Remove thighs from the pan. 
Add your chopped onions and garlic and cook until translucent.
Add your chopped cabbage and stir for approx. 3 minutes.
Now, all my fellow cooks, add your chopped tomatoes and continue stirring.
Add your chopped celery and stir.
Put the chicken back.
Time to transfer all your ingredients into your pressure cooker.
Transfer all the ingredients from the skillet to the pressure cooker. 
Add 500 ml of chicken stock.
3 cubed potato's (Banting followers should use sweet potato).
Enough boiling water to cover.
Origanum.
Sweet basil.
3 sprigs thyme.

Seal your pressure cooker and steam until potatoes (sweet potato) are soft, approximately 10 to 15 minutes.
Release the steam and then....... 


Remove chicken meat from bones and

 skin 

(put skin aside for your loyal pets)
Chop or shred chicken meat.
Using a potato masher, mash all the ingredients while they are still in the cooker.
Add one cubed potato, (sweet potato) sliced mushrooms, 500 grams diced mixed veggies together with the chicken.
Seal cooker, bring back to pressure and steam for a further 15 minutes.


Plating
What I love about soup dishes is that there are so many different ways of plating:
In a lage soup bowls with croutons
In a big soup mug,
With fresh bread, any make, shape, size or type, they all go well with chicken soup. 



P.S  .For those who want to add a bit of "oomph" to their soup a few drops of Tabasco sauce does the trick.


I would like to thank Antoinette for sharing this soup recipe with me and allowing me to share it with all my home cooking chefs. 

Time to Make a Treat for your Best Friend.
Now... if you have a pet dog use the potato skins and the outer layer of the discarded cabbage and the chicken skin.  We can make a great treat for our dogs to add to their crunchies

To make this treat, boil the chicken skin together with the potato skins and the outer layer of cabbage (chopped), until skins are soft, then add a half cube of chicken stock to this and simmer for 10 minutes.
Allow to cool somewhat and pour over your pets food. Believe me they will love you for this.      .                                                                                                                                          
You can go back to the top of our Chicken Soup Recipe or even get back to our Home Page.