The Best Apple Cobler Crumble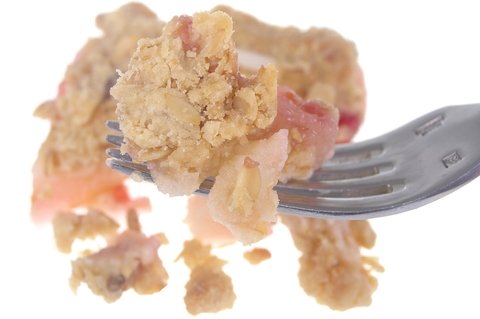 Apple cobbler crumble is a delicious dessert that combines the classic flavors of apple pie with a crumbly, buttery, and slightly sweet topping, 
Indulge in a slice of heaven with our exquisite apple tart, where the delicate balance of sweet and tangy flavors dances on your palate.
This recipe is easy to make and can be enjoyed on its own, or served with a scoop of vanilla ice cream.
The crispy, tart Granny Smith apples pair perfectly with the warm cinnamon and sugar, making it the ultimate comfort food for any occasion.
Whether you are looking to impress your guests or just satisfy your own sweet tooth, this recipe is sure be a hit.
And you can get it together in a short time.  
Ingredients
Apples
1 cup Self Raising Flour
1 cup white sugar
½ cup butter softened
½ teaspoon ground cinnamon
4 Granny Smith Apples, cored and sliced
Method
Preheat Oven to 350°F.
Grease a 5x5 inch baking dish.
Mix flour, sugar, butter and cinnamon together in a bowl using a pastry blender or fork until crumbly
Reserve 3/4 cup flour mixture to use as topping.
Sprinkle a light layer of flour mixture into the prepared baking dish, top with a layer of apples. Continue alternating layers of flour mixture with apples, ending with apples.
Sprinkle top apple layer with reserved 3/4 flour mixture.
Bake in the preheated oven until apples are tender and topping is lightly browned, 30 to 35mins.
If topping begins to brown too soon (before apples are tender) loosely cover with Aluminum Foil .
Allow apple cobbler crumble to cool for 10 minutes before serving. One of the simplest recipes you will come across.
Every bite tells a story of craftsmanship, inviting you to savor the simple pleasure of life, one heavenly slice at a time.
But..... we are not finished, we thought we would like to give you a recipe for a delicious, caramelized brussels sprouts and chicken salad to start with, so prepare to embark on a culinary adventure that will define your perception of brussels sprouts.
Brussels Sprout Salad
Ingredients

CHICKEN

4 chicken breasts fillets
salt and freshly ground black pepper
2T wholegrain mustard
1T olive oil

BRUSSELS SPROUTS

1T buttter
300g Brussels sprouts
2T brown sugar
salt

TO ASSEMBLE

Method

CHICKEN

Season the chicken with salt and pepper.
Brush with the mustard, and arrange on the prepared baking sheet.
Drizzle the oil over and roast for 15mins or until done.
Shred the chicken and set aside.

BRUSSELS SPROUTS

Heat the butter in a pan and fry the Brussel sprouts for a few minutes.
Sprinkle the sugar over and stir -fry until the sugar has melted and slightly caremelised slightly.
Season with salt.

TO ASSEMBLE

Arrange the lettuce on a large platter.
Arrange the chicken and sprouts on top and serve.
This article was printed from Home-Cooking-Haven.com.com