Chicken and Rice baked in one Pot!!
Prep Time
15 mins
Cook Time
1 hour
Serves
4  people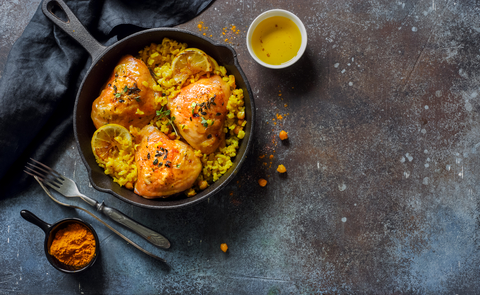 Doing the dishes after a lovely meal sucks right?   Well this is a one-pot-chicken-and-rice meal.   
The delightful aroma of a chicken and rice bake wafting through your kitchen is enough to make mouths water in anticipation.
This hearty and comforting dish combines tender, juicy chicken pieces with fluffy rice and herbs.
With each forkful you experience the perfect balance of textures - the succulent chicken, the fluffy rice and vibrant vegetables.
Ingredients
SPICE RUB
1t garlic power
½t paprika
1t barbecue spice
1t lemon and herb seasoning
CHICKEN AND RICE
4-6 chicken thighs

3T olive oil

1 onion, finely chopped

1t minced garlic

2 carrots diced

½ red pepper diced

½ yellow pepper diced

½ green pepper diced

1½ cups uncooked rice

2¼ cups chicken stock

salt and pepper

fresh parsley to garnish
Method
PREHEAT OVEN TO 180°
Combine the spice-rub ingredients in a large bowl, and add the chicken thighs, toss to coat evenly.
In a large, ovenproof cast iron pot, heat 2T of the olive oil and fry the chicken thighs to brown 203 minutes on each side. Remove and set aside
Add the remaining olive to the same pot and saute the onion and garlic for 1 minute. Add the carrots and peppers, and fry to soften.
Add the rice and chicken stock, stir, and simmer for 5 minutes
Put the thighs back into the pot with their juices, and season with salt and pepper,  Bring to a simmer and cover.
Bake in the oven for 30 minutes or continue cooking on the stove top.
Remove the lid and bake until the liquid has been absorbed... about 10 mins
Garnish with parsley
Any salad goes very nicely with this dish, check out the ones below for some ideas.
This article was printed from Home-Cooking-Haven.com.com