Gammon Recipes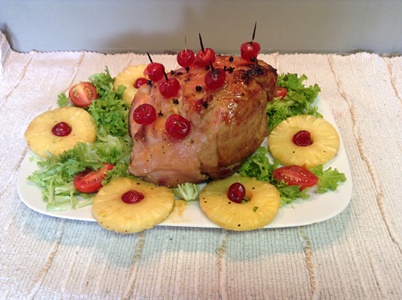 Glazed Gammon
| | | |
| --- | --- | --- |
| Prep Time:   20 mins | Cooking Time:   4 hours | Serves:   6 people |
It's Gammon Recipes day, Good morning one and all.
Gammon is traditionally on the menu for Christmas, but my family almost begs me to cook this favourite recipe of mine at least every other month.
So, I will spoil them today and make my glazed Gammon with cherries and pineapple, and along with that my absolutely delicious French Mauritian mayonnaise, so.. like the nursery rhyme says, this little piggy must go to market..... to get all the ingredients for this gammon recipe.


 Ingredients and Method for Gammon Recipes
The most important ingredient is the gammon, and my personal preference is to get one with bone in.  It just seems to taste so much better.
So lets start off one of our favourite Gammon Recipes by putting a large pot  onto the hob, rinsing the gammon under cold water and patting dry with kitchen paper towels.
Using a piece of  string wrap the Gammon up nice and tight and lets start A.....Cooking!


Tip:   The gammon normally comes encased in string, but I have found that when you try to remove the string  all the covering fat comes along.   So I prefer to string it myself, as you can see I am not a master at doing the stringing, but you know what?.....it works.

| | |
| --- | --- |
| Gammon Ingredients | Boiling the Gammon |
Ingredients for the Gammon

1 2½kg Gammon on the bone.
1 large onion cut into quarters with skin.
10 whole black peppercorns.
2 medium sized carrots, washed with the skin on.
2 bay leaves.
2 large garlic cloves crushed with the skin on.
6 whole cloves.
2 celery sticks.

Method for the Gammon



Place the Gammon into the pot and cover with cold water.
Add all the ingredients into the pot with the Gammon and bring to the boil.
Once it starts boiling, turn down the heat cover with lid and simmer for 25 minutes per 500 grams of weight .(this recipe using a 2½ kg Gammon time works out to 2hrs 10mins. (Tip: I always leave the gammon for an extra 20minutes).
Turn once during the boiling process.
Ingredients and Method for Glazing one of our Favourite Gammon Recipes.


| | |
| --- | --- |
| Ingredients for Glazing | Glazing the Gammon |
Ingredients for the Glazing

5 tsp English Mustard.

5 tsp Smooth Honey (see healing with Honey).

10 - 12 glazed cherries.

3 heaped Tbsp, brown sugar

400g tin of sliced pineapple rings.

Toothpicks.





Method for the Glazing

Remove the Gammon and set aside to cool for 15 minutes.

Using a small kitchen knife remove the rind and fat from the Gammon leaving a thin layer of fat 1-2mm.

Score the outside layer of fat in a diamond pattern and push the stem of cloves into the center of the crosses.

Place Gammon into foil lined roasting tray and turn the edges up to contain all the juices.

In a small pot add honey, sugar mustard, pine apple juice.

Bring to boil stirring reduce heat and simmer two minutes stirring all the time.

Brush the glazing  mix all over the gammon.

Using toothpicks place your glazed cherries randomly on your gammon

Place your pineapple rings on the foil around your gammon with a glazed cherry in the middle.

Turn oven setting to 200° C. 

Bake for 10-15 minutes ,

Remove from oven turn over the Gammon, brush with glazing, return to oven for further 10 -15  minutes

The gammon is ready when the fat is glossy and golden brown. Cover loosely with foil if the top gets too brown.

Remove from oven.

 Pour juice over and allow to rest for 15 minutes before carving,

 If you are only going to carve it on Christmas day, cover with foil together with pineapple rings and place in fridge.
While you are waiting for the Gammon to cook you can prepare the delicious French Mauritian Mayonnaise.

| | |
| --- | --- |
| Ingredients for French Mayonnaise | Mauritian French Mayonnaise |
Ingredients for Mayonnaise




3-4 egg yolks
dash of salt
½ teaspoon brown vinegar (see all the benefits and uses for vinegar).
ground black pepper 
1 small fresh garlic clove crushed to a pulp
¾ cup Sunflower oil (can add more )
(optional extra you can add ½ teaspoon Tabasco sauce 

              


Method for the Mayonnaise




Add the 4 egg yolks and crushed garlic into a mixing bowl.
Salt to taste
Using your electric mixer, at medium speed start mixing the yolks and  garlic.
Add the brown vinegar.
Slowly pour in the sunflower oil, continue mixing until it starts to thicken.
TIP  mix until the same consistency as peanut butter.
If you looking for a little "bite" you can add ½ a teaspoon of Tabasco Sauce.  
Add pepper to taste.
Cover with shrink wrap and refrigerate.
Plating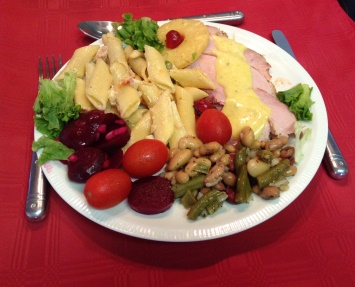 Now hopefully you have had a nice refreshing drink of your choice with your family and it's time to dish up.....
As a hot meal you can have this delicious Gammon from Home Cooking Haven with any of the following:

Any veggies. 
creamy mash potato.
crispy roasted potato's in quarters. 
For those of you on the Banting diet you can substitute sweet potato for the potatoes.
Rice,
Cauliflower rice for my Banting friends.
Potato bake.
Cauliflower and broccoli baked with cheese topping
Mediterranean roasted veggies.
Caramelized sweet carrots.
 green beans and onions.
Peas.

As a cold meal (We here at Home Cooking Haven always enjoyed having it cold), you can serve with a variety of cold salads:

Potato salad.
Coleslaw.
Three bean salad.
Beet root.
Asparagus.
French or Greek salad.
Pasta salad.
Cauliflower and broccoli
Rice salad.
Three pepper sliced (red, green, yellow.)  onion and cherry tomato 
drizzled with  olive oil and brown vinegar.
And of course the most important finishing touch has to be the Yummy Mauritian Mayonnaise, this meal is not complete without this accompaniment.

REMINDER:  Keep your eyes on this site because the recipe for this  mouthwatering  trifle is coming very shortly. Lynnie has promised me, very reluctantly, that she will give it to me, if I make my spicy, refreshing mango  desert for her at the same time.

We hope you enjoyed cooking this meal with us and as always, until we meet again in the Home Cooking Haven's Kitchen..........Happy Cooking!!

Return to the top of Gammon Recipes
Or else take yourself back to our Home Page

This article was printed from Home-Cooking-Haven.com.com