Absolutely The Best Stuffed Brinjals Recipe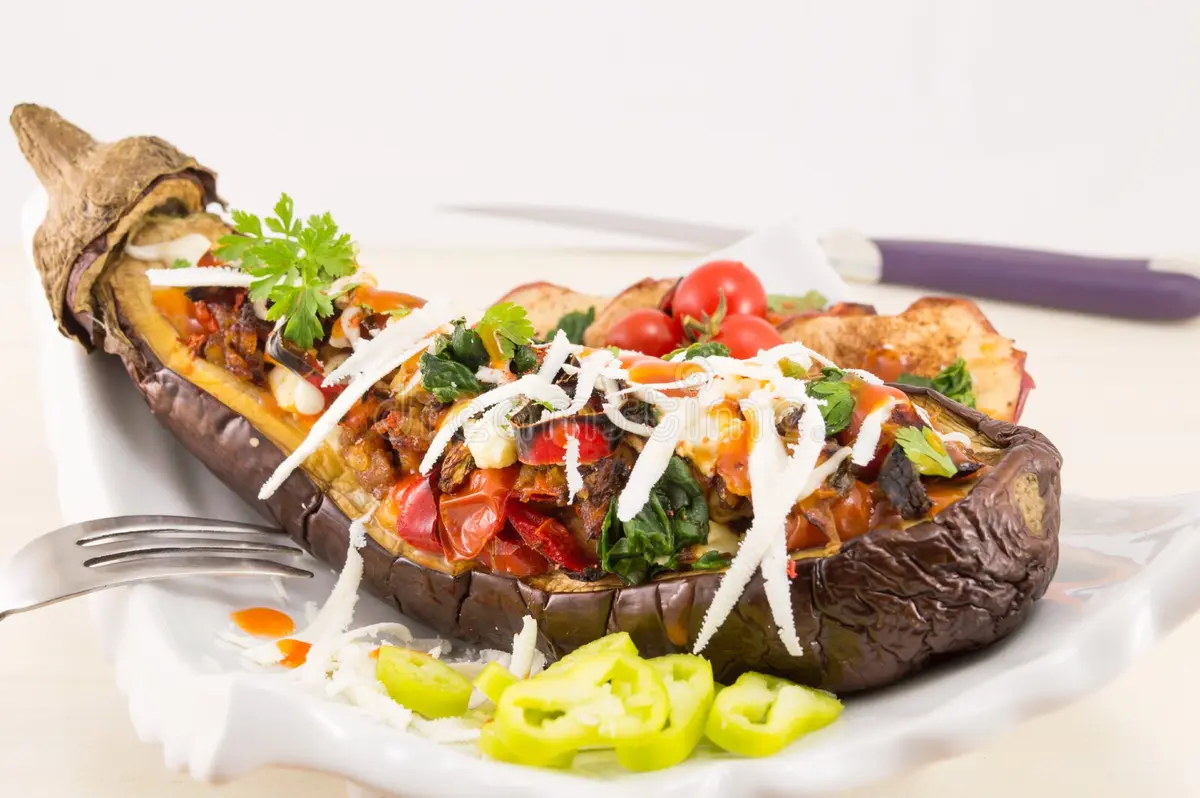 Absolutely the best stuffed brinjals recipe allows you to indulge in a burst of irresistible flavors combined in a delicious way.
In this mouthwatering dish, tender brinjals are transformed into savory masterpieces, generously filled with tantalizing combination of onion, garlic, tomatoes, olives, parsley and gooey melted mozzarella cheese.
Each bite delivers perfect harmony of textures and tastes, as the brijnals melt in your mouth and mingle with the tangy sweetness of tomatoes, the earthiness of the olives, and the aromatic blend of herbs and spices.
Whether enjoyed as a main course or a delightful side dish, these stuffed brinjals are sure to impress and leave your taste buds longing for more.
Join us on a culinary journey as we explore the art of creating these irrestible stuffed brinjals, perfect for gatherings, weeknight dinners, or any occasion that calls for a flavorful masterpiece.
The key to having the absolutely best stuffed brinjal meal is to choose fresh and firm brinjals.
Slice them in half, and create a cavity in each piece.
If you have some of this delicious mixture that we have set out below, left over after filling the brinjals, you can serve it on a bed of rice, or as a topping for cooked pasta!! 
Ingredients




1 or 2 Brinjals.
2T Olive Oil and some for drizzling.
1 large onion chopped.
2 garlic cloves finely chopped.
12 Cherry tomatoes halved.
20 green olives chopped.
Handful chopped Parsley.
125g Mozarella balls (cubes will also work.
Handful of white/brown breadcrumbs

This dish is a delightful way to enjoy the rich flavours of brinjal and the delicious ingredients that compliment it perfectly.

And dont forget to garnish it with fresh herbs, like cilantro or parsley for that extra touch of freshness!!

Enjoy your tantalizing creation.

Method




Cut the brinjals in half lengthwise.
Scoop out the flesh, leaving ½ cm as  a border.
Cube the brinjal flesh (set aside)
Brush the halves with olive oil.
Cover with tin foil and bake for 20 mins at 190°Celcius.




Fry onion, add the brinjal cubes.
Add the garlic and tomatoes.
Stir fry for 3 minutes.
Stir in the olives, basil, mozarella and season.
Remove the brinjal halves from the oven.
Reduce the temp to 180°
Put all the ingredients into the halves.
Sprinkle with breadcrumbs and drizzle with olive oil.
Bake for 20 mins until golden and the cheese partially melted.
What are the Benefits  Eating of Brinjals
This is going to surprise you, eating brinjal (also known as eggplant or aubergine) can offer several health benefits.
Brinjals are a great source of dietary fiber vitamins (such as  vitamin C, vitamin K and folate) and minerals including potassium, manganese an magnesium.
They have anti-oxidants properties like anthocyanins, which can help your cell from damage caused by free radicals. Additionally the antioxidants in  brinjals may have anti-inflammatory effects in the digestive system, and also play an important role in reducing inflammation in the body which help prevent chronic diseases.

The fiber and antioxidants in brinjals can contribute to heart health.  Consuming brinjals may help lower levels of LDL (bad) cholesterol and improve overall cardiovascular health.
Blood sugar control:  Brinjal's  stable sugar levels have a low glycemic index, meaning they do not cause a rapid spike in blood sugar levels. This makes them a suitable food choice for individuals managing diabetes or those aiming to  maintain stable blood sugar levels.
The high fiber content in brinjals promotes healthy digestion and can help prevent constipation.
This article was printed from Home-Cooking-Haven.com.com