Spicy Cabbage
Prep Time
45 mins
Cooking Time
1 -7 hrs
Serves
6 people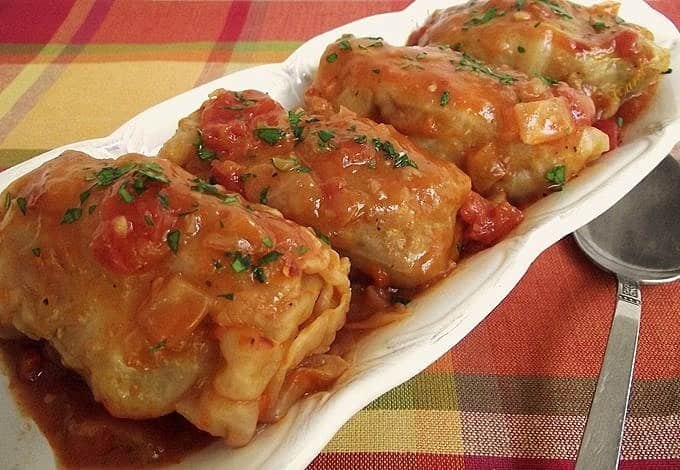 We like to keep these recipes short and easy to follow, and not too much of the bla bla,  but I know you are asking "what else can you do with cabbage except to boil it?"
 Well today we hope to inspire you to do this Spicy Cabbage recipe because we here at Home Cooking Haven think we have come up with a winner with this recipe.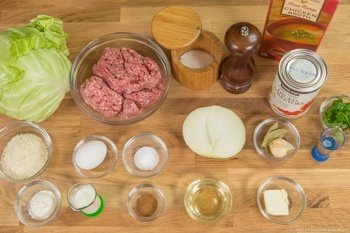 12 large cabbage leaves this will give you 12 portions. (you can adjust this quantity according to the amount of people you are cooking for).

450-500gr ground Lamb (you can adjust this quantity according to the amount of people you are cooking for).

1 cup cooked rice of your choice.

1 egg beaten.

¼ cup milk.

1¼  teaspoons salt.

1 medium size onion finely chopped.  

 2 tsp. curry paste.

½ tsp. chili powder. 

1 Tbsp.fruit chutney

.
1¼ ground black pepper.


½ tsp. dry thyme.

1 tsp. paprika.

2 cloves fresh garlic.

2 Tbsp. freshly chopped Dhania.

.

Ingredients for sauce

450g can smooth tomato soup.

1 Tbsp. brown sugar.

2Tbsp. red vinegar.

1 Tbsp. lemon juice.

1 tsp. Worcestershire sauce.

Optional 1 tub of sour cream.




First, we need to get going is a large pot with 250ml of boiling water.
Next peel your cabbage leaves and boil for approx. 2 min.
Remove, drain and set aside for later. 
Cook a cup of rice, rinse when cooked and set aside.  
Wash your hands.
Place all your ingredients except the sour cream and cabbage leaves into a large mixing bowl and using your hands combine the ingredients (you can use a large wooden spoon).
Take an ice cream scoop (Large spoon) of meat mixture and place in center of each cabbage leaf.
Roll up the cabbage leaf, tucking in ends tightly (as per illustrated above)
Place rolled cabbage in your slow cooker with ends facing down.

SAUCE
 

In a smaller bowl mix tomato soup, lemon juice, Worchester sauce and brown sugar. 
Pour sauce over the cabbage roll .
Cover, and cook in your slow cooker on Low for 8 to 9 hours.
Ps if you need to speed it up, place your slow cooker on high for 1 ½ hrs and then to low for 5 hrs .

Conventional pot Method

Using your sauce pour a little amount into you pot about ½ cup.
Place rolled cabbage in your pot with the tucked end downwards.
Pour remaining sauce over the cabbage rolls.
Cover and cook on medium for 1 hour checking occasionally that stuffed rolls are not sticking to the bottom.
Turn heat down and simmer for 15 minute
Plating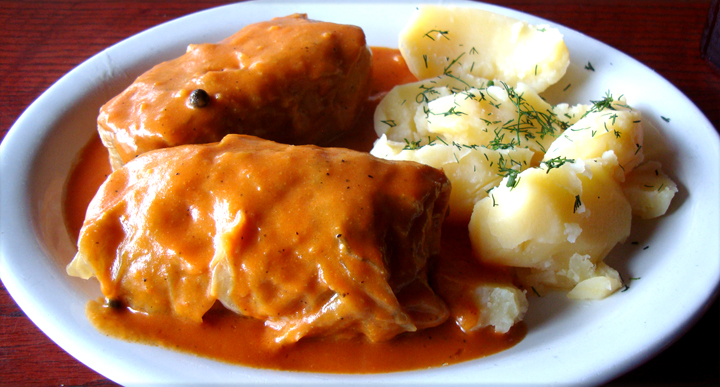 There are various way of plating this dish, here are a few ideas for you to think about:
With smooth mash potato's, fresh or frozen peas , green  beans or have some mixed veggies the choice is yours, and a dollop of sour cream on the side.
Oven roasted mixed veggies
White or brown rice mixed with fried onions mushrooms and mixed veggies
With naan bread.
Any fresh green salad of your choice,

For Banting and weigh-less dieters this meal is delicious with sweet potato mash,and mix veggies

And for any South Africans and neighbouring countries, this goes down very well with Pap (Phutu) however you like to make it.

PS we welcome any ideas or any of your recipes you would like to share on this site.

This article was printed from Home-Cooking-Haven.com.com