Irish Stew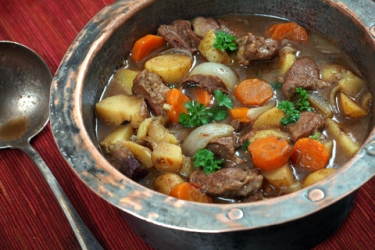 Irish Stew from Heaven
| | | |
| --- | --- | --- |
| Prep  ½ hour | Cooking time 2-2½ hrs |   4 people |
Top of the morning to you, one and all. 
A good old fashioned Irish Stew is on the menu today, because the weather here on the East Coast of Africa is overcast and a soft drizzly rain has crept in over the hill opposite my kitchen, the mist is hanging low....so I thought this would be the right time to do an old favorite of mine, a genuine Irish Stew loaded with succulent cubed stewing lamb and a variety of fresh veggies.
There are so many recipes for cooking this stew floating around, but this one is my favorite because it comes from my late Mother's recipe book. So.... I invite all my fellow amateur chefs to join me in making this tried and tested stew from the Emerald Isle.              
In the early 18 hundreds the  Irish used a cast iron pot hung over an open flame by a chain for cooking and used to shorten or lengthen the chain to adjust the heat temp.

Today I will be using the same type of pot but I will be doing this on gas.

Gather all ingredients as listed below and wait for it  "lets start A......Cooking"  (I just love saying this).
And a gentle reminder, please take utmost care when removing the lid to your cast iron pot as it gets extremely hot and I would hate any of you to get burnt before you can even taste the fruits of your labour.    ALWAY USE GLOVES!

Ingredients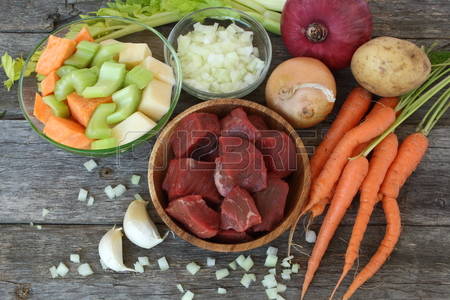 | | |
| --- | --- |
| For the very Best Irish Stew seasoned          with Thyme                                    | For a scrumptious side Dish of Cabbage, Onions and peas  |
500 gr boneless lamb.  You can also use mutton if you wish.


1 large sprig of parsley.


1 Large onion slice.


6 Medium size potatoes, peeled and cut into quarters.(Banting dieters can use sweet potato).


2 Carrots roughly chopped.


2 loves of fresh garlic (one of nature's natural antibiotics) finely chopped, but you can also use 1 tsp of bottled crushed garlic.
1 level tsp thyme


1 Medium sized leek, chopped.


3 tsp fresh parsley .


300-350ml water( can use 400ml chicken stock)





1 Medium sized cabbage roughly shredded.


2½ cups fresh peas, but you can also use frozen peas if you want. (Banting dieters can use chopped green beans).


1 Small onion, diced.


1 Clove garlic, crushed.


2 Tbsp Olive Oil.


Sea salt and coarse black pepper to taste.

Method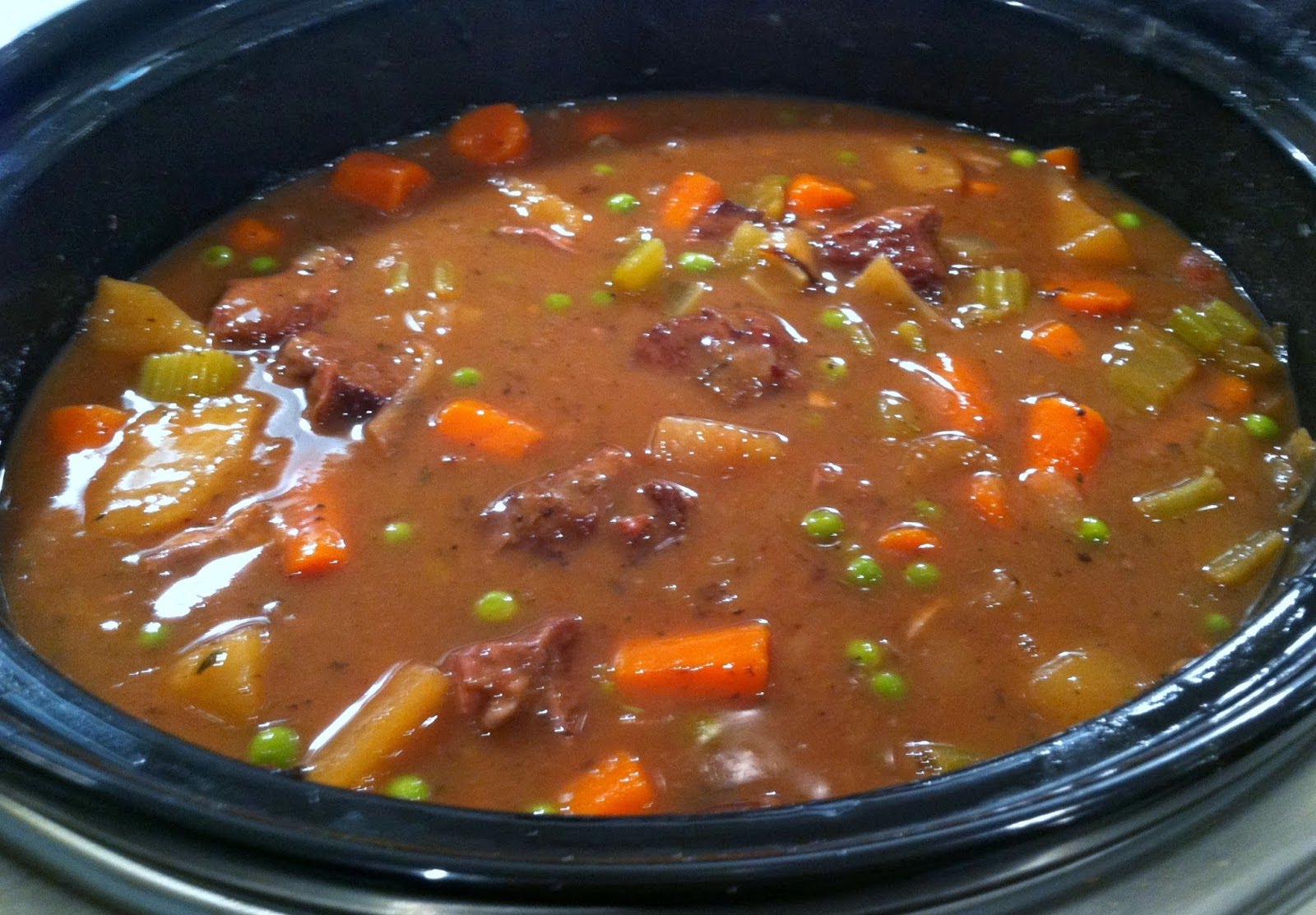 | | |
| --- | --- |
| For the Stew | For the Cabbage and Onions |
Place your lamb into the cast iron pot and cover with water.(or stock)
Bring to the boil, reduce the heat and allow to simmer for 30 minutes.
Add the onion and half of the potatoes(sweet potato} and cook for 30 minutes until the potatoes are soft.
Add the garlic and thyme.
Break the potato's up whilst stirring - this will thicken the stew.
Add the remaining potato's and carrots.
 Simmer for another 20-30 minutes until potato's are cooked.
Season well with salt and pepper to taste.
Stir in fresh parsley and chopped leeks.

In a medum size pot heat the olive oil and add the chopped onions.
Cook until soft and translucent 3 - 4 minutes.
Add the garlic and sauté for 2 minutes.
Add the shredded cabbage to the onions with ½cup of water or vegetable stock.
Cover and cook for a further 12 to 15 minutes stirring occasionaly.
As the cabbage begins to soften turn down the heat, add the peas(chopped green beans) and cook until the water has gone.
Remove from the pot and place in a colander to drain, then set aside.
Our traditional stew from Ireland and the cabbage, onion and pea side dish is just waiting to be plated. 
But before we do this me thinks it time to sip on a "wee" refreshment to warm the cockles of your heart then rally the troups and get ready to tuck into this hearty meal.
The Ballad of the Irish Stew Recipe

"For all sorts of stomachs there are dainties,
but the best feed between I and you,
is some mutton with onions and 'tatties,
made into a real Irish Stew.

Then hurrah for an Irish stew,
that will stick to your belly like glue.
The sons of St Patrick for ever,
and three cheers for a real Irish stew".

Plating
With any fresh bread or rolls.

There are many ways of serving Stew, the one I prefer the most is serving it into a large soup dish and eating it with a lovely fresh crispy bread roll.
But you choose:
With traditional white or brown rice.
With creamy mash potato or Cauliflower mash which is very popular should you be on the Banting Diet.
On its own on a chilly day/night.

Cabbage, onion and pea side dish.

With any fresh bread or rolls.

Irish and Italian get to meet with this stew when served on a bed of pasta.
Irish and Africans hold hands when this stew is served with mielie meal. The Afrikaners name for Maize meal is Pap and the Zulu's name for it is Putu.
Hope you enjoyed cooking this meal with me as much as what I did and till be we "meat" again

Reminder:
The Kitchen can be a very dangerous place, do not allow kids to try their hand at cooking without the correct supervision.

This article was printed from Home-Cooking-Haven.com.com
Back to the top of Irish Stew
Or else go right back to our Home Page