Delicious Haddock Creamy Pasta
This delicious Haddock creamy  pasta is a delicious and comforting dish that is perfect for those days you are craving something hearty and flavourful.
Tender chunks of haddock are simmered in a creamy sauce, then  tossed with al dente pasta for a comforting and satisfying meal
With the delicate  flavour of the fish complimented by the rich sauce, this creamy pasta is sure to become a new week night favourite in your household
Prep Time

 15 minutes

Cooking Time

20 minutes

Servings

 Serves 4 people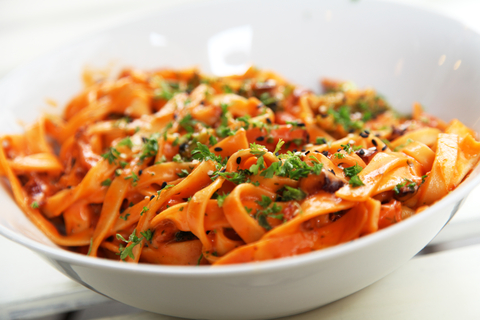 Delicious creamy haddock pasta may offer some health benefits especially if it is prepared with healthy ingredients and, eaten in moderation. 
Here are some possible health benefits:
Haddock is a good source of protein, which is essential for building and repairing tissues.
Whole wheat pasta provides fiber, which aids digestion and helps stabilize blood sugar
Ingredients for Delicious Creamy Haddock Pasta

Olive oil.
1 onion sliced.
2 tsp crushed garlic.
Cup white wine.
500g smoked haddock.
1 jar 400g sundried tomato and pecorino pasta sauce.
Salt & milled pepper.

For Serving:

2 pkts (250 g)tagliatelle, cooked and drained.
Grated Parmesan.
Fresh basil, parsley or rocket leaves.

Method for Delicious Creamy Haddock

Heat olive oil and fry onions until soft.
Add wine and cook to reduce by half.
Place fish in pan, cover and simmer for a few minutes until is cooked.
Stir in Sauce and heat through.
Served spooned over pasta and scatter with parmesan and fresh herbs.
This article was printed from Home-Cooking-Haven.com.com