Quick and Easy Spaghetti Bolognese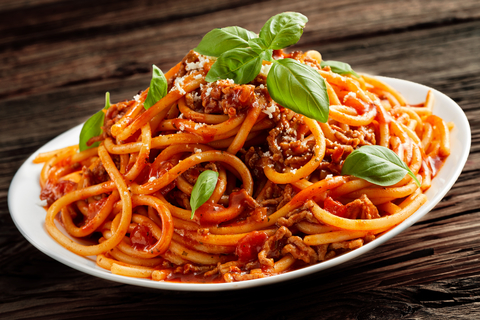 Cooking Time:  40 minutes

Quick and Easy Spaghetti Bolognese  and another easy meal from our simple cooking recipes. This dish not only takes about 30 minutes to complete it is also very easy on the budget strings.
So step right into the world of culinary comfort and classic Italian flavors with our spaghetti bolognese recipe.
Discover the perfect harmony between al dente pasta, rich tomato sauce, and simmered ground meat.
This iconic dish born and cherished in the heart of Italy, has captivated taste buds around the globe.
With every twirl of the fork, you will be transported to the bustling streets of Bologna, where tradition meets innovation.
Whether you are a seasoned cook eager to master the art of this beloved favorite or a food enthusiast looking to embark on a gastronomic adventure, our spaghetti bolognaise will evoke a symohony of aromas and flavors that will leave you craving for more.
So prepare your apron, gather the freshest ingredients, and let's dive into the flavorful world of spaghetti bolognese that's sure to satisfy craving for authentic Italian Cuisine.
Ingredients

300 to 400 grams beef mince depending on how many people you cooking for.
1med to large onion finely chopped.
425 gram tin chopped tomato.
1 large clove of fresh garlic (which, by the way has a lot of medical benefits) 
2 tablespoons red vinegar
¼ cup Worcester sauce
2 heaped spoons Tomato sauce (ketchup).
½ tsp crushed fresh ginger 
2 sprig of thyme. 
ground pepper.
ground sea salt.
500g Spaghetti 

Method

Place a large saucepan on your hob and pour in the oil and heat.
Add onions and cook until soft.
Next add your garlic and ginger whilst stirring.
 Add your beef mince and herbs and continue stirring.
Add vinegar and Worcestershire sauce and stir so all the mince is coated, allow to cook for approximately 2 minutes.  
Now add your crushed tomato, (optional extras: fruit chutney sweet and Chilie sauce). 
Reduce heat, add ketchup, and simmer for 40  minutes stirring occasionally.
Using a hand potato masher, mash your mince sauce taking out the large lumps.
Ground sea salt to taste.
Ground black pepper to taste.
Cook Pasta as per instructions on the packet.



Plating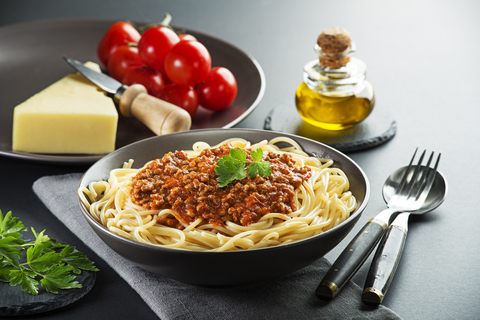 Place the spaghetti in a large deep serving dish.
Pour the sauce over it and mix gently.
Sprinkle with Parmesan cheese.
A nice fresh Italian salad will always go well with this dish.
Fresh Rolls.


This article was printed from Home-Cooking-Haven.com.com