The Kitchen is being renovated,please be patient, we are almost done.
Cauliflower Curry.
Cauliflower Curry with Sweet potato. HI to all my fellow home chefs here on the east coast of Africa, and around this beautiful world we live in.
Cauliflower curry is on the menu today, believe me once you have tried this recipe you will most definitely file it under FAVOURITE curry dishes. 
Not only does it stand out as a simple recipe, but its really tasty and easy on the purse strings.

Ingredients for Cauliflower curry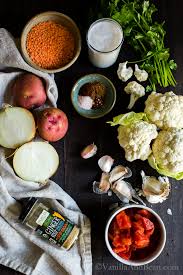 Okey Dokey the time has come to gather our ingredients for Cauliflower Curry. You can use either Sweet Potato or plain potato..
I must say that I always find it easier to get all the ingredients together so when you start the prep work, you don't have to start running around looking for this and that.
Right today we will use Sweet Potato's with our Cauliflower. 
1 Tbsp Vegetable Oil
large Onion chopped
2 med Sweet potato, peeled and cut into bite sizes.

1Large piece Ginger grated
3 Garlic cloves crushed.
½ tsp, Turmeric.
1 tsp. Ground Cumin.
1Tbsp.curry powder.(can use 2 if you prefer hot curry)
227gr Chopped tomato.
½ tsp sugar (Banting and other dieters can use xylitol)
cauliflower is a mass of tiny, tightly packed flower…, cut into florets
potato comes in innumerable varieties. A member of…, cut into chunks
1chillies …, halved lengthways.
Squeeze lemon juice
Handful coriander, roughly chopped, to serve
Naan bread and natural yogurt, to serve

Method
Method.
Heat the oil in a saucepan.
Cook the onion for 10 minutes until soft, then add the ginger, garlic, turmeric, cumin and curry powder.
Simmer for about a 1 minute stirring.
Add the tomatoes and sugar stirring until all the mixture is combined.
Add the cauliflower, potatoes and split chilli, seasoning to taste.
Cover with a lid and gently cook for a good 30 minutes stirring occasionally, until the vegetables are tender
Add a drop of water if you need to, but not to much as it is meant to be a dry curry.
When vegetables are soft and tender, remove the chilli..
Add a squeeze of Lemon and scatter with fresh Dhania(coriander).

Great congratulations you have just completed a tasty vegetable curry. Time to relax ,and  put your feet up and enjoy a glass of beverage of your choice.  .

Plating

Below are a few ideas you can serve this delicious curry:
Serve with your choice of Indian bread.
Add a dollop of yogurt.
With savoury rice.
On its own.
Make a Bunny Chow.
Indian salads.

I leave the choice up to you.

                                             Enjoy.

This article was printed from Home-Cooking-Haven.com.com