Creamy Chicken Stew
             Prep time: 20 Minute            Cook time  7-8 Hours                    Serves 4-6 People

Creamy chicken stew.This is one of my favourite chicken recipes and I'm sure once you tried it you will put it on your favourite list.
Good day to all my fellow home chefs here on the East Coast of Africa and around the world .Thank you for paying us a visit at Home Cooking Haven. It's so great to have you with us today.
Today we going to show you how to make a delicious Creamy Chicken stew packed with veggies .I may add that it is Banting Dieter friendly.
The great thing about this recipe is it's a working mothers dream.Yep you guessed it we going to do it in a Slow cooker, AKA Crock pot. 

Ingredients for Creamy Chicken Stew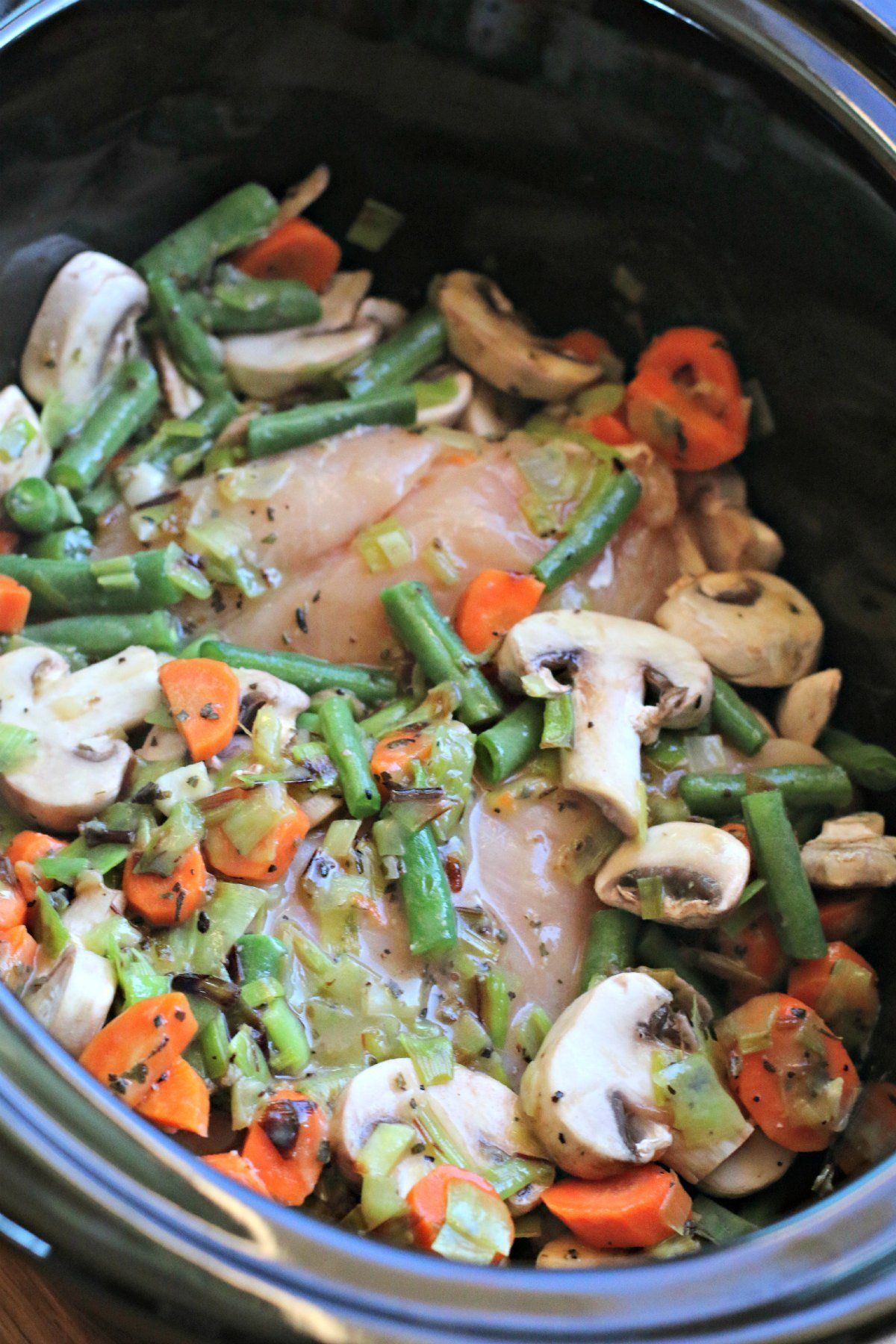 Right are you ready to begin, great we will need the following;
6 med size deboned and skinned thighs (can use 2 large skinned chicken breast cut into bite sizes)


3-4 small potatoes cut into quarters skin on cleaned(Banting dieters use sweet potato)


1 large onion chopped.


1tbsp. butter


2 Cloves of garlic crushed.



1Sprig thyme.


1 Cup baby carrots cut in half.


1 small red or green bell pepper sliced.


1 cup frozen or fresh sweet corn.


½ Cup frozen peas.


200gr Sliced mushrooms.


I/3 cup celery diced.



½ Cup 

whole

milk.



1 Can Cream of chicken soup

(can use Cream of mushroom soup)


½ teaspoon dried all spice.


¼ spoon oregano.


Sea salt and ground pepper to taste.


Fresh parsley chopped for sprinkling over stew prior to serving.

(PPS you can use 1 packet 300 grams frozen mixed veggies)

Still with me ? g

reat now that we have gathered all the ingredients needed for this Creamy Chicken stew,its time to "Start - a -  cooking" 



Method

Just before we start I must say that the slow cooker/crock pot has got to be the perfect cooking utensil for working Woman /mothers,
Okey Dokey first thing we need to do is get out the slow cooker and turn it on. 
Melt the butter on the bottom of the crock pot.
.
Place all your veggies on top and combine so they all get  a coating of butter.
.
Salt and pepper your chicken thighs.


Add chicken into the cooker.


In a micro wave oven dish mix the soup ,milk, sour cram and spices.


Heat in micro wave for 30- 40 seconds.


Pour the mix over the chicken in the cooker stir combine all the ingredients.


Place on the lid ,set heat to low and cook for 6-8 hrs.


Sprinkle with parsley and crumbled bacon and serve.

               Viola your have just completed a mouthwatering heart warming stew enjoy.

Plating


There are many ways of serving this great meal ,below I've given you a few tried and tested myself and they all go great.
With Basmati Rice or any rice of your choice.


With any pasta noodles.


Banting Dieters can use cauliflower rice.
. 
My favourite in a large soup bowl and fresh bread rolls mmm.


           And of cause accompanied by a glass of your favour wine.
                                                   Cheers.

We really hope that you will get great enjoyment out of cooking this recipe as well as eating it, and sharing the experience where ever you go.
Don't forget to come back to Home Cooking Haven to see what's cooking and until we meet again.......... Happy Cooking 

Copyright 2014 Home Cooking Haven.Com.   All Rights Reserved.