Italian Orzo Salad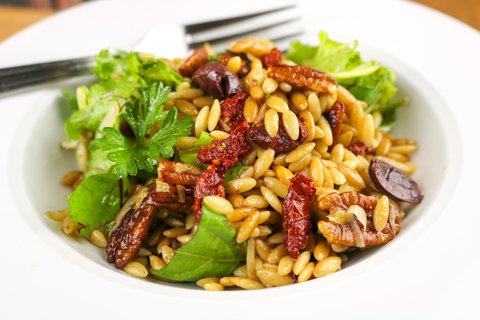 Orzo Salad with Sundried Tomato's
INGREDIENTS 
Vinaigrette
METHOD       
Vinaigrette    
125ml  ( ½c) olive oil
grated zest of Lemon
juice of 2 lemons
125ml (½c) sundried tomatoes in vinaigrette
1 garlic clove
salt and freshly ground pepper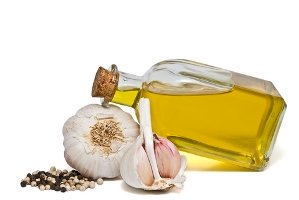 Benefits of Garlic
Put all the ingredients in the bowl of your food processor and pulse until smooth and well combined
Benefits of Tomatoes
Ingredients
Salad
Method
Salad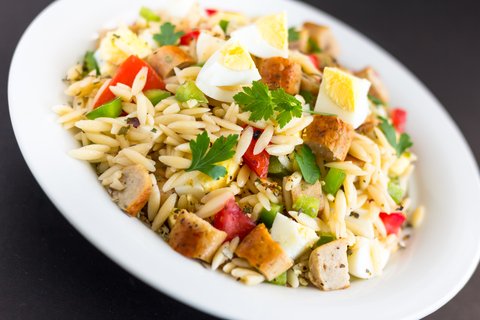 500g Orzo (pasta rice) cooked al dente and drained.
200g green olives, roughly chopped.
250g cherry tomatoes halved.
125m (½c sunflower seeds toasted
20g fresh basil
salt and freshly ground pepper
extra oil of needed.
2 Rounds of feta cheese.
Optional Extra
hard boiled eggs, cubed
and 1 can (400g) Chickpeas
Put the cooked pasta rice in a non-metal dish. Pour the vinaigrette over and mix well.
Add the olives, cherry tomatoes, sunflower seed and half the basil and mix through.
Season with salt and pepper. Pour more olive oil over if the salad is too dry.
Cover and leave in the fridge for an hour or overnight... the longer you leave it the tastier it gets.
Sprinkle the rest of the basil over and serve.
Add the cubed feta and can of drained chickpeas and enjoy!
This article was printed from Home-Cooking-Haven.com.com