Italian Orzo Salad
For those of you, like me, who love Italian foods, here is another really delicious salad, to eat as a full meal with some bread or as a side plate to virtually any main meal!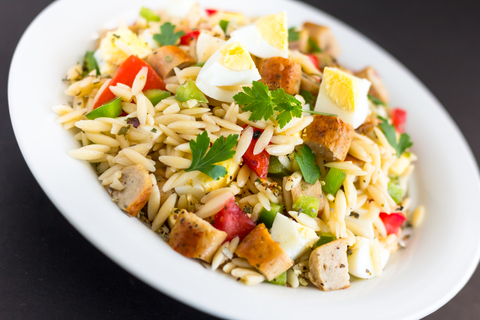 VINAIGRETTE
125ml (½C) Olive Oil
grated zest of 1 lemon
Juice of 2 lemons
125ml (½) sundried tomatoes in vinaigrette
1 garlic clove
salt and freshly ground pepper
VINAIGRETTE
Put all the ingredients in the bowl of a food processor and pulse until smooth and well combined.
SALAD
500g Orzo (Pasta Rice) cooked al dente and drained
200g green olives, roughly chopped
250g cherry tomatoes, halved
125 ml (½c) sunflower seeds, toasted.
20g fresh basil
salt and freshly ground pepper
extra olive oil, if needed.
SALAD
Put the cooked pasta rice in a non-metal dish.
Pour the vinaigrette over and mix well.
Add the olives, cherry tomatoes, sunflower seeds and half the basil and mix through
Season with salt and Pepper Add mover olive oil , if the salad is too dry.
Cover and leave in the fridge for an hour or overnight, the longer you leave it the tastier it gets.
Sprinkle the rest of the basil over and serve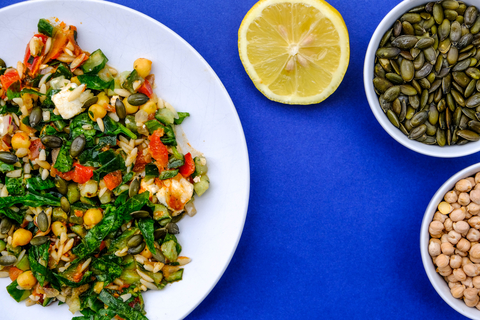 TIP
For extra substance (when using as a meal in itself)  add 2 rounds of Feta (cubes) and  1 x can 400g chickpeas, some spinach and mix.
This article was printed from Home-Cooking-Haven.com.com