The Kitchen is been renovated, please be patient, we are almost done.
Curry Chicken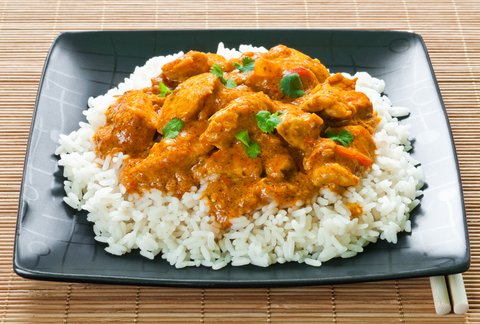 Delicious Curry Chicken
| | | |
| --- | --- | --- |
| Prep Time: 1 hour incl broth. | Cooking Time:   45 minutes | Servings:   6 |
Hi to all my fellow home chefs here on the east coast of Africa, and around the world.
Curry chicken is on the menu today and believe me that once you have tried this recipe you will most definitely file it under FAVORITE curry dishes. 
Not only does it stand out as a simple  chicken curry recipe, but manages to be really tasty and is also easy on the purse strings.

Ingredients for Curry Chicken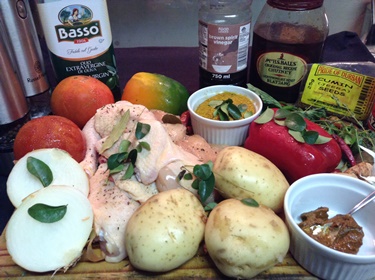 Okey Dokey time to gather the ingredients we are going to need to create this mouth watering curry.

One whole chicken cut into pieces, legs, thighs, wings, and breasts cut into bite sizes. 
TIP 

Set aside the carcass and skin for later for your broth).

One large onion (lotsa medicinal properties) chopped.
3 tbsp  sunflower cooking oil (you can also use olive oil ).
2 cloves fresh garlic crushed.
1 tsp fresh ginger.
2 cinnamon sticks.
3 med size potato's quartered (Banting dieters should use sweet potatoes)
2 bay leaves
2 star aniseed
1 sprig fresh thyme  or ½ tsp dried thyme.
2 Tbsp. fresh Dhania
5 ml whole fennel seeds.
1tsp Garum Masala (optional
½ tsp. turmeric
2 Tbsp. mixed Masala med (curry powder)  (you can use hot depending on your threshold).

2 Tbsp vinegar.

2 Tbsp Worcestershire sauce.

1 heaped Tbsp fruit chutney (Banting cooks should leave this out, it will taste just as good)

Coriander (dhania) leaves for garnishing.
½ can 220ml diced tomatoes  or 3 med size fresh tomatoes chopped/grated.
Ground salt to taste.
Ground fresh pepper corns to taste.

Method and Ingredients for Homemade Chicken Broth
Okey Dokey it's that time again,  wait for it:
                              Time...to....start.... a ...cooking:

Place 400ml water in a pot. 
Chicken carcass and skin.
One onion chopped.
1 carrot chopped.
 I celery stick chopped. 
 5 sprigs of fresh thyme.

Method

Add all the above to a pot and to cook for 45minutes
Remove from hob and using a sieve, strain out all the solids leaving a lovely liquid broth.
Set a side for later.
 If you are in a hurry and have no time to make the broth you can use any chicken stock cubes i.e. Knorr, OXO.

All the prep work is done and dusted, time out to have a small break and enjoy whatever quenches your thirst!

Method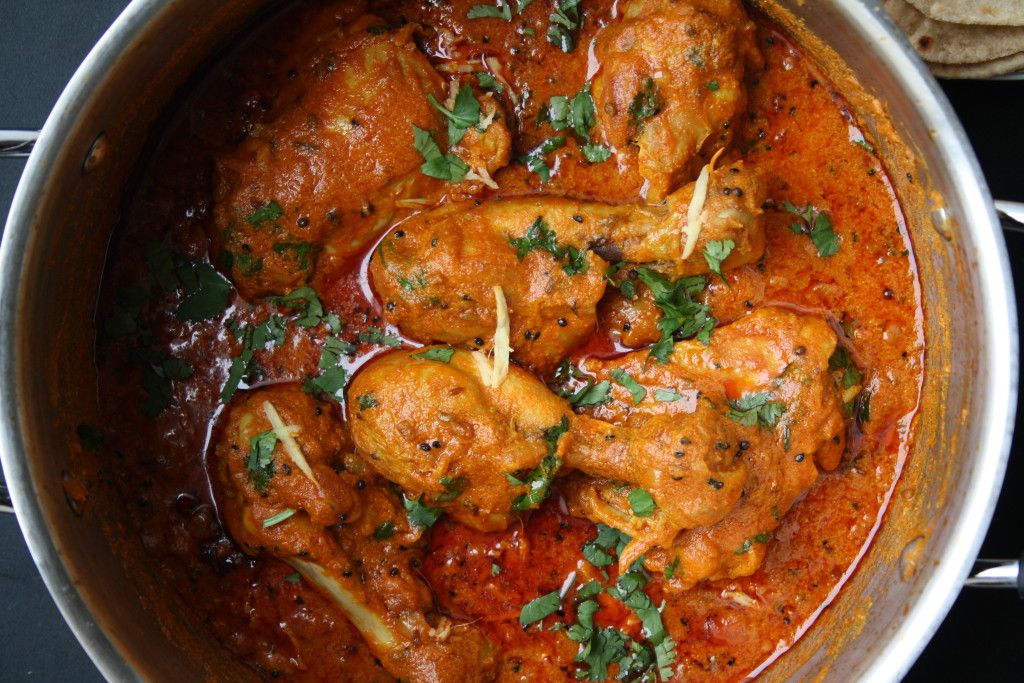 Start with a hot pan of olive oil - add onion and sauté for a few minutes.
Add garlic, ginger, curry powder, thyme, fennel seed  cinnamon stick.
Stir for a few minutes until it becomes a paste.
Add vinegar, worcestershire sauce, chutney, salt and pepper to taste.
Next add chicken pieces to your pan and stir while coating the chicken with the paste.
Add  tomatoes, curry leaves, bay leaves and 250ml of your home made chicken stock (if it is too thick) add more broth and continue to cook and stir for about 2 minutes.
Add potatoes,(Banting dieters use sweet potatoes).
Bring to the boil.
Turn heat down and continue to cook on med to low heat for about 45 minutes or until potatoes are cooked, stirring occasionally.
When cooked, remove from heat,
Remove Bay Leaves. 
Garnish with fresh coriander (Dhania) and allow to stand for app 30minutes allowing the potato's to absorb all the great juices.

Tip when cooled down cover and place in your fridge and serve it the next day for dinner, by then you get the full benefit of taste as the curry has had time to marinate into the cooked ingredients.

Sambals
CARROTS
4 carrots finely grated or thin slices.
3tsp.fresh coriander (dhania) leaves, finely chopped.
1 seeded red chilli, chopped.
2 tsp lemon juice.
salt and pepper to taste.
French Mauritian Tomato and onion chutney
2 med to large tomatoes  boiled until soft then mashed (skin removed)
1small red or yellow onion thinly sliced and mix with the mashed tomato.
Optional:1red or green mild chilli finely chopped pips and vein remove.
Salt and pepper to taste.

Plating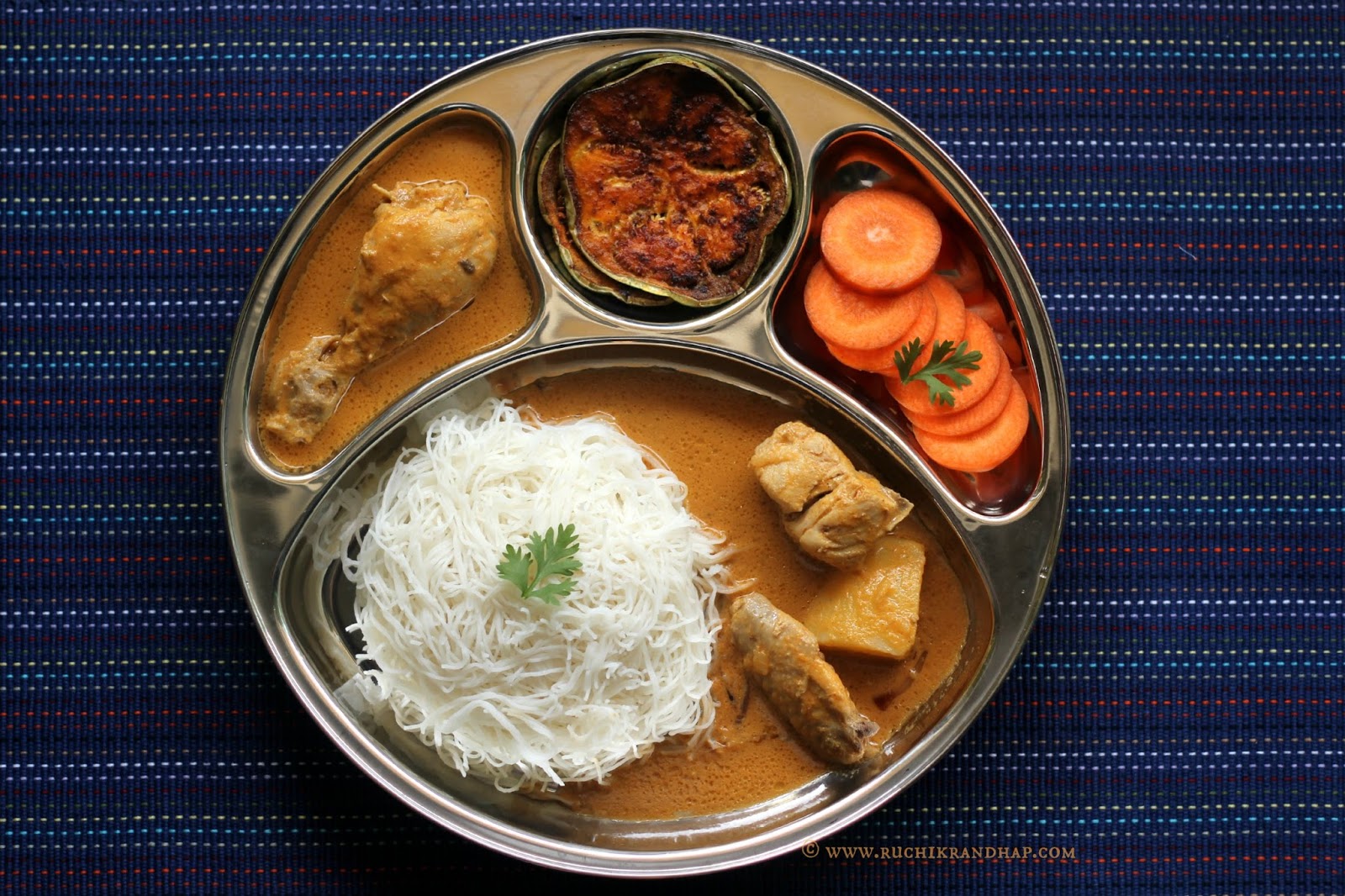 I really enjoy this part as there are so many ways of plating this great curry

serve with traditional white or brown rice.
basmati rice .
roti.
cauliflower rice for my Banting friends.
noodles.
fresh bread or rolls.
mielie pap. (loved by most people in Africa)
and guess what?   You can also have it as Bunny chow 
And of cause do not forget a side plate of the above sambals.