Quick and Easy Steak and Mushrooms Recipe
Prep Time:
Cooking Time:
Servings:
10 to 12 minutes according to your preference

4 people or 2 if there are beeeg steak eaters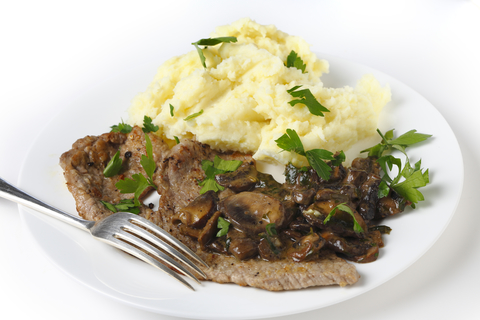 This quick and easy steak and mushroom recipe is really and truly a very simple meal to make.   If you are a steak lover then it will be top of your list for quick and easy meals.
Not too many dishes are used here, so not a lot of cleaning up to be done.  It s also very versatile you can chop and change as you wish for foods to eat with it, we often just have it on a roll, if we short for time.

Okey Dokey........ and as always let's start A........cooking!!

Ingredients for Steak and Mushrooms 
C

ast iron  ribbed skillet(can oven grill or use frying pan)

250 -300 gram rump (can use any steak cuts i.e. rib eye, sirloin).

One med size onion cut into rings (can cut in half rings).

One clove or half spoon crushed garlic (check out the health benefits of this smelly ingredient.

125 mg mushrooms sliced.

Ground sea salt .

Ground black pepper corns.

2 table spoons olive oil.

Worcester sauce.

Optional1/3 cup nice rich red wine

script async src="//pagead2.googlesyndication.com/pagead/js/adsbygoogle.js">
Method for Steak and Mushrooms 
Heat the olive oil in your skillet on med to high
Add onions, mushrooms and garlic and season with salt and pepper.
Sauté until golden brown, remove from skillet and set aside.
Rub salt, pepper crushed garlic into your steak
 drizzle  bit of olive oil over steak.
Turn heat up and place your steak into the hot skillet.
Brown steak on each side for approx. 1 minute, depending on the thickness of your steak
Turn heat down to 3/4.
Turn steak over until cooked to your liking .Do not overcook.
Remove the steak from the skillet set aside to rest
Pour the red wine into the skillet and stir the pan to release all the brown bits which adds to the flavor.
Return the onions and mushrooms stir so the they all get coated with the juices
Add the worcester sauce and cook for 30 seconds while stirring.
Return the steak to the skillet for another minute.
Plating
Serve with Rice and Fresh Peas.
French fries always go well with steak, but depends on your diet.
Creamy mashed potato.
Baked potato with sour cream
Can add fried egg on top of steak
For the Banters use sweet potato instead of the baked potato's
all the above plating ideas are just some ways to serve ,but please use you imagination.

Tips for doing the Baked Potato's
Do not peel, but wash potato thoroughly, I also scrub them just to make sure.


Using a fork pierce the potato all around.


Place in Microwave oven and cook on full for 3 to 4 minutes.(boil potatoes in pot on your hob)


Check to see if  the spud is cooked by pricking with a sharp knife.


 You will feel if it is still a bit hard especially in the middle, so if it is not cooked right through, place back in the microwave for a minute or 2 more depending on the size of the potato.


When cook squeeze potato open and put a dollop of sour cream


For those on the Banting Diet merely replace the potato's with sweet potato's

We really hope that you will get great enjoyment out of cooking this recipe as well as eating it, and sharing the experience where ever you go.
Don't forget to come back to Home Cooking Haven to see what's cooking and until we meet again..........  

Copyright 2014 Home Cooking Haven.Com.   All Rights Reserved.