A Few Easy Spinach Recipes for YOU!
Welcome to my fellow Home Chefs from all around the world, from the East Coast of Sunny Africa.
Today we are going to give 3 different spinach recipes using spinach as the star of the show.  We think you will enjoy making all three of them, because they are simple to make, but still thoroughly delicious.
Traditional Oven Temperatures
Slow
Moderate
Moderate
Moderately Hot
Quick Spinach Recipe - Stir-Fry
Ingredients 
1 large onion, finely chopped
4 cups fresh spinach
1 cup green beans
little olive oil
½ cup pecan nuts
½ cup sesame seeds
sea salt and black pepper to taste
2 cups chopped and sliced mushrooms
liberal squeeze of lemon juice
Method
Brown the onions in the olive oil, add the mushrooms and stir-fry. 
Add all the other ingredients and stir-fry quickly.
Serve piping hot with crusty bread!!
In these spinach recipes we have specially used Spinach as the star because it is absolutely packed with excellent medicinal benefits which can help prevent numerous ailments and even serious diseases such as cancer.
Macaroni Cheese with Spinach
Cooking Time:  10 minutes
Ingredients
¼ cup (25g) dry breadcrumbs
1 tsp olive oil
2 tbsp. cornflour
1¼ tsp mustard powder
chilli powder to taste
3 cups (375g) cauliflower florets
2 cups (about 300g) macaroni
2 cups (about 300g) spinach, washed and dried
1½ cups (375ml) milk
1½ cups (185g) grated cheese
Freshly ground black pepper
Method
Bring a large pot of water to the boil.  
In a small frying pan, combine the breadcrumbs and oil and cook over medium - low heat, stirring constantly, until golden and crisp (about 2 to 3 mins).  Transfer to a small bowl to cool. 
In another small bowl, combine the cornflour, mustard and chilli.
Add the cauliflower and macaroni to the boiling water and cook until tender (about 7 minutes).
Add the spinach and stir to submerge, then drain immediately.
Return the macaroni to the pot.  Add the cornflour mixture and stir to coat well, then stir in the milk. and cook over medium heat, keep stirring until the milk starts to bubble and thicken.
Remove from the heat, add the cheese and stir until melted and smooth, then season with pepper.
Sprinkle each serving with a tablespoon of the toasted breadcrumbs.
Spinach and Lentil Ragout
Cooking Time:  50 minutes
Ingredients
80ml extra-virgin olive oil
2 medium onions, chopped
1 cup diced carrots
6 cloves garlic, crushed
1¼ cups (230g) brown lentils, rinsed and picked over
1 tsp dried thyme
6 cups (1½ liters) salt-reduced chicken or vegetable stock
1 bay leaf
1¼ cups (115g) pasta shells
1 x 410g can diced tomatoes
8 cups (400g) baby English spinach, washed and dried
2 tbsp. fresh lemon juice
freshly ground pepper
Method
Heat 1 tablespoon of the oil in a large pot over medium heat.
Add the onions and carrots and cook, stirring frequently until softened, bout 4 to 6 minutes.
Add the garlic and cook, stirring for 30 seconds.
Add the lentils and thyme and stir to coat.
Add the stock and bay leaf and bring to a simmer.
Reduce the heat to low, cover and simmer for 20 minutes.
Add the pasta shells and simmer, covered, stirring occasionally, until the past and lentils are almost tender, about 10 to 15 minutes.
Add the tomatoes and simmer, covered, until the lentils and past shells are tender and the mixture has thickened, about 5 to 10 minutes.
Discard the bay leaf.
Add the spinach and cook, stirring, just until wilted, about 1 minute.
stir in the lemon juice and season with pepper.
The ragout will keep, covered, in the refrigerator for up to 2 days.
Top each serving with a drizzle of the remaining oil.
Plating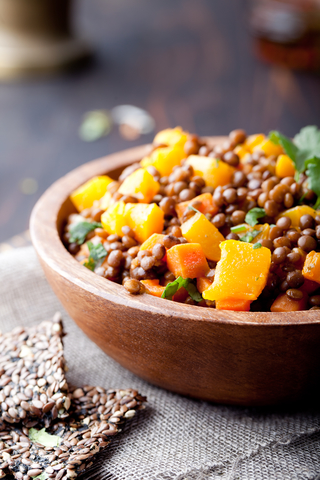 Serve the last of our spinach recipes in a bowl, topped with cooked pumpkin pieces and small cooked baby carrots, decorate with a few rocket leaves, settle back and enjoy the fruits of your time in the kitchen.
This article was printed from Home-Cooking-Haven.com.com