Roasted Cauliflower Salad.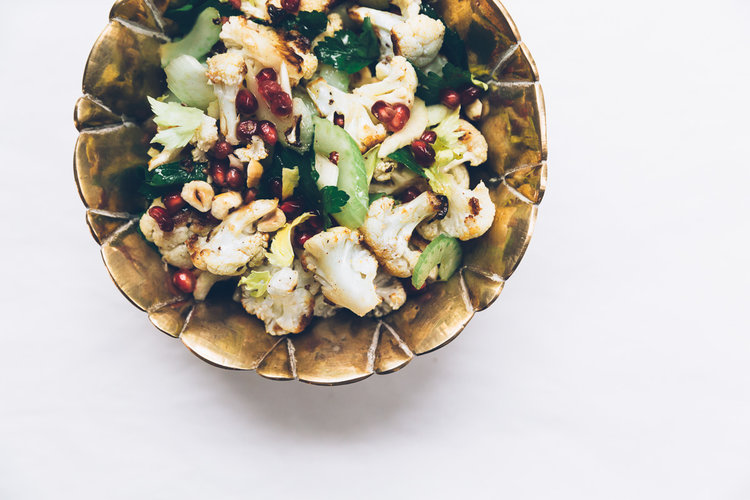 Prep time  15 minutes                   Cooking time 35-40 minutes                  Yield 6

Roasted Cauliflower salad. Hi to all my fellow home chefs here on the East Coast of Africa and the rest of this beautiful world we live in.
Today we are going to do a Healthy Roasted Cauliflower Salad.It is low in calories and packed with punchy flavour.Turmeric adds lovely colour and flavour to this easy vegan-friendly recipe.

Ingredients for Roasted Cauliflower Salad
Okey Dokey time to put on the apron and collect all the ingredients needed for this delicious salad.
1 Med size Cauliflower head chopped into bite sizes.
1 Cup Basmati rice ,white or brown your choice

1 Cinnamon stick.
½ tsp ground Turmeric.

2¼ cups water.
½ cup frozen peas.
2Tbsp.extra virgin oil.

1 tsp cumin seeds.(No cumin on hand ,you can use other ground coriander, chili or curry powder)
1 Tbsp. Cider vinegar.
1Tbsp. fresh lime juice.
1Tbsp mango chutney (can use Peach or any other fruit chutney)

Salt to taste.
Pinch of dry mustard.

Ground Coriander.
Chili Powder.
Garam Masala..
Curry Powder.

Method
Okey Dokey now that we got all the ingredients to do this tantalizing meal it's that time. Wait for it: 
                         "Time to Staaaart a Cooking."
Preheat your oven to 450°F(200°C)

Place rice into pot ,combine the rice with Turmeric water and cinnamon stick

Bring to boil and cover turn heat down and simmer for  until rice is tender and all liquid is absorbed +- 30 to 35 minutes.

Fluff rice with fork, add peas and let sit covered for 5 minutes.

While the rice is cooking toss the cauliflower and toss with 1 Tbsp oil, cumin and salt .


On a baking tray, arrange the cauliflower florets in a single layer.

Roast in oven, stirring occasionally until tender and brownish edges15+-20 min

Put on your oven gloves and remove cauliflower from oven. Set aside.

Method for Chutney dressing

Putting it all together
In a large bowl combine the rice and peas with the cauliflower,cashew nuts,raisins and fresh cilantro.
Pour the chutney dressing over the combine rice and cauliflower mixture
Toss and combine

Voila you have just completed a tasty Salad that will hold it's own at any meal.

Plating
This salad goes with:
 Great assorted cold meat.
Barbecues.
Braais.
Just on its own on those hot summer days.
                                          Enjoy. 
Traditional Oven Temperatures
Slow
Moderate
Moderate
Moderately Hot
This article was printed from Home-Cooking-Haven.com.com