Macaroni Cheese with Succulent Meatballs 
Prep Time

30 mins

Cook Time

20 mins

Servings

6 people
Macaroni Cheese with Succulent Meatballs!!!  Get ready to indulge in a mouthwatering combination of comfort food and savory goodness with our tantalizing  macaroni with succulent meatballs recipe.
This classic dish takes macaroni and cheese to new heights by adding  tender, flavorful meatballs to the mix.
Picture perfectly cooked al dente macaroni, smothered in a velvety cheese sauce, and complemented by juicy, succulent meatballs that are bursting with flavors and aromas.
This ultimate comfort meal is perfect for cozy nights in, family gatherings, or anytime you are craving a heartwarming satisfying dish,
Join us as we embark on a culinary journey and explore how these two beloved dishes come together to create a truly unforgettable dining experience.
Ingredients




Method

Combine breadcrumbs, mince, egg, dried herbs, and seasoning.
Roll into 20 balls, coating in flour.
Refrigerate for 10 min before frying in batches in oil. Place the milk, boiling water and margarine in a saucepan and bring to the boil.
Add the contents of the  macaroni sachet.
Simmer for 10 mins, stirring occasionally.
Remove from heat, cover and stand for 2 mins.
Serve over Macaroni.
50g fresh white bread crumb.
1 onion chopped.
1tsp Robertsons mixed dry herbs.
26g flour.
125ml milk.
500g lean beef mince
1 egg beaten.
Salt and pepper to taste.
30 grams margarine.
1 egg beaten.
15ml oil.
300ml water. 
1 box macaroni.
1 box Knorr Macaroni and cheese.

Whether you are looking for a quick weekday meal or a cozy homemade feast our macaroni with meatballs never disappoints!!
Don't go away we have added on a delicious Italian Orzo salad, to finish your meal with a culinary Bang!
Italian Orzo Salad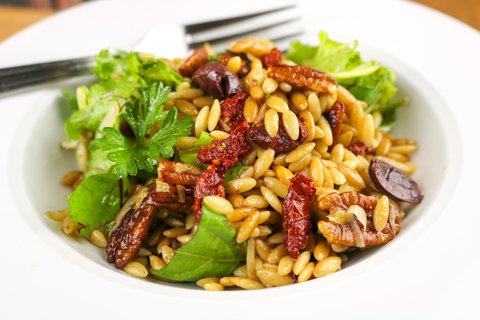 Welcome to the realm of Italian culinary bliss with our delectable recipe for Italian Orzo Salad.
This vibrant creation is a celebration of flavors, textures and colors that will transport straight to the sun-kissed streets of Italy.
Ingredients 
Vinaigrette

125ml  ( ½c) olive oil
grated zest of Lemon
juice of 2 lemons
125ml (½c) sundried tomatoes in vinaigrette
1 garlic clove
salt and freshly ground pepper




Ingredients
Salad

500g Orzo (pasta rice) cooked al dente and drained.
200g green olives, roughly chopped.
250g cherry tomatoes halved.
125m (½c sunflower seeds toasted.
20g fresh basil.
salt and freshly ground pepper.
extra oil of needed.
2 Rounds of feta cheese.

Optional Extra

hard boiled eggs, cubed.
and 1 can (400g) Chickpeas.

Method       Vinaigrette

Put all the ingredients in the bowl of your food processor and pulse until smooth and well combined




Method 
Salad

Put the cooked pasta rice ina non-metal dish. Pour the vinaigrette over and mix well.
add the olives, cherry tomatoes, sunflower seed and half the basil and mix through.
Season with salt and pepper. Pour more olive oil over if the salad is too dry.
Cover and leave in the fridge for an hour or overnight... the longer you leave it the tastier it gets.
Sprinkle the rest of the basil over and serve.
Add the cubed feta and can of drained chickpeas and enjoy!



This article was printed from Home-Cooking-Haven.com.com