Cabbage Recipes
Hello...... and welcome to a fun filled page of Cabbage Recipes. This goes to all the home chefs and  friends here on the East Coast of Africa and around the world.
Boy- o-boy have I got some real treat for you today starting off with stuffed cabbage mince rolls cooked in a slow cooker with some tantalizing sauces. The beauty about this recipe is that it is Banting compliant, depending what you add to the dish on plating. 
Yep I know cabbage and mince sounds bland and not too appetizing, but just wait and see how we can change that. Not only turning it into a delicious dish but also one which is fun to cook, and will suit virtually anyone's pocket. 

Rolled Cabbage Recipes Ingredients
Okey Dokey the time has come to gather our ingredients for these cabbage recipes.
I must say that I always find it easier to get them all at hand so when you start the prep work you don't have to start running around looking for this and that..

At the end of this recipe I'll add other ingredients for cabbage recipes rolls you may like to try,some spicy and some with a nice bite to it for those people who enjoy some thing hot. I have tried all of them and they great.
For the cabbage recipes detailed below you can use any ground mince meat, beef, pork, chicken, turkey and ostrich or half and half pork and beef.. For the vegetarian option, fresh or frozen veggies, the choice is yours.

Ingredients

Today we will using ground beef mince.

450-500gr (1 pound ground mince.) 
1 cup cooked rice of your choice (banting dieters should use cauliflower rice).
¼ cup milk
1 egg beaten

1 ¼  teaspoons salt
1 small onion finely chopped            
1 ¼ ground black pepper
½ tsp. dry thyme                        

1 heaped tsp. paprika
2 cloves fresh garlic or garlic paste.

Ingredients for sauce.                                                              
1 Tbsp.brown sugar (banters can use xylitol ). 
1 450gr (8 ounce) can of smooth tomato soup.                                                          
1Tbsp.lemon juice.
2 Tbsp.Worcestershire sauce.
Mix all the ingredients for the sauce in a bowl and set aside for later.

Method 
Place one large saucepan with 250ml of water on the boil.
Peel your cabbage leaves and allow to boil for approx. 2 mins.
Remove and drain, set aside for later.
In a large mixing bowl place 1 cup cooked rice, egg, milk, onion, ground beef, garlic, paprika, thyme, salt, and pepper and mix.                                                             

Now comes the part I love!!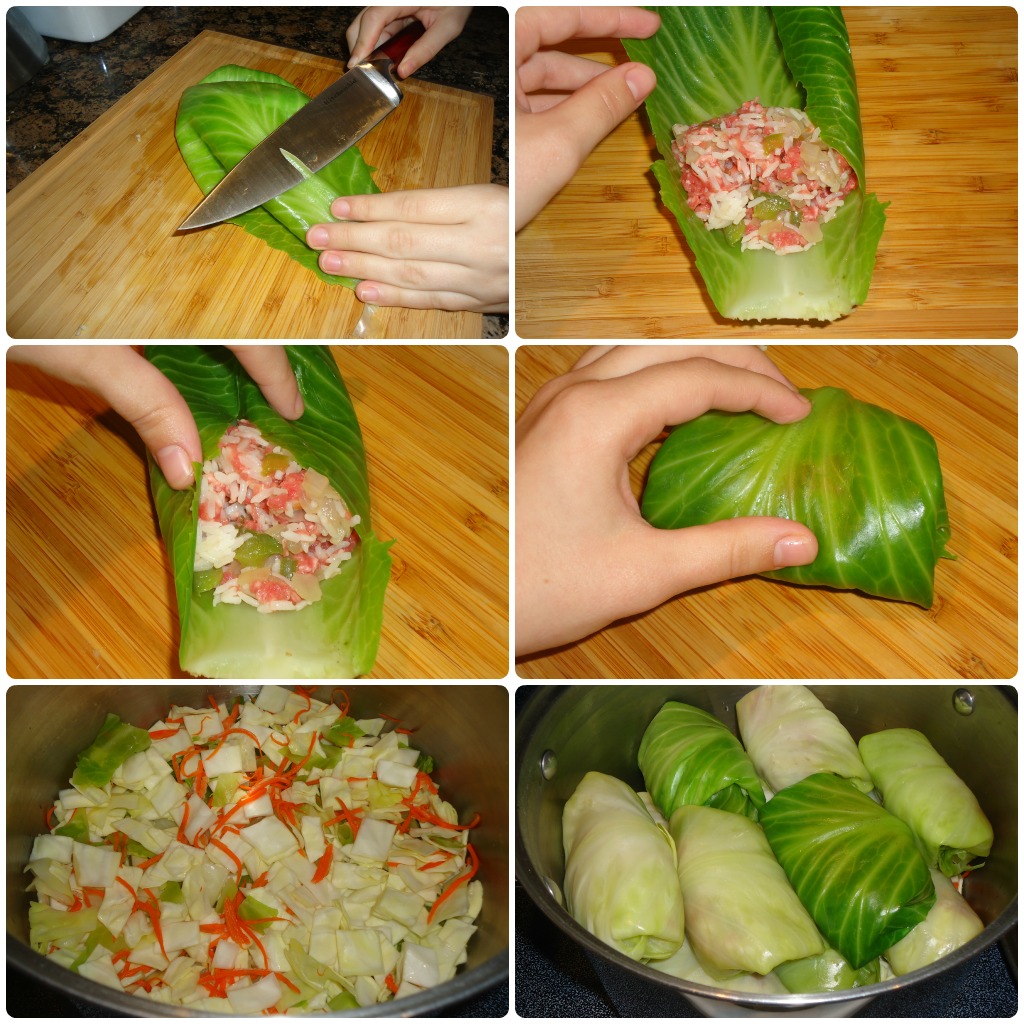 Wash your hands and then mix all the ingredients until nicely combined. or mix well with a wooden spoon.

Using an ice cream scoop ladle .( ¼ cup) place meat mixture in center of each cabbage leaf.
Roll up the cabbage leaf, tucking in ends tightly, almost like you would a wrap, but both ends closed.
Pack the rolled cabbage parcels in your slow cooker with the tucked ends facing downwards.
Pour the sauce you had kept aside earlier over the cabbage.
Cover, and cook in your slow cooker on Low for 7- 8 hours.

Conventional pot Method
If you do not have a slow cooker ,Don't worry be happy ha ha  ,you can use a conventional pot on you hob(stove).

Method for conventional pot


Using your sauce pour a little amount into you pot about 1/2 cup.
Place rolled cabbage in your pot with the tucked end downwards.
Pour remaining sauce over the cabbage roll.
Cover and cook on medium for 1 hour checking occasionally that the cabbage rolls are not sticking to the bottom.
Can add a bit of water if sticking.
Turn heat down and simmer for 15 minutes.

Congratulations you have just finished creating a dish that your family will demand at least once a week if not more than once a week.

As promised earlier for those of you that like spicy ,med or hot stuff, you can add any of the below to your mince mixture

2 tsps. Hot-med or mild curry paste.        
2 tsps.Cayenne pepper.                           
2 Chopped jalapeno chillies.                    
2 Tbsp..Sweet chilly sauce Hot or med.   
All of the above if your got a cast iron stomach.
The above is just a guide on the measurements.

Serving
There are various way of serving this dish, here are a few ideas for you to think about:
With smooth mash potato's fresh or frozen peas , green  beans or have some mixed veggies the choice is yours. 
A dollop of sour cream on the side.

For Banting and weigh-less dieters this meal is delicious with sweet potato mash.

And for any South Africans and neighbouring countries, this goes down very well with Pap (Phutu) however you like to make it
 lastly pour the juice from the slow cooker or pot over your meal.

Return to the top of Cabbage Recipes or else Go back to our  Home Page

We really hope that you will get great enjoyment out of cooking this recipe as well as eating it, and sharing the experience where ever you go.
Don't forget to come back to Home Cooking Haven to see what's cooking and until we meet again.......... Happy Cooking 

Copyright 2014 Home Cooking Haven.Com.   All Rights Reserved.