The Kitchen is been renovated, please be patient, we are almost done.
Bunny Chow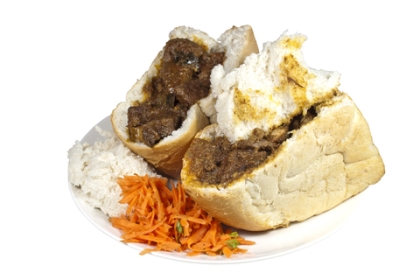 What on earth is Bunny Chow?  This has to be the question you have asked yourself if you landed up on this page. And  now we are going to try and answer this for you as simply as possible.
It is a half or quarter loaf of bread with the inside scooped out, filled with any type of delicious curry, topped with the scooped out bread and eaten by hand with great relish...... Got it?

Origins
There are many stories circulating as to the origin of this spicy meal and the one that we tend to  believe is that it started on the East Coast of South Africa in the Durban Indian Community, and is believed to have started sometime in the early nineteen forties.
Round about that time in the history of South Africa, migrant Indian workers were brought into, what was then known as Natal (now known as Kwazulu-Natal), to work the sugar cane plantations. These workers had to find a way to carry their lunches to work and very cleverly found that by hollowing out a loaf of bread they could easily transport their vegetarian curries into the sugar canes for eating at lunch time.

Another story has it "that a restaurant run by people known as Banais (an Indian Caste) first created the scooped-out bread and curry dish at a restaurant-cum-café called Kapitan's on the corner of Victoria and Albert Streets in Durban" (the street names have subsequently changed).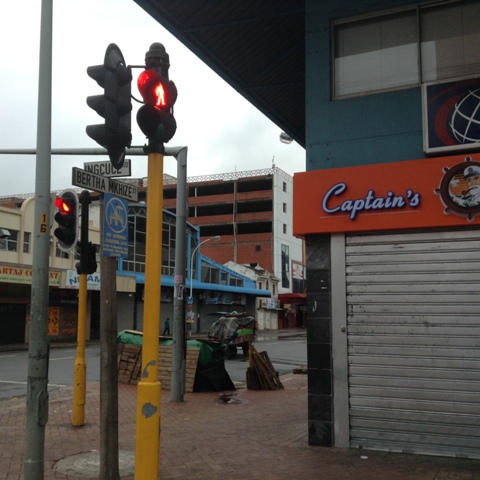 Legend has it that this is the home of the original bunny chow in Durban South Africa
Just as a matter of interest, the traditional Indian meal was roti and beans, but roti's tend to fall apart as a take-away item, which is probably why some clever soul invented the scooping out of a loaf of bread and filled it with curry, which by the way is made with herbs and spices and onions and garlic which have so many medicinal advantages.
Which ever story is true, what a wonderful way to eat curry and it has now spread to the central part of South Africa  and is served in bars, Indian restaurants and also in some of the really upmarket restaurants in Sandton Johannesburg.
And you know what............. it can even be found as a street food in London.   We would love to hear from YOU and where you have eaten one of them.


Types of Bunny Chow
The original bunny chow was vegetarian, but as this meal has developed it has been adopted by all ethnic groups you can find them all over made with different fillings, such as mutton curry, lamb curry, beef curry, chicken curry and even beans and chips with a curry gravy.
Some are made with bread rolls especially in the "hoity toity" places.

The vegetarian variety is referred to as a bean's bunny.
Please check Home Cooking Haven site for various curry recipes for your fillings.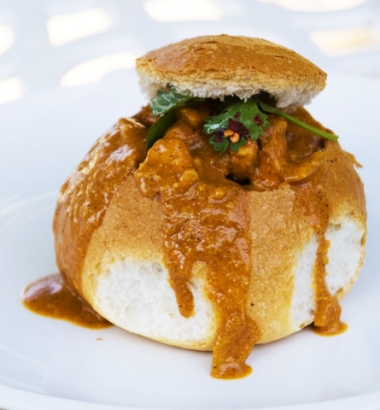 "Hoity Toity" Bunny Chow
Adders - Sambals
As the love of this type of eating curry grew,  all sorts of extra's started been added, like a side portion of grated carrots, chilli and onion salad but of course the best..... is recognized for its key characteristic which is when the gravy from the curry fillings soaks into the walls of the bread.

Interesting!
In September every year a competition is held in Durban, it is called the Bunny Chow Barometer and held at the Blue Lagoon, it is growing in popularity and producing some the most interesting and delicious meals you can imagine. There are various categories in this competition that being Meat ,Veggie, Chicken.  

How to order a Bunny Chow in Durban
Now this is fun, you can order either a half loaf, a quarter loaf and if you are starving or sharing, you can even order a full loaf.
Local slang dictates "half mutton" which means you will get a half loaf of bread with mutton curry, and so you can order the flavour or size of your choice.
When eaten as a street food, you eat it with your fingers and the meal is served to you in yesterdays newspaper.
Ingredients
A loaf of fresh white bread.


A curry filling of your choice, try our mince curry for a quick and easy on the pocket recipe.


A healthy appetite.


Your fingers.