Beef Curry
| | | |
| --- | --- | --- |
| Prep Time: 15 minutes | Cooking Time: 90 minutes | Serves: 4 |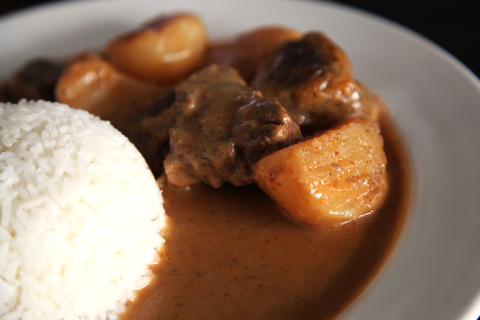 Our absolutely delicious Beef Curry
We refer to our recipe as TBBCIA (which means the best beef curry in Africa).
We have spoken to many people about their recipes for currying beef and every single one of them maintain that their's is the best. Well, we think that ours is the best!!
C'mon try this simple, easy and economical recipe and we will leave you to be the judge .
We know exactly what you will say.... "and the winner is Home Cooking Haven.com". He He He.


Ingredients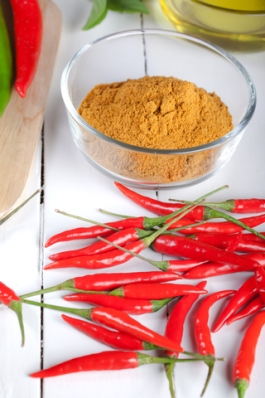 500g stewing beef cut into cubes.
1 large onion (onions have a huge amount of medicinal properties apart from been an anti-histamine and an anti-inflammatory).
2 tsp crushed garlic.
1 tsp crushed ginger.
1 large carrot.
3 med to small potato's (for those cooking a Banting Beef Stew,

leave the potato's out.

½ can crushed tomato's or 2 medium fresh tomato's finely chopped.

1 bay leaf.

10 curry leaves, hand crushed to release the aroma.

½ tsp thyme (or one sprig fresh thyme).

3 tsp medium curry powder mixed into ½ a cup of water.

1 x 450g curried beans (

Banting Chefs,

leave this ingredient out).

2 Tbsp tomato sauce.

2 Tbsp Worcestershire sauce.

2 Tbsp vinegar.

1 heaped tsp fruit chutney (leave out this ingredient if you are on the Banting diet).

3 Tbsp sunflower cooking oil (not allowed by Banters, only Olive Oil for you).

Salt and pepper to taste.
Optional Extra
2 Medium Heat fresh chillies, sliced lengthwise with seeds removed.

Method
 Right......we now have all the ingredients so lets start cooking this great curry together.

Place large cooking pot on your hob and put in the cooking oil and onions.


Cook onions until they are translucent taking care not to burn them.


Add in your garlic and ginger and stir,  and allow to simmer for a further 30seconds taking care not to burn them.


Add the beef pieces, spices and bay leaf  and stir.
.

Turn up the heat and brown the meat, stirring as it cooks.


Pour in your curry mix and stir so all the meat is coated. Cook for further 90 seconds.


Add the potatoes,(sweet potato) carrots ,chopped tomato ( chillies.)


Add the vinegar, Worcester sauce , chutney and tomato sauce.


Lower heat and cook for app 45min (time to relax with a cool drink)


Add beans and curry leaves, stir and simmer for a further 20 minutes or until meat is tender and check that the potatoes are soft (relax some more with your cool drink.).

Well done give yourself a pat on the back you have now completed cooking a mouth watering beef curry, time to invite friends around to enjoy this great dish with you.



Plating
Now comes the fun part, there are various ways of serving this absolutely delicious curry:
You can serve with traditional white or brown rice.


Mealie meal pap.


Noodles.


Lovely fresh bread


Fresh French loaf /Portuguese roll


Roti


Bunny Chow.(see below)


Tomatoes onion and Chillie chopped sambals,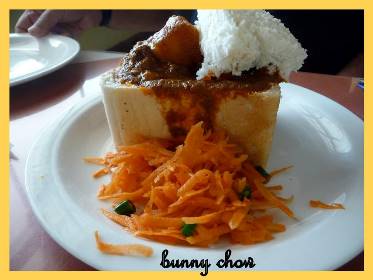 Traditional Oven Temperatures
Slow
Moderate
Moderate
Moderately Hot
This article was printed from Home-Cooking-Haven.com.com