Yummy Rice Salad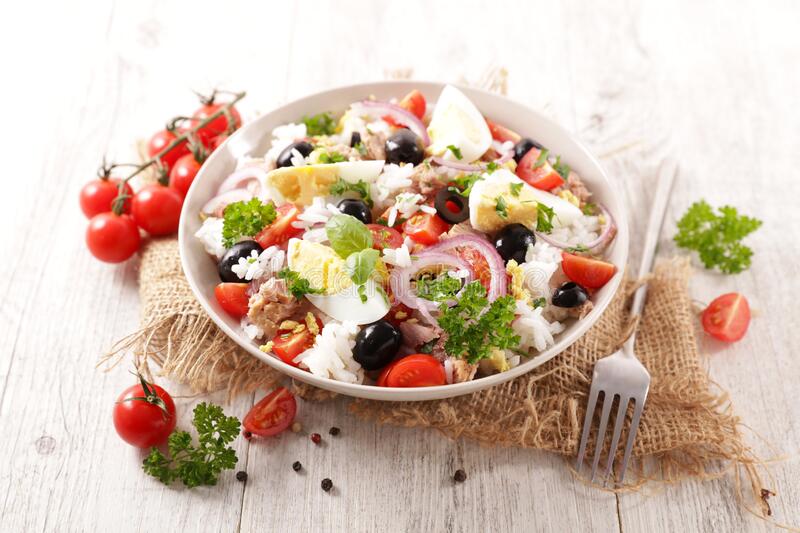 This just has to be the most delicious Rice Salad that you will ever taste!
Traditional Oven Temperatures
Slow
Moderate
Moderate
Moderately Hot
Ingredients
2 cups water
1 cup white rice
6 eggs
1 small package frozen peas
1 cup chopped celery
¼ cup chopped onion
1 4oz diced pimento
1 cup Mayonnaise
1 tsp prepared mustard
1 Tbsp lemon Juice
¼ cup sweet pickle relish
1 9oz can solid tuna packed in         drained. You can also use Salmon if you like, it is delicious.
¼ tsp dried dill weed
TIP; If uncooked eggs, placed in a pot of cold water, raise to the surface, discard immediately they are off.
Recipe
Part 1.
In a saucepan bring water to boil.  Add rice and stir.
Reduce heat, cover and simmer for 20 min
Remove from heat, and set aside to cool.
Recipe Part 2
Place eggs in a saucepan and cover with cold water.
Bring to boil and immediately remove from heat.
Cover and let eggs stand in hot water for 10 to 12 minutes.
Remove from hot water, cool, peel and chop.
Recipe Part 3.
Strain peas and place in large mixing Bowl
Add chopped eggs, rice, celery and onions; toss to combine, and set aside
In a separate bowl, stir the mayonnaise together with mustard, lemon juice, relish, tuna, dill,
salt and pepper until well blended.
Add to the vegetable mixture and toss to combine.
Cover and refrigerate for a minimum of 4 hours.
Toss once more before serving and serve chilled.
This article was printed from Home-Cooking-Haven.com.com