3 Bean Salad
 8 people (adjust quantities of ingredients to suit the occasion)

3 Bean Salad .Hi to all you home cooking chefs here on the East Coast Of Africa and around the world.Today we will love to share our 3 Bean Salad recipe with you.I believe it"s one of the most tastiest salad that goes with most meals.

Traditionally we  here at Home Cooking Haven use this 3 Bean Salad recipe at Christmas and New Year. However it"s such a great salad that one can use it at Barbecues, Braais and Cold Meat and Salad Lunches etc.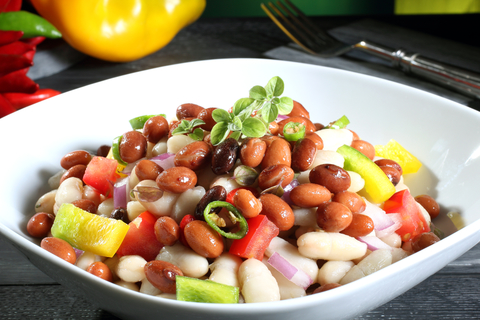 Three Bean Salad Ingredients
Okey Dokey time to start this one of a kind salad.
You will need the following: ingredients.

1 x 400grm green beans drained.
1 x 400grm Butter beans drained.
1 x 400grm Baked beans rinse tomato juice and drain.

1 cup chopped onions.
½ chopped green peppers.
½ chopped red peppers.
½ chopped yellow peppers.
½ cup of oil.
 ½ cups red  

vinegar

.
3 Tbsp. Brown sugar.
3 tsp basil.
Ground Sea Salt and black Pepper to Taste.
Optional add 5-6 dashes of Tabasco sauce for those who enjoy some think with a bite.
As mentioned earlier,should you have more guest you can adjust the quantities of ingredients.The method remains the same.

Method
Okey Dokey now that we have gathered all our ingredients together to create this mouthwatering salad, Wait for it  ---"Time to Start A Cooking" I just love saying that

Place med size pot hob.

Using a colander drain the brine from the Green beans and Butter beans.
Rinse the tomato juice from the baked beans. 
In a salad bowl combine your three beans, chopped onions and peppers.
In a mixing dish place the vinegar, sugar, oil, sweet basil salt and pepper.
Mix well and pour into pot.
Turn heat to medium.
Stir whilst heating.
Remove from hob at boiling point.
Pour over your 3 bean salad and combine.
Allow to cool
Optional add 5-6 dashes of Tabasco sauce for those who enjoy some think with a bite.
Cover with shrink wrap and refrigerate minimum 1-2 hrs.

Great stuff you have just completed a great 3 Bean Salad that you can be proud of.

Time now to sit back, relax, turn the music on and enjoy a beverage of your choice. 

Serving your Three Bean Salad
What's so great about this incredible recipe, it can complement any meal as a side salad.

As mentioned earlier we traditionally we always have it on Christmas day feast with the Gammon (see Home Cooking Haven Christmas Menu).
Great with Fish.
A must if you having Cold meats and salad.
Goes great with Barbecues.
Braaivleis.(Traditional name used in South African for Barbecue).
Add any Tin fish i.e. Tuna, Salmon, Sardines, Pilchards.
Mix with shredded cold Chicken and a dash of Mayonnaise on a fresh French roll.

We really hope that you will get great enjoyment out of cooking this recipe as well as eating it, and sharing the experience where ever you go.
Don't forget to come back to Home Cooking Haven to see what's cooking and until we meet again.......... Happy Cooking 

Copyright 2014 Home Cooking Haven.Com.   All Rights Reserved.